Chef James Martin Reveals The Reason Behind His Return To Saturday Morning TV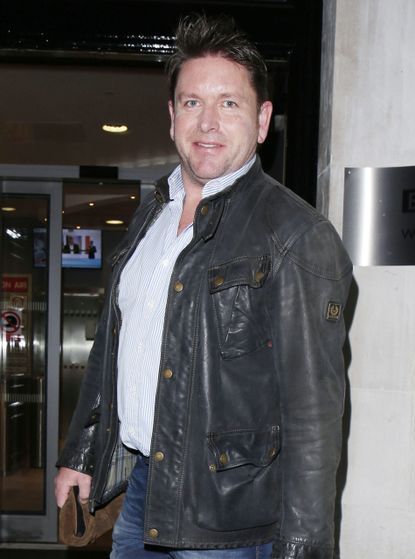 (Image credit: Shutterstock/Rex)
If you were overjoyed at the news that James Martin wasreturning to Saturday morning television (opens in new tab), you could be part of the reason for his comeback.
The popular TV chef said that after his fans begged him, he just couldn't say no.
He formerly hosted Saturday Kitchen on BBC but quit after a decade back in March 2016. James has a new pre-recorded cooking show for ITV which starts next weekend.
James told The Mirror why he chose to return: "More than anything at all it was the response from the public that has made me go - actually, fair enough, alright then..! It's just been overwhelming.Since leaving Saturday Kitchen people have said, 'Come back to Saturday', 'We miss you', 'Where have you gone?' and I thought well, we'll give it a go but let's do something different."
Saturday Morning With James Martin (opens in new tab)
is a 26-part series which shows off his love of food, the great outdoors, his dogs and predictably, his fast cars.
Each week James is joined by two guests who come to his home to cook. When the weather permits they make full use of James' BBQ, pizza oven and home grown produce.
From indulgent desserts to comforting mid-week meals, James is back to provide bucket loads of foodie inspiration and inevitably get your tummy rumbling!
While the new show isn't live, James promises there will still be lots of action and opportunities for mishaps...
In fact, he revealed that at the end of the 90 minute show there is a stunt!
James added: "All my mates who've watched it have said 'What the flipping hell are you doing..?' It required two ambulances, a fire engine, a stunt co-ordinator... yeah, it's not an 'omelette challenge', put it that way."
Who knows what he has up his sleeve!
This isn't the first pre-recorded show James has done for ITV. He did James Martin's French Adventures and Jame's Martin's American Adventure where he scouted out the best food along his journey and re-created some of his favourite dishes.
James regularly attracted 3.5 million viewers on Saturday Kitchen so will his new show be as popular?We are certainly excited to tune in, are you?
An exact air date has not yet been confirmed but the show is expected to start early September 2017.
Jessica is a Senior Food Writer at Future and is an enthusiastic, self-taught cook who adores eating out and sharing great food and drink with friends and family. She has completed the Level 1 Associate course at the Academy of Cheese and is continually building on her knowledge of beers, wines and spirits. Jessica writes food and drink related news stories and features, curates product pages, tests and reviews equipment and also develops recipes which she styles on food shoots.