James Martin issues apology following restaurant outrage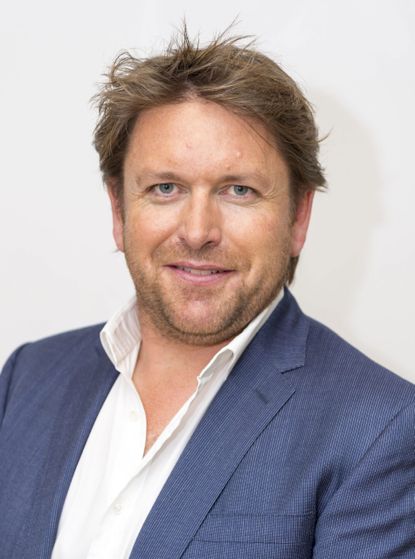 (Image credit: Rex Features (Shutterstock))
A customer complained about James Martin's food - and the chef has responded by saying it "infuriates" him that people think he doesn't care.
We've all been there. You're at a nice restaurant and the waiter brings over your pricey dish. Within one mouthful, you know it's lukewarm and about to turn cold. Yet how do you respond when the waiter asks how it is?
"It's fine," you lie, as you inwardly seethe.
But this week, a disgruntled customer at James Martin Kitchen could contain his rage no longer. He took to Twitter and complained, so theTV chefwould know that a 'truly awful' burger had been served in his name at Glasgow Airport.
The complaint
Scottish TV presenter Ewen Cameron complained, 'Dear @jamesmartinchef I'm not one for complaining but I feel you need to see what your name is attached to @AirportGlasgow. This is your cheeseburger at your restaurant & priced at £9:50! I'm guessing you'll be annoyed as you're a man who prides himself on his food.'
How James Martin responded
Martin tweeted back an apology to defend his honour. He wrote, 'Hi Ewen I have just been made aware of this as I was working. Firstly can I apologise and I can assure you I will deal with it personally. Can I ask what time this was today and did you speak to a member of the team about this at the time. I apologise once again please DM me.'
With the burden of complaining off his shoulders, Cameron tweeted a pleasant reply, 'Hi James, thanks so much for your reply. I just wanted to make you aware of what was being served up in your name. I know it's not you that's responsible. I didn't speak to any staff member as it was busy & I had to catch my flight. PS: My wife loved the takeaway soup.'
The aftermath
The customer may have been satisfied, but the TV chef was still keen to defend himself. Martin told the Press Association, "I genuinely care, I've got three people flying up to Glasgow who are in there now trying to resolve this."
We would not want to be in that kitchen!
"I'm doing my best, I've offered a refund…I really give a shit about my job. I've been in catering all my life and the customer is my number one.
"I get upset when people say I don't care. I went into the kitchen at six years old with a chef's jacket and a dream – that's what infuriates me, I really do care."
Cameron clearly agreed that the chef cares. He later tweeted, 'I just wanted to publicly thank James for the correspondence I've had with him. It was appreciated & shows he cares. Something that isn't always the case in the catering industry.'
With such great customer service, James guards his special place in our hearts. Which is handy, since he is set to embark on his 'On the Road Again' tour in October, where he will host cooking demonstrations with special guests.
If this story has taught us anything, other than the fact the TV chef does not take criticism lightly, it is that complaining about your substandard meal really can pay off.
Something to bear in mind next time a waiter serves you cold chicken soup.