Jada Pinkett Smith reveals she got involved with Will Smith too soon after his divorce from Sheree Zampino
In a new episode of Red Table Talk, Jada Pinkett Smith and Will Smith's ex-wife Sheree Zampino discuss their blended family and how they make it work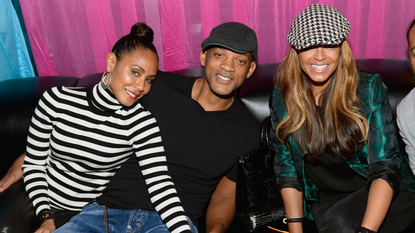 (Image credit: Bryan Steffy / Stringer)
Seems like we should all be getting some parenting advice from Jada Pinkett Smith and Sheree Zampino, Will Smith's ex-wife.
Just a few months after breaking her silence on Will Smith controversy, Jada invited Sheree to appear on the latest episode of her Facebook talk show Red Table Talk to discuss their modern family, their co-parenting methods and, in a pretty surprising and candid portion of their conversation, to reveal that she believes to have gotten involved with her now-husband a bit too soon after his divorce.
"When I look back at how much was put on us and how much was put on you because we were so young and it was so public and it was so fresh. Like, you really didn't even have time to adjust," Jada said to Sheree. "You had no time. I didn't understand that, cause, you know, it was like a boyfriend."
Jada went on to say, "I would have definitely had taken a beat as far as putting myself in the dynamic of you guys. Lets give this a year, let's let you two just flesh out whatever y'all have to figure out."
Sheree herself actually remembers Jada apologizing to her directly back in the day.
"You were teary, you were very emotional and you said, 'I just didn't know.'," she recalled. "And basically what you were saying is, 'I was in the picture too soon' [...] and you apologized for that."
Sheree and Will got married in May of 1992 but divorced three years later. The two share a son, Trey Smith, who is now 29 years old. Since then, Sheree married former football player Terrell Fletcher in 2007 but the two got divorced in 2014. Jada and Will, on the other hand, got married in December of 1997 and have two kids together, 24-year-old Jaden Smith and 21-year-old Willow Smith.
"We have developed a really nice sisterhood, but it hasn't been easy along the way," 51-year-old Jada explained. "For me, it was really about maturity. Just not understanding the marital dynamic, like 'OK, the divorce papers are sent, and people are over it, and this is done,' Oh, guess what, it ain't ever done [...] So that was my biggest misconception, in that this woman is a part of this family. It's like not only taking on Trey, but Sheree was coming along, too."
The show host went on to admit that, at times, "I really crossed the line." The duo specifically recalled an incident involving Trey's behavior during a playdate.
"I literally walked in the house just to drop him off, and as soon as I walked in Jada was like, 'Listen, we gotta talk about his behavior,' and I was like, 'Go get his daddy, please,' " Sheree remembered.
Now a semi-regular on The Real Housewives of Beverly Hills, 54-year-old Sheree did make it a point to highlight how "amazing" Jada has been to Trey throughout the years.
"I always say this, as a mom, I just want the best for my child," she said while on the show. "So my only demand, I will say it's a demand, is that you're good to him. And if you're good to him then what's the issue. We were able to be adults in that situation. We didn't hold onto things and not communicate, not take accountability. So, that really was helpful."
We expect Jada to delve into the subject even further while working on her new memoir, where she'll also likely dissect her reaction to Will Smith's slap at Oscars 2022. We, of course, can't wait to read it.
Sign up to our free daily email for the latest royal and entertainment news, interesting opinion, expert advice on styling and beauty trends, and no-nonsense guides to the health and wellness questions you want answered.
Anna Rahmanan is a New York-based writer and editor who covers culture, entertainment, food, fashion and travel news. Anna's words have appeared on Time Out New York, the Huffington Post, Fortune, Forbes, Us Weekly, Bon Appetit and Brooklyn Magazine, among other outlets.