ITV's Sanditon: what to expect from the new Jane Austen drama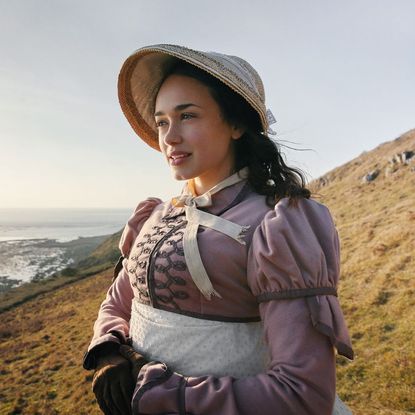 ITV's most recent period drama, based on Jane Austen's unfinished novel Sanditon.
We got a chance to see the first episode, and have put together everything you should expect from the eight part series so you can get even more excited.
When is the first episode of Sanditon on TV?
Sanditon (opens in new tab) now has a confirmed release date of this Sunday (25th August), and an official trailer has been doing the rounds ahead of its small screen debut.
If you haven't seen it already, you can watch it below:
https://www.youtube.com/watch?v=Ghbi0SXU-FA
As you can see, this two minute trailer packs a lot in and shows us everything we should expect from an Austen adaptation. There's brilliant costumes, exquisite decor, sweeping landscapes and plenty of drama.
Who is behind the new series?
Andrew Davies, known for his work on Pride and Prejudice, Vanity Fair and War & Peace, penned Sanditon's small screen adaptation. So with a number of period dramas under his belt, he seemed like the ideal choice.
Speaking at a Q&A panel Andrew said that Jane Austen "never really got the story going at all", despite creating "a wonderful group of characters". So it was up to him and the cast to continue on the Sanditon story.
Anne Reid, who plays Lady Denham in Sanditondescribed Andrew Davies as a 'clever' writer, adding, "I've been in loads of his dramas... Andrew has a mastery of character. He has wit and subtlety."
MORE: Greta Gerwig's Little Women film finally has a trailer – watch it here (opens in new tab)
What happened in the first episode?
The first episode of the new drama sees a carriage accident that introduces protagonist Charlotte Haywood (Rose Williams) to the Parker family, and they agree to take her to the seaside town of Sanditon in return for her quick thinking and hospitality following the accident.
Describing her character, actress Rose Williams said, "She's headstrong. She speaks before she thinks. Having grown up on a farm, she is also quite practical. She's very modern too, she is focused on the new."
Charlotte is also an incredibly naïve protagonist, and soon realises that Sanditon is filled with unpredictable characters who behave very differently to what she's used to.
Tom Parker (Kris Marshall) has big plans for Sanditon, hoping to turn it into a fashionable seaside resort that will help the area prosper. But that's easier said than done, of course.
We're introduced to a variety of characters in the first episode alone, including wealthy landowner Lady Denham (Anne Reid).
Lady Denham presides over the town and is also the chief investor in Tom Parker's business model, so there's a lot of tension between these characters, as well as the rest of the Parker family.
Anne Reid said that Lady Denham is "terribly mean with her money", adding: "Her money was hard to come by so, now she's got it, she's not going to part with any of it".
She has other problems to contend with too, especially when it comes to step-siblings Edward and Esther Denham (Jack Fox, Charlotte Spencer) who are very interested in her fortune.
But it's Sidney Parker's (Theo James) arrival that's especially significant, as his 'fashionable' friends are expected to help spread word of the seaside resort. Theo James described his character as being "the black sheep" of the family, adding that he had "reluctantly returned to the town that he doesn't see as reflective of his status".
He also brings wealthy mixed-race heiress Miss Lambe (Crystal Clarke) along with him, who happens to be the first non-white character in an Austen novel.
Speaking about Miss Lambe, Crystal Clarke said, "You don't see people of colour in Jane Austen novels. Miss Lambe is in the book, but it was never finished."
"But the way Andrew has fleshed it out is amazing, he had free reign to do anything he liked."
What should we expect next from Sanditon?
There's a lot going on in episode one, with an ending that sets things up nicely for the next seven parts. ITV have described Sanditon as a "rich family saga [that stretches] from the West Indies to the rotting alleys of London".
It also promises that Sanditon is where Charlotte Haywood "comes to discover herself… and ultimately find love", which we're sure will be interesting to witness!
It's not yet known who she'll find love with, but we're definitely excited to find out.
Lucy Buglass is a Digital Writer specialising in TV, film and lifestyle content and has written for What's On TV, GoodtoKnow and Whattowatch.com. She's passionate about entertainment and spends most of her free time watching Netflix series, BBC dramas, or going to the cinema to catch the latest film releases. In her spare time, she writes film and television reviews for JumpCut Online and her own blog, Lucy Goes To Hollywood.