Is Transatlantic on Netflix based on a true story?
The new Netflix series tells the story of a rescue operation formed in 1940s Marseilles to help artists and refugees flee the Nazis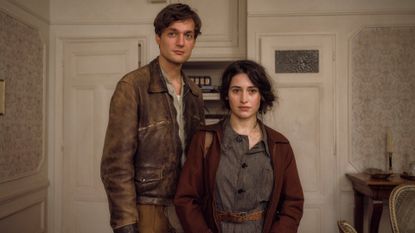 (Image credit: Netflix)
Transatlantic is the new war drama series on Netflix that has got everybody talking. But the main question people are asking is, is Transatlantic on Netflix based on a true story?
Transatlantic tells the story of the Emergency Rescue Committee, a group headed up by American journalist Varian Fry in the 1940s. The seven-episode series is full of action, depicting what happened when the committee saved refugees during World War II.
Creator Anna Winger has said of the series, "It is a story that is incredible because it's about such a normal person who does something so extraordinary." But is Transatlantic on Netflix based on a true story?
Is Transatlantic based on a true story?
Yes, Transatlantic is based on the true story of Varian Fry, Mary Jayne Gold, and Albert Hirschman, who banded together after France was invaded by Germany in 1940 to create the Emergency Rescue Committee (ERC).
Risking their lives, the trio helped more than 2000 refugees escape Nazi-occupied France, including many artists on the Nazis' most-wanted list. Some of those refugees saved by the ERC were Europe's greatest artists and intellectuals, including Andre Breton, Hannah Arendt, Marcel Duchamp, Max Ernst, and Marc Chagall.
Varian Fry is thought to have shown up in Marseilles, France, in 1940 with just $3000 and a list of 200 names. He was among 200 Americans who were intent on saving anti-Nazi intellectuals who were trapped in France under Article 19 in France's armistice with Germany.
However, the series is only inspired by these real-life events, so many characters and plotlines in the Netflix show are fictionalized.
Speaking about hearing the story, creator Anna Winger told The Hollywood Reporter, "Actually, my father told me this story, because he knew a couple of the people involved in it. He knew [anti-Nazi activist] Lisa Fittko in Chicago.
"They were part of the same organization that was protesting the Vietnam War in the '60s. And he knew Albert Hirschman because they were both professors at Harvard in the '70s. So when he and I were walking through Potsdamer Platz, maybe in 2012 or 2013, and he saw that there was a Varian Fry Street, he told me their story."
She added, "At a certain point, you have to acknowledge we're creating a fictional space. We're setting real characters free in a fictional space that's against the backdrop of real history. But in the end, we're making up a story, we're spinning a yarn."
Is Transatlantic based on a book?
Transatlantic on Netflix is inspired by Julie Orringer's novel, The Flight Portfolio.
Anna Winger has spoken about her decision to turn the book into a TV series, saying, "Probably the idea to make it into a TV show really started the year 2015, when so many refugees moved to Berlin.
"And then, while I was making Unorthodox, Julie Orringer's novel [The Flight Portfolio] came out. It felt like kismet. So I optioned the book. And Julie had done so much research. She'd spent years writing this novel and really thought about the psychology of Varian Fry."
---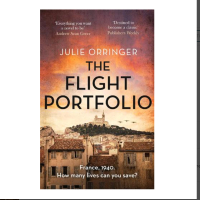 The Flight Portfolio by Julie Orringer Paperback, $12.50 (£9.99) | Waterstones
A heart-wrenching historical novel, inspired by a powerful true story, about the extraordinary courage and friendships forged during humanity's darkest hour.
What happened to Varian Fry?
Because of his actions, Fry became an enemy of his own country due to people deeming him to be interfering with America's stance of neutrality in the war.
Just like we see in the Netflix series, Varian Fry, among others, was arrested in December 1940 and was held on a prison ship in the Marseille harbor.
He was released and continued working in France until he was arrested again in August 1941, and driven to the Spanish border. Unlike in the show, he was not the one who drove the Chagalls to the border.
Just a few months before his death in 1967 aged 59, Varian Fry was bestowed with France's highest order of merit for both military and civilian, the Croix de Chevalier de la Legion d'Honneur. This was the only recognition he received in his lifetime.
Transatlantic is now available to stream on Netflix.
Robyn is a celebrity and entertainment journalist and editor with over eight years experience in the industry. As well as contributing regular to woman&home, she also often writes for Woman, Woman's Own, Woman's Weekly and The Sun.