How to sponsor a Ukrainian refugee in the UK and government's announcement
Wondering how to sponsor a Ukrainian refugee in the UK? Here's everything to know and what the government has said on the matter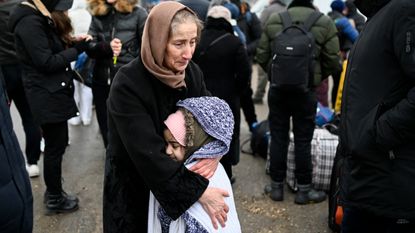 (Image credit: Nikolay DOYCHINOV / AFP/Getty Images)
Wondering how to sponsor a Ukrainian refugee in the UK? You're not alone. As the humanitarian crisis unfolds following Russia's invasion of their neighboring country, countless people across the globe are eager to lend a hand wherever possible.
As the number of refugees swells to 2M and counting, many think about how to help the people of Ukraine fleeing their war-torn country and seeking refuge
The UN High Commissioner for Refugees, Filippo Grandi, has referred to the mass exodus from the country as the fastest-growing refugee crisis in Europe since World War Two.
Today the outflow of refugees from Ukraine reaches two million people. Two million.March 8, 2022
See more
Despite the urgency of the refugee crisis, the British government has been slow to clarify its plan of action regarding taking in Ukrainians as the war rages on. The speed of the UK's response has been criticized, and MPs like Labour's Yvette Cooper have said that it's a, 'total disgrace.'
Parliamentary Health Service Ombudsman Rob Behrens called for swift action from Home Office to speed up visa processing for Ukrainian refugees. This plea comes as there are reports of enormous delays, Visa centers being closed, personal details being lost, and a lack of clear information over where visa processing centers are located.
Since this statement, the BBC reports that the Home Secretary Priti Patel has announced that, "Ukrainian refugees who have passports or ID cards will be able to apply for UK visas online from Tuesday."
However, this is only possible for those, "applying under the scheme where they can join family members already in the UK."
Unfortunately, despite there being many individuals who are happy to welcome Ukrainian refugees into their homes and/or help support them financially—there are no schemes facilitating direct sponsorship of a Ukrainian refugee or family.
Owing to the sheer flood of need and the incredible number of people willing and wanting to sponsor refugees, the British PM Boris Johnson claims that the UK government are working towards introducing one soon.
Although it's not entirely clear when or if this will happen at all, there are some charities where you can register your interest to house refugees. In the meantime, there are ways in which you can help Ukrainian refugees fleeing their country, whether they're UK bound or not.
How to sponsor a Ukrainian refugee in the UK
Offer to host a family or individual if the UK accepts more Ukrainian refugees
It's not totally clear when or if the UK will loosen its regulations regarding taking on refugees or not.
In the meantime, charities like Refugees At Home and Shelter For Ukraine offer opportunities to show your interest or help fund finding housing for people.
Donate money to reputable charities
So far, the British public has helped raise over £200M to support the Disaster Emergency Committee's Ukraine Humanitarian Appeal. Although people may feel like going to volunteer in Poland is their best bet, this isn't actually the case according to experts.
Money raised will help provide food, water, shelter, healthcare, and protection for those on the ground in Ukraine as well as its displaced communities in neighboring countries.
Woman&home has also compiled a list of charities, and how to help the people of Ukraine, who desperately need funds.
Donate money to charities supporting minorities in Ukraine
An unfortunate truth is that some people feel as though they're fighting for survival, with or without a war. There have been increased reports of racism against Black people, Asian people, Middle Eastern people, and individuals from other non-Ukrainian regions who are desperate to escape.
The New York Times reports that, "Africans and other foreigners in Ukraine say border guards made them endure long waits and even beat them, while letting Ukrainians through."
We must stand up to racism in Ukraine, where African & Asian people trying to flee are pushed back and white Ukrainians are prioritised. Europe can't have a whites only refugees policy. Everyone fleeing war has a right to seek safety #AfricansInUkraine #WaiveVisasNotFlagsFebruary 28, 2022
See more
If and when they manage to cross the border, things aren't much better for them with reports claiming that they're suffering racist and xenophobic abuse in their host countries too.
Horrified by the abuse being experienced by African and Caribbean students trying to flee the conflict, Patricia Daley, Tokunbo Koiki, and Korrine Sky: set up a fund to help those in need. Speaking on ITV News, Tokunbo said she felt the need to do something after seeing horrific videos on social media.
They've since set up a new organisation, Black Women for Black Lives, or BW4BL for short, to continue their important work in the Ukraine crisis and beyond.
Find out more and donate to BW4BL here.
Donate money to LGBTQ+ charities
Even in 2022, hatred against members of the LGBTQ+ community is rampant across the planet. Sadly many LGBTQ+ people are ostracised from their families and local communities and may be in incredibly isolated situations as we speak.
Russian President Vladimir Putin's history of discrimination against LGBTQ+ people, and Russia's infamous anti-gay 'propaganda' laws are of great concern. Ukrainian LGBTQ+ people are terrified that they'll face even worse persecution from the Russian invaders.
Things aren't much better for those seeking refuge in countries like Poland, which are predominantly conservative, Catholic and have homophobic systems including 'LGTBQ+ free zones.'
NPR has reported on the plight of trans people in the country. Many transgender women are unable to leave Ukraine because their government IDs still mark them as male, "and men are forced to stay and fight under the country's conscription laws."
All Out, a global LGBTQ+ charity that has started a fund to support LGBTQ+ organizations on the ground in Ukraine, as well as Romania, Slovakia, Moldova, and Poland. They're urgently coordinating evacuations and safe places for queer refugees fleeing from Ukraine.
Find out more and donate to All Out here.
Book an Airbnb in Ukraine
Although many are wondering why people are booking Airbnb stays in Ukraine, the unusual but direct way to send urgently needed funds is proving successful.
These bookings for Airbnb stays at hosts' homes in Ukraine are obviously being made with the clear understanding that the stays will not be fulfilled.
The tech giant are waving fees for Ukrainian users. Also, Airbnb are offering free housing to Ukrainian refugees.
Aoife is Junior News Editor at woman&home.
She's an Irish journalist and writer with a background in creative writing, comedy, and TV production.
Formerly Aoife was a contributing writer at Bustle and her words can be found in the Metro, Huffpost, Delicious, Imperica, EVOKE and her poetry features in the Queer Life, Queer Love anthology.
Outside of work you might bump into her at a garden center, charity shop, yoga studio, lifting heavy weights, or (most likely) supping/eating some sort of delicious drink/meal.