Here is the secret to Kyra Sedgwick and Kevin Bacon's 35-year-long marriage
Married couple Kyra Sedgwick and Kevin Bacon first met on the set of PBS movie Lemon Sky back in 1987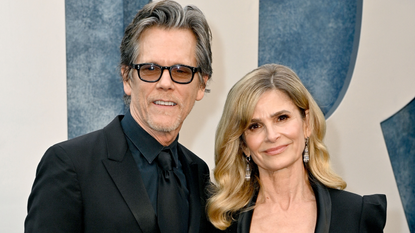 (Image credit: Lionel Hahn / Contributor)
It's been over three decades since Kyra Sedgwick and Kevin Bacon first met on the set of the PBS movie Lemon Sky back in 1987.
Astoundingly, given the plenty of divorces that seem to define Hollywood, the couple has been together since their wedding day on September 4, 1988.
Since then, both Kyra and Kevin have carried forward their respective stellar acting careers (sometimes even working on films together!) while raising their two children, 33-year-old son Travis and 31-year-old daughter Sosie.
It all begs the question: how do Kyra and Kevin do it? What's the secret to their long-lasting marriage?
"A sense of humor is crucial," Kyra said to People. "He is very freaking funny."
In addition to endless laughter, the couple seems to revel in mundane details.
"To me, walking down the street together just shooting the s--- in the middle of the night still feels like a nice place to be," Kevin said in the interview pegged to the release of their film Space Oddity, due to hit theaters on March 31.
The movie, directed by 57-year-old Kyra, stars Kyle Allen as Alex McAllister, a man who, according to an official synopsis, "gives up on Earth and decides to leave it all behind for a one-way mission to Mars" until a new budding romance has him reconsider his decision.
Kevin stars in the film as Jeff McAllister, Alex's father.
"I love being in charge of the storytelling," Kyra said to people about her latest work - a feeling that Kevin noticed immediately.
"She just absolutely adores directing," 64-year-old Kevin said on the record. "You can't be a crew or a cast member and not get swept up in that [excitement]."
Funnily enough, back in 2005, it was Kevin who sat in the director chair while Kyra was in front of the camera shooting Loverboy, starring as an odd and possessive single woman that becomes unhinged as her son Paul (Dominic Scott Kay) grows more and more independent.
Clearly, the couple knows how to make things work in different scenarios - which has been the case since their initial meeting, it seems.
In their new interview, Kyra and Kevin take a walk down memory lane, describing how they felt about each other as soon as they went on their first date.
"I remember waking up and going, 'I feel like home,'" the actress said about the morning after their very first dinner together. "I realized, 'Oh, that was him.'"
Other stars have, in the past, shared their thoughts on how to keep a marriage strong within the anxiety-ridden confines of Hollywood - and the tips seem to be in total agreement with what Kyra and Kevin just revealed.
A couple of years ago, for example, Catherine Zeta-Jones spilled how she's stayed happily married to Michael Douglas for over two decades.
In an interview with the Wall Street Journal magazine, the now 53-year-old actress mentioned humor as a key ingredient to marital bliss.
"First of all, we have a lot of fun together," said Catherine. "We've never, ever lost our sense of humor, and we enjoy each other's company."
Did you hear that? While working towards ever-after, don't forget to smile your way through life!
Anna Rahmanan is a New York-based writer and editor who covers culture, entertainment, food, fashion and travel news. Anna's words have appeared on Time Out New York, the Huffington Post, Fortune, Forbes, Us Weekly, Bon Appetit and Brooklyn Magazine, among other outlets.