Halle Berry perfectly claps back at ageist tweet in response to her latest nude photo
After posting a beautiful nude shot of herself sipping wine, Halle Berry contends with the usual ageist comments on social media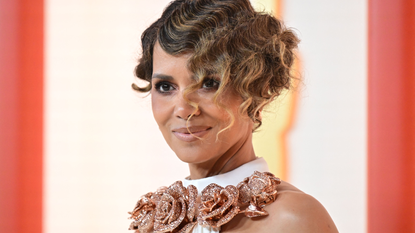 (Image credit: FREDERIC J. BROWN / Contributor)
Just a couple of days ago, actress Halle Berry caught everyone's attention on social media when posting a stunning shot of herself sipping some wine while nude on a balcony. With her brown hair surrounding her face, Halle looked like the epitome of relaxation.
Halle, who recently revealed that her 50s are her happiest and most content decade yet, captioned the post, "i do what I wanna do. 💋happy Saturday."
The actress' fans immediately flocked to the post to praise her beautiful figure and her freedom of expression.
"Made me drop all my damn Easter eggs!," one follower hilariously wrote.
"Looks like a cover from a romantic novel, one where a woman fell in love with herself wholeheartedly," someone else commented.
"Omg! 😍 GOD GIVE ME THIS ENERGY'😍❤️❤️❤️ Queen," noted Brazilian mixed martial artist Gabi Garcia.
But, as is always the case when a celebrity posts just about anything on the Internet, nice comments were followed by a slew of negative ones, mostly concerned with Halle's decision to pose nude at the age of 56.
Specifically, a Twitter user replied to her photo saying, "Imagine being in your 50s, still posting nudes for attention in menopause when you should be chilling with your grandkids. Aging with dignity is no longer a thing."
In true classy Halle fashion, the celebrity didn't skip a beat and actually responded to the rude comment directly on the platform.
"Did you guys know the heart of a shrimp is located in its head?," Halle wrote.
Talk about a comeback!
Even fellow actress Audra McDonald took the time to praise Halle's response, simply quoting it on Twitter and writing, "You won the internet today with this clap back. 🙌🏾🙌🏾🙌🏾🙌🏾."
Halle, who apparently stays fit with just a towel, isn't a stranger to the sorts of comments that she had to endure on social media this past weekend alone.
In fact, the mother-of-two is wont to be very honest and candid on various platforms, often showing off her amazing figure to the delight of all her fans. Do you remember when she posted a photo of herself skating in her underwear that sent social media into a tailspin?
Unfortunately, conversations about ageism have been part and parcel of Hollywood for decades now - and Halle isn't the only celebrity that has to contend with them.
Last month, Helen Mirren hit back at claims that older women shouldn't have long hair, for example.
The Oscar-winning actor said that she is 'quite enjoying' having long hair during an interview, calling her new look 'radical' yet 'very cool.'
Model Paulina Porizkova, on the other hand, started a whole new trend, enticing women to share their 'old and ugly' photos on social media after the celebrity received abuse from an online troll.
We salute all these amazing women and thank them for being so outspoken about such an important topic!
Anna Rahmanan is a New York-based writer and editor who covers culture, entertainment, food, fashion and travel news. Anna's words have appeared on Time Out New York, the Huffington Post, Fortune, Forbes, Us Weekly, Bon Appetit and Brooklyn Magazine, among other outlets.