George Clooney reveals wife Amal would 'KILL' him if he did this...
The actor has been isolating at home with his wife and children throughout the world health pandemic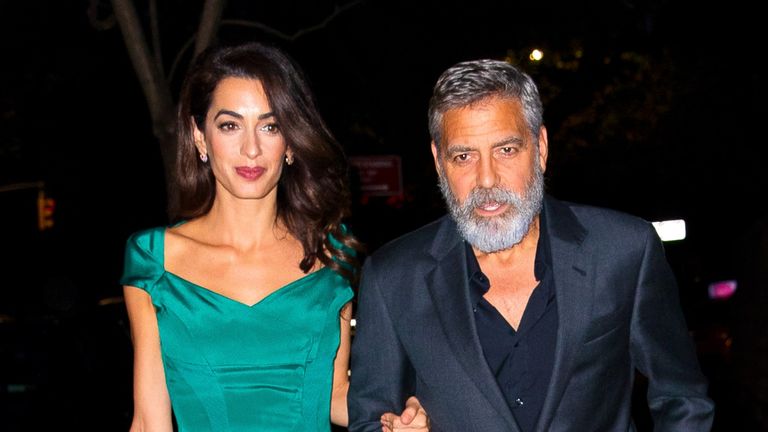 (Image credit: Jackson Lee / Contributor Getty)
George Clooney, you think would be able to get away with ANYTHING at home, right? Wrong. While we might forgive him for leaving the place untidy, he has revealed his wife Amal would "kill" him if he ever cut their daughter's hair.
The Hollywood star has been spending more time with his wife Amal and their two children, twins Alexander and Ella, aged three. 
During a recent interview with W Magazine, George revealed what chores he's been doing at home and he's been a busy man.
"I'll tell you what I've taken on as a hobby: two or three loads of laundry a day, dishes all day long, because these kids are slobs," he said. "Apparently, you have to wash your children every once in a while." But it's his move to a lockdown hairdresser that has got his wife Amal worried.
More from woman&home:
best pillows - for a comfortable, pain-free night's sleep whether you're a back, side or stomach snoozer
best blenders - make smoothies, soups, sauces and desserts with blenders for every budget
best food processors - help make chopping vegetables, whizzing baby food, mixing dough and baking a doddle
He explained, "I cut [my son's] hair, and I cut my own hair, too, but I haven't cut my daughter's hair. I'd get in trouble if I did. My daughter looks gorgeous – her hair is very long. If I screw up my son's hair, he'll grow out of it. But my wife would kill me if I touched my daughter's hair."
George also revealed the reason he's been staying home more since the coronavirus pandemic hit is because he has been protecting his son who has asthma and is, therefore, more vulnerable to the virus.
The Clooney household has been hunkered down in their Los Angeles home as George's latest Netflix movie The Midnight Sky has just been nominated for three Critics' Choice Awards.
The Midnight Sky has received 3 @CriticsChoice Awards nominations for Best VFX, Best Score, and Best Young Actress for Caoilinn Springall's portrayal of Iris. pic.twitter.com/VhKEUZsiJnFebruary 8, 2021
See more
Speaking about his decision to stay home as much as possible, George revealed last year, "My son has asthma. They say it's not so bad on young people. But do we know that? We don't know anything about the long-term of this yet."
But the proud dad remained optimistic about the future, he added, "It's been a crappy year. It has. But we're gonna get through it. I believe that with my whole heart. If I didn't believe that, I don't know how we'd raise kids in this world. We're gonna get through these things and my hope and my belief is that we will come out better."