Friends stars Jennifer Aniston, Courteney Cox and Lisa Kudrow just reunited for a very special occasion
The three Friends stars reunited on the Hollywood Walk of Fame to celebrate Courteney Cox's achievements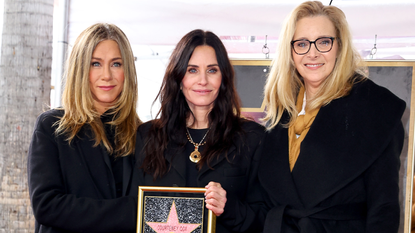 (Image credit: Leon Bennett / Stringer)
It's a Friends reunion to remember.
Earlier this week, former Friends co-stars and real-life pals Jennifer Aniston and Lisa Kudrow joined Courteney Cox, who recently talked about embracing her late 50s and moving away from facial injections, to celebrate her much-deserved new Hollywood Walk of Fame star.
While posing for photos, Jennifer and Lisa also delivered an expectedly hilarious speech in honor of their friend.
"We're very honored to be here today to speak on your behalf as your co-workers, your friends, your family, your sisters," Jennifer said on site. "To be friends with Courteney is to be family with Courteney and she is responsible for all of that. From the beginning of when we met her, she was immediately inclusive, warm, loving [and] interested in everything about you."
After drawing laughs from the audience while explaining that Courteney was the only "famous one" when Friends first went on the air in 1994, Lisa went on to praise her pal as well.
"She was the only one of the cast who was famous," Lisa said. "So I feel like we were all sort of taking our cues from her at first to see what the Courteney Cox show was gonna be. Courteney [teaching us to be inclusive] really set us up to become one of the closest, most loving and supportive casts in - I'll say - the history of television."
Lisa continued, "Courteney, we just want to say that we're deeply, deeply proud to know you. You are the definition of a truly beautiful, talented - and what's most important - a truly good and decent human being."
Jennifer finished off by noting, "As fans, we want to thank you for making us laugh. Watching you on screen and just in life in general, you're one of the funniest human beings on the planet Earth." We, of course, whole-heartedly agree.
Despite wrapping up their work on Friends after 10 seasons nearly two decades ago in 2004, Courteney, Lisa and Jennifer have clearly remained very close and their relationship has been delighting fans for a long time now, with folks keeping tabs on them on social media and beyond.
Back in August, for example, Jennifer and Courteney posted adorable throwback photos to celebrate Lisa's birthday.
Jennifer shared a series of images beginning with a shot of her and Lisa, who had just turned 59, at the 2003 People's Choice Awards. The 53-year-old actress continued her Instagram story with what is now an iconic GIF of Lisa as her Friends "alter ego," Phoebe Buffet. In the clip, both Phoebe and Jennifer's character Rachel Green are seen jumping up and down while clapping their hands. The words "I love you" appeared under the GIF.
The post concluded with a photo of Jennifer kissing Lisa on the cheek. Jennifer captioned the shot with three emojis: a heart, a birthday cake and a kissy face.
Courteney, on the other hand, opted for a video of the two laughing together on a couch. She captioned the clip, "Happy birthday loot. You make everything better. And funnier!"
Clearly, the actresses owe a lot to Friends, which has become more than a job on their resume - as mentioned by Courteney in a new interview with Variety (opens in new tab) pegged to her new Hollywood Walk of Fame star.
"Friends taught me the importance of camaraderie and really sticking together," the 58-year-old said to the outlet. "These friendships were at the most important time in my life, and we went through so many things together. And it just taught me about being there for each other — I know, that's the song: 'I'll be there for you.' But it's true. It was so nice to work with people that could bounce ideas off each other. Everybody wanted the best for everybody. There was no jealousy, it was only, 'Let's make the best show we can, and let's support each other in this.'"
Anna Rahmanan is a New York-based writer and editor who covers culture, entertainment, food, fashion and travel news. Anna's words have appeared on Time Out New York, the Huffington Post, Fortune, Forbes, Us Weekly, Bon Appetit and Brooklyn Magazine, among other outlets.