French director tried to sleep with Jane Fonda to watch what her 'orgasms were like'
The actress recalled how the 51-year-old wanted to sleep with her when she was just 27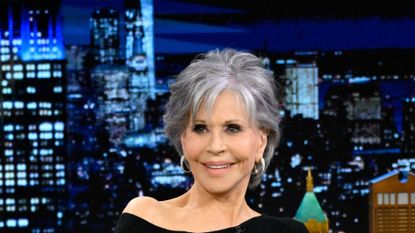 (Image credit: Getty)
Jane Fonda recently gave an interview condemning a French director who asked her to sleep with him so that he could see what her "orgasms were like" - here's what she said in response.
As an actress who's been in the public eye for over 60 years, it's no shock that Jane Fonda has quite the collection of shocking stories from her earlier years in Hollywood. She's been very open about the highs and lows of her career, especially the more eye-opening ones, like why she wasn't a huge fan of Katharine Hepburn, why she felt "lost" as a young person, and even what it was like to go skinny dipping with Michael Jackson.
On a recent episode of Watch What Happens Live with Andy Cohen, Jane Fonda went on as a guest to promote her new movie, Book Club: The Next Chapter, when she ended up disclosing a story about how French director René Clément wanted to sleep with her while working on a film together.
This comes just months after Jane revealed that, at 85 years old, she has no desire to be in a sexual relationship again.
She brought the situation up because Andy asked her to name one man in Hollywood that she turned down in her long career as an actress, and she named René. The actor and director worked together on the 1964 film Joy House, in which Jane starred opposite Alain Delon, Lola Albright, and André Oumansky.
"He wanted to go to bed with me because he said the character had to have an orgasm in the movie and he needed to see what my orgasms were like," she told Andy.
She said that she smartly avoided answering him directly by pretending to not understand French, the language he primarily spoke. "He said it in French and I pretended I didn't understand," she continued.
Andy was noticeably shocked by the story, with the audience also shouting with disapproval after Jane told the disturbing story. "I have stories for you, kid, but we don't have time," she said to Andy.
She also separately told the New York Times that Joy House was the first movie she ever worked on in France. "I didn't speak very good French then, and I never understood much of what was going on. The only people who really dug that movie, for some reason, were junkies. They used to come up to me and give me a big wink. But I'm awfully glad I did it because it got me into France and I met Roger," she said, referencing her ex-husband, Roger Vadim.
Madeline Merinuk is woman&home's US lifestyle news writer. She covers celebrity, entertainment, fashion, and beauty news but is also obsessed with internet trends - you can find her reciting trending TikTok sounds out loud at any given time.
After winning multiple student journalism awards for her investigative work, she graduated from Hofstra University in 2021 with a B.A. in Journalism. After graduating, she worked at today.com, the digital site for the Today Show, where she wrote pop culture news and interviewed big-name personalities like Emily Ratajkowski, Haley Lu Richardson, Emma Corrin, and more.
Her personal interests, in no particular order, are: cheese, Joni Mitchell, reading, hot yoga, traveling, having multiple chapsticks in every handbag at all times, and dancing to ABBA songs as if she were in the Mamma Mia movies.