Firefly Lane season 2 ending explained: Does Kate die and did she and Tully make up by the finale?
The Firefly Lane season 2 ending brought the Netflix show to a close with a perfect mix of both heart-breaking and hopeful moments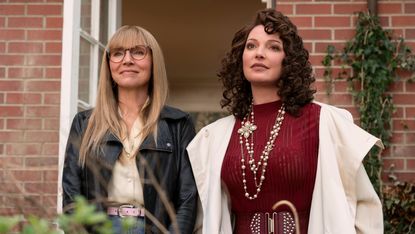 (Image credit: Cr. Diyah Pera/Netflix © 2023)
The Firefly Lane season 2 ending was the final outing for childhood best friends Tully and Kate and it delivered some powerfully emotional scenes.
Since it first landed in 2021 Firefly Lane has never shied away from depicting life's difficult moments through the lens of Tully and Kate and the finale was no exception. Their story has been one of epic highs and lows, with scenes that raised plenty of questions ranging from does Tully die in Firefly Lane to whether or not there's a Firefly Lane true story it's based on. The Netflix show adapts Kristin Hannah's book of the same name and though many will be hoping there's a Firefly Lane season 3 this is unfortunately the last time we'll be immersed in Tully and Kate's world.
Here we explain the Firefly Lane season 2 ending and reveal whether Kate died in Firefly Lane as the hit Netflix drama drew to a close…
*Warning: Spoilers ahead*
Firefly Lane season 2 ending explained
After not speaking for so long after Tully and Marah were involved in a car crash, Tully and Kate finally reconnect by the time of the Firefly Lane season 2 ending. The Firefly Lane season 2 part 1 ended with Kate being diagnosed with breast cancer and heading straight to her former friend's apartment as she was the one person she wanted to speak to. In an agonizing twist of fate, Tully had literally just gone off to undertake her assignment in Antarctica, leaving her none the wiser of how much Kate needed her and wanted her back in her life.
In season 2 part 2, she left Tully voicemails that let her friend know something was very much not ok and she immediately returned from Antarctica to be at Kate's side.
Tully finally discovered what Kate had been going through and although she tried to be positive for her, she was absolutely terrified that she'd lose the one person who means so much to her.
Meanwhile, on the romance front Firefly Lane season 2 part 2 had a lot to delight fans. During episodes 10-16 Tully finally realized that she's in love with her friend Danny Diaz. Unfortunately, this happened after he's already got engaged to his girlfriend (who incidentally isn't that sure about marrying him).
However, Firefly Lane season 2 part 2 seemed destined to bring Tully and Danny together as eventually they get back together.
In the Firefly Lane season 2 ending Danny finally admitted he loved Tully and they decided to make a go of things and embark on a relationship. Meanwhile, by the end of the show Kate and Johnny have remarried in a special backyard ceremony after he proposed to her at Christmas and Kate's brother Sean had come out. He told his sister he intended to ask his partner William to marry him and brought him to her and Johnny's wedding.
In a 2016 flashforward in the finale, Kate and Johnny's daughter Marah also gets married and her dad and Tully couldn't be more proud and pleased for her and her new wife. Ultimately, there was a huge amount to be joyful or hopeful about in the Firefly Lane season 2 ending, but there were also incredibly heart-breaking scenes too.
Did Kate die in Firefly Lane?
Many fans who've read Kristin Hannah's Firefly Lane book ending you might well have feared the worst when Part 1 of the second season saw Kate receive a devastating breast cancer diagnosis. This is exactly the heart-wrenching direction the novel takes and just like in the book, Kate dies in Firefly Lane season 2 ending. From the very beginning of Firefly Lane season 1 the anchor for all the emotional highs and lows has always been Kate and Tully's friendship.
Even after what Tully did to Kate that led her friend to stop talking to her there was always the suspicion that a reconciliation would happen and nothing could ever truly separate them. This was the main message of the Firefly Lane season 2 ending as although Kate died, her presence was shown to still be crucial to the lives of those who knew and loved her.
The opening scenes of the finale saw Tully and Kate talking to each other about Marah's upcoming wedding. Dressed up as guests, Kate thanked Tully for all she's done for her family and they discussed how it had been 10 years since she got sick.
Tully in turn declared that, "Everything good that she is - that's because of you, Kate."
Any hope that this is a happy reality was sadly shattered when Danny knocked on the door and called to Tully saying that "everyone is waiting" for her. When the camera panned back to a wide shot of the room, Kate had disappeared, revealing she was a figment of Tully's imagination at this bittersweet time. Throughout the Firefly Lane season 2 ending we saw Tully, Johnny, Marah and, of course, Kate herself come to terms with her prognosis as cancer had spread to her brain.
This invalidated her being eligible for a new trial that Danny had helped Kate get on and Johnny looked broken as he told Tully they have to accept their tragic reality. Kate herself said to Tully that she wanted to go home now and spend time with her and her family. She does and she also threw herself into writing and making the most of every single moment.
During a conversation with Tully who was excitedly telling her all about Danny confessing his love for her, Tully went back in to refill her tea saying it was a "long story". She briefly left Kate taking in the beauty of nature all around her. She smiled as she saw an eagle flying in the blue sky above her and passed away before Tully returned and found her beloved best friend.
The final scenes of the Firefly Lane season 2 ending show Tully was given a box by Johnny on the day of Kate's funeral and told her that his wife left this for her. Tully sat on a bench outside and opened it, discovering a heartfelt letter from Kate who explained that she's written the story of their friendship down - every moment of it, whether good, bad or embarrassing - in a book.
The show echoed the wording of Kate's note in the Firefly Lane book and she wrote, "I know that you'll be thinking that I left you but it's not true. All you have to do is open this book, and you'll find me."
Inside the box Kate left Tully something to smoke, a picture to kiss and an all-important iPod complete with a Firefly Lane mix to dance to. Of course, ABBA's Dancing Queen was the first track and Tully plugged in and danced in remembrance of her as Firefly Lane drew to an end.
Firefly Lane seasons 1 and 2 are available to watch now via Netflix.
Emma is a Senior Lifestyle Writer with six years of experience working in digital publishing. Her specialist areas including literature, the British Royal Family and knowing all there is to know about the latest TV shows on the BBC, ITV, Channel 4 and every streaming service out there. When she's not writing about the next unmissable show to add to your to-watch list or delving into royal protocol, you can find Emma cooking and watching yet more crime dramas.