Eva Mendes reveals parenting advice she and Ryan Gosling 'live by' during 'hardest times'
Eva Mendes and Ryan Gosling are parents to Esmeralda and Amada and here is the parenting advice they swear by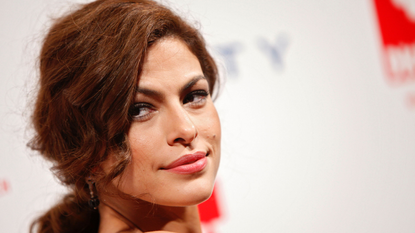 (Image credit: Brian Ach / Contributor)
It's not often that Eva Mendes goes on the record about her life at home with husband Ryan Gosling but that's what she just did on Instagram.
We already know that Eva Mendes and Ryan Gosling share the household chores and, now, we get to learn a bit about the couple's parenting style as well.
In a video that she posted to her Instagram account earlier this week, the 48-year-old actress, who shares 8-year-old Esmeralda and 2-year-old Amada with Ryan, opened up about what she wishes for her daughters.
"When they get into trouble later on in life, I want them to be like, 'I gotta call mom' versus 'I can't tell mom about this,'" the actress says in the clip. "And that's what I'm looking for, obviously. You can come to me with anything."
To reiterate her point, the celebrity captioned the post, "Some good parenting advice I heard and live by. How I think & I hope I'll get there?…connection. I'm always trying to connect to them. Especially during the hardest times when I don't want to and I'd rather be mad. 💙"
Eva went into even more detail about it all in her Instagram story, also touching upon the importance of apology as a "point of connection" with her children.
"[I can] be like, 'Ah, remember when you spilled milk in the car and I was driving. I kind of overreacted.'" she said. "And sometimes they'll be like 'No Mama, you did say to be careful. It's okay'" or [they will agree], and I'm like 'I'm really sorry. I'm gonna work on that.'"
Those are some pretty great tips, coming from a mother who has clearly been there and is very close to her daughters.
But Eva has a lot to say about other topics as well, and we're here to listen - especially when it comes to beauty.
The actress is a big fan of this skincare tool that we can't get enough of ourselves, for example.
Made by Beverly Hills-based Dr Mariana Vergara (yes, she is related to Sofia Vergara!), the tool in question will only set you back $20.
Sharing a video using the tool on Instagram a few years ago, Mendes wrote, "As you know, I love supporting female owned businesses. Fellow Latina @marianalvergara's Golden Wand is finally available. Since I can't see her as much as I'd like during these times, her affordable beauty tool is helping me fight gravity a little bit. (Don't tell this to my face but I think gravity has the lead)."
The tool in question is none other than Dr Mariana Vergara's Golden Wand, a 3D facial roller with a price tag of just $19.99 (opens in new tab)!
Promising to reduce the appearance of wrinkles and dark circles, the roller stimulates blood circulation resulting in an "instant facelift,"] according to Dr Vergara's website. Prepping your skin for better absorption of skincare products, it can even be used in the shower!
What Eva says, we follow - whether it concerns parenting or beauty!
Anna Rahmanan is a New York-based writer and editor who covers culture, entertainment, food, fashion and travel news. Anna's words have appeared on Time Out New York, the Huffington Post, Fortune, Forbes, Us Weekly, Bon Appetit and Brooklyn Magazine, among other outlets.