Eva Longoria remembers feeling 'so jealous' in her previous marriage - 'why would anyone want that feeling?'
In a new interview, Eva Longoria gets very candid about the realities of married life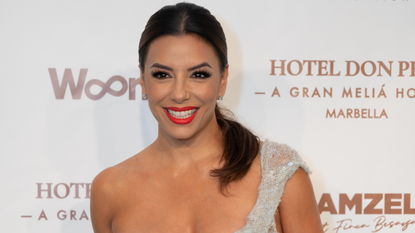 (Image credit: Europa Press Entertainment / Contributor)
Eva Longoria and Mexican businessman José "Pepe" Bastón have been happily married since 2016 and the actor credits her previous marriages with her ability to properly navigate a relationship today.
The 47-year-old actor shared marriage advice while chatting with Chilean author Isabel Allende on her podcast Connections.
"I think jealousy takes up such an amount of energy," Eva said on the record last week. "I remember being so jealous and like, your stomach is inside out. It's the worst feeling. Why would anybody want that feeling?"
As her fans probably noted immediately, Eva was referring to her previous two marriages. Between 2002 and 2004, Eva was married to Tyler Christopher, a soap opera actor. The celebrity then married now retired NBA pro Tony Parker in 2007 but divorced him in 2011 reportedly following her discovery of texts from another woman on his phone.
In 2016, Eva married the now 54-year-old José, and the two share four-year-old son Santiago Enrique. José is also the father of three other children from his previous marriage to Natalia Esperón.
"I found Pepe when I was 40 and he was 50," Eva said on the podcast. "It was just like, 'Can we just enjoy this life together?' I mean, I do yell at him for the toothbrush or something like that still."
This isn't the first time that Eva has discussed her current marriage in public. In 2017, while pregnant with their son, Eva revealed to PEOPLE (opens in new tab) that her and José didn't hit it off immediately following an introduction by a mutual friend in 2013.
"I was getting out of a bad relationship, and he was getting out of a relationship, so there wasn't a connection," she said to the outlet. "We had a pleasant conversation but there was no real connection."
Things changed for the better a mere six months later, when the same friend attempted to set the two up again.
"I had no memory of meeting him the first time, but we had immediate sparks," Eva said to PEOPLE, also reminiscing on their four-hour lunch date the next day. "It was like the cliché angels singing and there was a glow around him and it was immediate chemistry."
Fast-forward over three years and the couple got married in Valle de Bravo in Mexico, about 90 miles from Mexico City. As first reported by PEOPLE, Eva wore a gorgeous white gown designed by her best friend Victoria Beckham, who attended the ceremony alongside Mario Lopez, Penélope Cruz and Katy Perry, among other celebrities.
"He was the most handsome man I'd ever seen," Eva said while describing their second shot at meeting. He was so charismatic, charming, sweet and funny. I thought, 'Who is this guy?!' [...] He is probably one of the first men I've dated that has been older and established and, basically, a grown-up."
It might have taken a few tries, but Eva has clearly cracked the code at a successful marriage. As they say, third time's the charm.
Anna Rahmanan is a New York-based writer and editor who covers culture, entertainment, food, fashion and travel news. Anna's words have appeared on Time Out New York, the Huffington Post, Fortune, Forbes, Us Weekly, Bon Appetit and Brooklyn Magazine, among other outlets.