Ruth Langsford comforts husband Eamonn Holmes as he becomes emotional on This Morning
Things took an emotional turn on Wednesday's show as Eamonn got teary.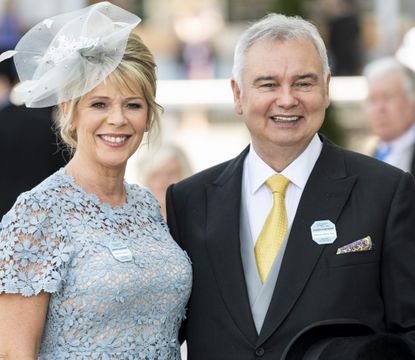 (Image credit: Getty Images)
Ruth Langsford was there to lend a shoulder to cry on for husband Eamonn Holmes on This Morning as he got emotional on Wednesday's show.
The couple shared a touching moment with viewers as they introduced a viral video of musician Patrick Dexter performingDanny Boy on his cello.
Just ahead of the performance, Eamonn explained to viewers that the song had a special place in his heart, not only because it is Irish but because of its touching connection to his late father.
The 60-year-old presenter struggled to hold back tears as he watched the performance, while wife Ruth stood by his side to comfort him.
He said, "When you leave Ireland, this is your call back home. It's all about having to leave the country and then at one point, your sweetheart will call you back home."
Ruth then asked him, "Didn't your dad sing this to you?"
To which he responded, "He sang it to me when I went. A lot of people sing it. So whether you're Irish or whether you're not, you enjoy this."
After the song had stopped, the camera cut back to the on-and-off screen couple. Eamonn appeared to be visibly moved by what he had just watched, admitting there was "not a dry eye in the house,"
Sat by his side, Ruth then squeezed his shoulder in support of her husband.
MORE:New 'Covid-friendly' Strictly Come Dancing rules revealed ahead of this year's show (opens in new tab)
Eamonn's father died suddenly at the age of 64, just four years older than Eamonn is now, after suffering with a heart attack. The star recalled the tragic time in his 2006 autobiography, This Is My Life.
In the book, he spoke candidly about the moments leading up to the death on Easter weekend 1991, explaining that he had been in London while his parents and younger brother Conor spent the holiday in their caravan in seaside town Ballycastle, Antrim.
His dad then suddenly fell ill while driving in the car with his wife Josie and Conor. He managed to pull over but could not get out of the drivers seat, where he was forced to wait as the ambulance made its way. Luckily, a family friend named John Linehan happened to be in the area and came to their aide.
"As they waited for an ambulance, John kept talking to him until he became unconscious. He tried to resuscitate him but by the time the ambulance crew got there it was too late," Eamonn said.