The Duchess Of Cambridge Was The Only Royal NOT Wearing This Special Regal Accessory At The State Banquet...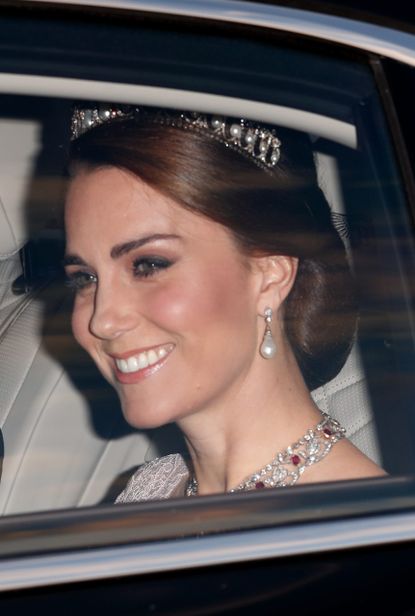 Last week, the royal family hosted King Felipe and Queen Letizia of Spain at Buckingham Palace for a special royal visit.
The King and Queen of Spain undertook a number of engagements whilst in the UK, including a private tour of Westminster Abbey led by Prince Harry (opens in new tab). The highlight of their official visit was the regal state banquet, hosted by the Queen at Buckingham Palace and attended by all members of the royal family.
Prince William was there, along with the Duchess of Cambridge who turned heads as always, looking resplendent in heirloom jewels at the royal state dinner.
Although Catherine looked every inch a Queen-in-waiting in a floor-length Marchesa gown and glittering tiara, there was one regal accessory that she was missing.
The Duchess of Cambridge was the only royal at the state banquet not to be wearing a sash.
The Queen, the Duke of Edinburgh, Prince Charles, the Duchess of Cornwall, Prince William and Princess Anne, and not to mention the King and Queen of Spain, were all seen wearing a special sash of some variety. Queen Letizia's was subtly adjusted to fit the style of her beautiful crimson red gown.
However, the reason why Catherine was missing this special part of the royal wardrobe is actually very simple. The Duchess of Cambridge is not a member of an Order.
[instagram]
[/instagram]
Although there are various different 'Orders', the most well-known is the Order of the Garter. As explained by the Palace on their official website:
"In medieval times, King Edward III was so inspired by tales of King Arthur and the chivalry of the Knights of the Round Table that he set up his own group of honourable knights, called the Order of the Garter. Nearly 700 years later, the Order is the oldest and most senior Order of Chivalry in Britain."
The Order of the Garter includes the Queen, who is Sovereign of the Garter, several senior Members of the Royal Family - including Prince William who was appointed in 2008 - and twenty-four knights chosen 'in recognition of their work'.
Although the Duchess of Cambridge has not yet received the honour of being appointed, it is thought that she will be in the next few years. Sophie, Countess of Wessex was appointed in 2004, and Camilla, Duchess of Cornwall was appointed in 2007.