Drew Barrymore reveals she was ghosted - and gets emotional about her struggle to 'receive love'
Everyone's favorite celeb just got candid about getting ghosted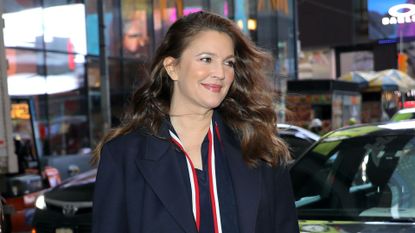 (Image credit: Getty Images)
Drew Barrymore talked about getting ghosted with podcast host Jay Shetty, and discussed why she has a hard time opening herself up to love.
There's no denying Drew Barrymore is truly the epitome of the "America's sweetheart" archetype. Everyone loves her, and for good reason - she's bubbly, optimistic, and hilarious (and not to mention - gorgeous). She also certainly doesn't lack charm, seeing as she revealed she once drunkenly made out with Hugh Grant for 10 minutes.
With all of this in mind, it's hard to believe someone like Drew could get ghosted. But alas, she may be just like the rest of us in that regard.
Drew, who now hosts The Drew Barrymore Show, spoke candidly about her perceptions on love, relationships, and more with former monk Jay Shetty on his podcast, On Purpose with Jay Shetty.
In the podcast episode, which aired January 30, Drew recalls being on a date with a guy who she really liked. "We were texting back and forth," Drew said. "And it was so cute. I really liked him. I was like, 'What a nice guy.'"
Despite the strong connection, she said that the guy, who she wouldn't name, ended up never responding back to her - aka, she was ghosted. "I guess that's what you call getting ghosted. I was like, 'Whoa, that is so…Oh, wow. That's so weird," she told Jay.
To enliven the scene, she compared her ghosting experience to an episode in season six of Sex and the City where Carrie's beau, Jack Berger, leaves a short note for her, saying he can't be with her anymore, but not explaining why.
Drew says, however, that by today's standards, Berger's exchange with Carrie would be surpassing what people would normally expect when they get ghosted. The note says, "I'm sorry. I can't. Don't hate me."
Drew laughs when talking about this iconic SATC scene. "'I'm sorry.' Okay, great. 'I can't.' Thank you. Now, I know where you're at. I know to move on. This is so informative. I appreciate the gracefulness and the graciousness," she says. "And 'Don't hate me.' Okay, I get it you're being self-effacing. This is maybe not kosher, but that's okay. Because it's your truth."
The Scream star also opened up about receiving love, and why she thinks she still "needs time" before she can get into another partnership after the 2015 divorce from her ex-husband, Will Kopelman.
"I want to know what work I could do to take my walls down, believe and trust because I am really trying to figure that out right now," she said candidly to Jay. Her self-awareness really shines through when she tells Jay that, even though she might have a hard time with intimacy now, it doesn't mean she always will. Separately, Drew admitted she doesn't need sex right now, since she hasn't had an intimate relationship in six years.
"I have just simply come to laugh about the fact that it is not my personal priority to be with a partner, but that doesn't mean it won't become one someday," she concludes.
Madeline Merinuk is woman&home's US lifestyle news writer. She covers celebrity, entertainment, fashion, and beauty news but is also obsessed with internet trends - you can find her reciting trending TikTok sounds out loud at any given time.
After winning multiple student journalism awards for her investigative work, she graduated from Hofstra University in 2021 with a B.A. in Journalism. After graduating, she worked at today.com, the digital site for the Today Show, where she wrote pop culture news and interviewed big-name personalities like Emily Ratajkowski, Haley Lu Richardson, Emma Corrin, and more.
Her personal interests, in no particular order, are: cheese, Joni Mitchell, reading, hot yoga, traveling, having multiple chapsticks in every handbag at all times, and dancing to ABBA songs as if she were in the Mamma Mia movies.