Dolly Parton's reaction to her kitchen catching fire sums her up perfectly
Dolly Parton had the best reaction to her kitchen catching fire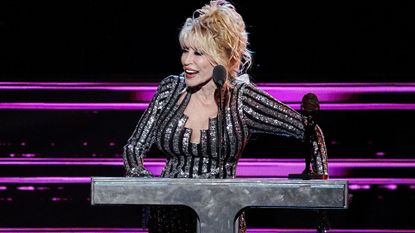 (Image credit: Getty Images)
Dolly Parton's friend Ashley McBryde recently accidentally set her kitchen on fire, and her reaction is seriously priceless.
Things recently got a little... well, heated... in Dolly Parton's kitchen - but luckily, all crises were averted, and she handled the situation with grace and kindness.
On the Jennifer Hudson Show recently, Ashley McBryde revealed that she once went to Dolly's Nashville lake house for the weekend to watch the home while it was under renovations.
While in the kitchen one night, she told Jennifer Hudson that she accidentally burned food in her microwave, causing the whole machine to catch fire.
"My only job was to be inside and let the workers in and out everyday, and watch the wallpaper dry, and just stay there at night and make sure everything was going well," she told Jennifer.
"Dolly's niece was there, that was the other person housesitting," she continued. "And we set the microwave on fire on accident in a newly wallpapered room." The culprit of the aforementioned fire? Bagel Bites.
"Bagel Bites are delicious, but you have to be careful," Ashley told Jennifer, laughing. "You don't want to be that person. Oh like, 'You know that girl, she set Dolly's house on fire.'"
Ashley said that, once the microwave caught fire, she took it outside to put it out, as to not catch the newly renovated lake home on fire - let alone, the lake home of the Dolly Parton.
She said, however, that once she told Dolly about the microwave, she responded in true Dolly fashion - with kindness. She was sweet enough to gift Ashley the microwave since she knew that she needed one for her own home.
"Dolly is such a sweet person. When she found out about it, she gave me the microwave," Ashley revealed. "She knew I was had just moved to town, I was broke, I didn't have a microwave." This is just reason 4,528 that we love Dolly Parton.
Ashley said that, even though the microwave smelled like "burnt bowling shoes," she continued to use it for a year and a half after Dolly gave it to her. Honestly, if Dolly Parton gave us anything, we would use it until its final dying day.
Dolly also recently revealed that she's open to doing a biopic, but she has a certain person in mind to play her if the project was ever to come to fruition - her goddaughter, Miley Cyrus.
"She'd have to put on some weight, and get some bigger boobs," Dolly said of Miley.
Madeline Merinuk is woman&home's US lifestyle news writer. She covers celebrity, entertainment, fashion, and beauty news but is also obsessed with internet trends - you can find her reciting trending TikTok sounds out loud at any given time.
After winning multiple student journalism awards for her investigative work, she graduated from Hofstra University in 2021 with a B.A. in Journalism. After graduating, she worked at today.com, the digital site for the Today Show, where she wrote pop culture news and interviewed big-name personalities like Emily Ratajkowski, Haley Lu Richardson, Emma Corrin, and more.
Her personal interests, in no particular order, are: cheese, Joni Mitchell, reading, hot yoga, traveling, having multiple chapsticks in every handbag at all times, and dancing to ABBA songs as if she were in the Mamma Mia movies.