'I feel like a different person': Debbie McGee shares her secrets to a good night's sleep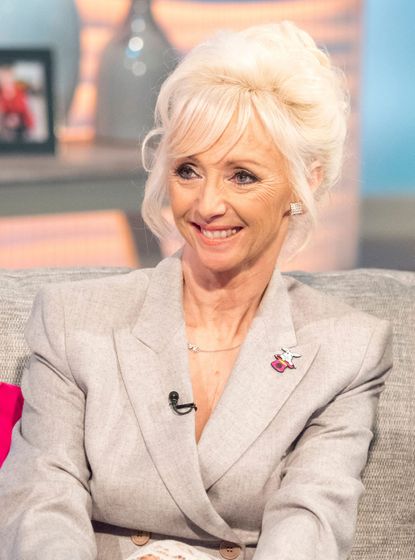 Live on Lorraine, Debbie McGee has revealed how she's fixed her sleeping pattern after years of broken slumber.
The 59-year-old, who has recently completed a stint on Strictly Come Dancing, confessed during Lorraine's Sleep Revolution that her sleep had been heavily disrupted since the death of her husband Paul Daniels in 2016.
She admitted, "What I've found in the last two years, since he died, is my sleep pattern changed. I don't think I ever really got back into a proper sleep pattern since then."
Debbie also revealed that her hectic work schedule has also lead her to interrupted snoozing, confessing, "My brain and my body just don't want to slow down."
MORE: The damaging effects just a few bad night's sleep can have on your brain
On the show, Debbie also confessed that she'd been taking sleeping pills to help her nod off, against the advice of doctors.
However, the former magician's assistant shared live on Lorraine that making a few simple changes has made the world of difference to quality of her sleep.
Speaking to Lorraine, and accompanied by Dr. Rangan Chatterjee, she said, "It's only been about 10 days since we got together but I've slowly introduced everything that the doctors advised."
Debbie went on to reveal the techniques she's implemented over the last few days, which have lead to her feeling like she's "back to normal"
Asked what strategies she used, Debbie said, "It was to go to bed at least an hour earlier than you want to go to sleep.
"Also, cut out all the electronics, no TV, no iPad. I was always on my iPad. And, go back to what your grandmother said, having a hot milk before bed. That's really helped." Who knew something so simple could help?
Debbie also shared that a simple spritz of a lavender-scented spray has made the world of difference too. We advise this sleep spray with 92% positive reviews...
She said, "Spraying my pillow with a lavender oil or lavender spray. You can feel it when you breathe it in, you can feel that it makes you calm."
The former Strictly star also revealed that cutting key foods and drinks down have benefited her hugely, too.
"Cutting down the caffeine and the chocolate, that you don't think of. And also alcohol. I was having two or three glasses a night to unwind, but it wasn't helping."
When asked by Lorraine how the changes had made her feel, she was quick to laud the benefits. And she revealed that she's been having a peaceful slumber ever since implementing them.
MORE: This everyday morning habit could be disrupting your sleep more than you realise
She said, "I just feel back to normal. When you get really overtired, you get anxious, and you go to bed thinking 'I'm never going to sleep'. But that has slowly gone away.
"But mostly I can see that everything is slotting back into place how I was before. My energy, definitely is back.
"Doing all those things, and coming off the sleeping pills, I just feel like a different person."
Amy Hunt is an experienced digital journalist specialising in homes, interiors and hobbies. She began her career working as the features assistant at woman&home magazine, before moving over to the digital side of the brand where she eventually became the Lifestyle Editor up until January 2022. Amy won the Digital Journalist of the Year award at the AOP Awards in 2019 for her work on womanandhome.com.