Dawn French reveals the bizarre daily ritual she's doing in lockdown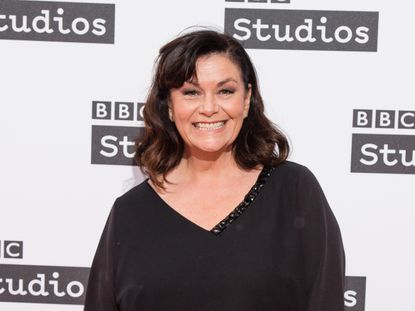 The Vicar of Dibley star has told fans she enjoys five chocolate eclair toffees "every night" in lockdown.
People up and down the country are doing whatever they can to remain positive as the nation continues to adhere to lockdown restrictions amid the coronavirus pandemic.
And for Dawn French that has become a rather bizarre daily ritual of enjoying a sweet treat right before bed. Dawn, 62, let her Twitter followers into her bizarre lockdown secret, writing, "5 choc eclair toffees. Every. Night. ..... #noteethsoon."
While the comedian is concerned she'll have "no teeth soon" thanks to her new habit, Dawn doesn't worry about her waistline.
In fact, her decision to lose weight years ago was purely for "practical" reasons - after she found out she was at risk of uterine cancer.
READ MORE: The holiday destinations Brits will flock to once lockdown is lifted
As a result, Dawn decided to have her womb removed but was told she needed to lose weight before having surgery.
Opening up about her 7.5st weight loss, Dawn said, "When I was due to have my have my hysterectomy the doc told me that if I could lose some weight before the op, they would be able to do it via keyhole, and I would recover in three weeks or so. Otherwise it would be big open surgery, and three months to recover. So, I set about dropping a few stone."
READ MORE: Dawn French reveals she's gone back to work but it's 'weird' amid coronavirus crisis
Revealing how she shed the pounds Dawn said, "[There was no] magic wand, just tiny, joyless low-cal eating and lots more walking for weeks and weeks. It was grim."
She added, "That's all it was, practical."
After hitting her target weight Dawn continued to exercise more and eat less – but she isn't strict with herself, hence why she feels no guilt about her daily dose of chocolate eclair toffees.
"I just did less eating and more exercising and I've kept that up," the actress admitted. "But I have more treats now…"
"For me, whatever age or size I've been, I've rather liked myself. The shell is not the thing at all."
As well as feeling comfortable in her body, Dawn is enjoying the slower pace and "abundant beauty" of life in Cornwall.
After years of gruelling TV schedules filming The Vicar of Dibley and French and Saunders, Dawn's priorities have changed in life and the comedy actress now craves the "quiet" life.
"I am enjoying the place I'm in," she said two years ago. "I realise I'm right there in autumn and I can't see the point in resisting it. This is what 60 looks like."
Georgia writes across Woman & Home and Good to Know and specialises in all things royal. Previously labelled the "Queen of the royals," Georgia knows the whose who and what's what when it comes to the monarchy. When she's not eagerly following the royal family, Georgia enjoys shopping and self-care. She lives with this motto in mind; "if your dreams don't scare you, they aren't big enough."