This is what Dame Helen Mirren does to keep her mental health struggles at bay
Helen's got green fingers.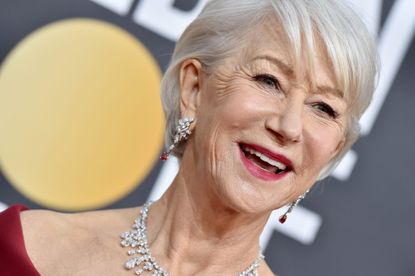 (Image credit: Getty)
Dame Helen Mirren has opened up about how she copes with mental health struggles.
The Oscar winning actress, who says she suffers from anxiety, has explained that getting out in the garden and getting her hands dirty helps her keep calm.
The 74-year-old film star, who won Best Actress at the 2007 Academy Awards for playing Queen Elizabeth II in The Queen, said, "I am not very good at turning off but gardening is a wonderful thing to do because it is absorbent, meditative and it is a learning process and it is physical.
"It is a really good way of keeping those dark dragons away. I do have them. I do, yes," she told the Mirror.
Helen previously opened up about battling negative thinking and low self esteem on a podcast called My Self Worth, recorded in collaboration with The Prince's Trust.
The Good Liar star explained, "These negative thoughts are always lurking there under the surface. Everybody feels this way, you are not the only one. What always comes up in my head is that I'm boring, I'm stupid, I'm not exciting enough."
READ MORE:Helen Mirren reveals how she 'embarrassed' herself during tea with the Queen (opens in new tab)
Detailing how she manages those moments of doubt, she added, "Sometimes I lock myself in the loo to give myself a talking to like, 'You can do it, Helen, don't worry'."
This comes after Helen spoke to woman&home about her disregard of her status as a "sex symbol".
"I don't agree that I'm a sex symbol! The great thing about getting older is that you get over all of that. You tend to think, sex symbol – what the f*** does that mean? Why be driven constantly by sexuality? There are so many other interesting things to be driven by. It's great and I'm not knocking it – it's a fabulous part of life, but it's only a part of life. It's not everything. So I'll take it, but I don't pay it any attention," she declared.