Christina Ricci reveals she was about to get sued for not agreeing to do a sex scene 'a certain way'
In a pretty shocking interview, Christina Ricci makes surprising revelations while praising the changes that have taken over Hollywood in recent years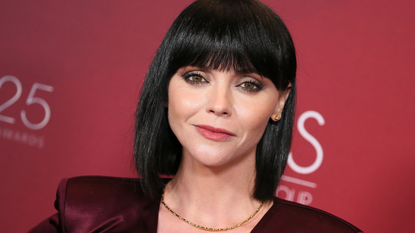 (Image credit: JEAN-BAPTISTE LACROIX / Contributor)
While appearing on The View earlier this week, Christina Ricci made a pretty shocking revelation about her early years working in the film industry.
Christina, who famously sold her handbags to pay for her divorce, specifically opened up about the current state of women in Hollywood in connection with the careers of her co-stars on hit Showtime series Yellowjackets, some of whom are much younger than her.
"Us older ladies talk about it all the time. It's amazing to see that [the younger actresses] don't necessarily have to go through the things we had to go through," Christina said on The View. "They're able to say, 'I don't want to do this sex scene,' 'I'm not going to be naked.' They can set boundaries for themselves that we were never allowed to do. Someone threatened to sue me once because I didn't want to do this sex scene in a certain way. It's really changed and it's great to see."
Although this is the first time that the 43-year-old actress goes on the record about the nature of the potential lawsuit, Christina did mention legal action while talking to Variety as part of the famous Actors on Actors series last year.
"I remember once on a movie saying I wasn't comfortable with something and they threatened to sue me if I didn't do it," Christina said to the outlet then. "That would never happen now. I didn't do it anyway. And they didn't sue me."
Regarding nude scenes in general, Christina said, "The thing that made me more uncomfortable was other people being uncomfortable with me being naked. So what I did, and you probably wouldn't be allowed to do this now - I just stayed naked. I was like, 'Don't make me feel weird, like I'm the person who has to be ashamed.' [...] I haven't done a sex scene in a couple years. I'm at that age where they don't ask you to do them so much anymore. I mean, I don't really enjoy them."
The topic of women clearly resonates with the Wednesday star as she does parenting right by teaching her son to be a feminist.
The star is currently married to Mark Hampton. The two tied the knot in 2021 and welcomed their first child in December of that year: daughter Cleopatra Ricci Hampton. The actress also shares 9-year-old son Freddie with ex-husband James Heerdegen.
"My husband, Mark, is, I hate to say it because it sounds really obnoxious, a feminist," Christina said to The Guardian (opens in new tab) a few months ago. "And Freddie is going to see that, and see his working mother. I think he'll see women in a much more layered, complicated way, just by having grown up watching his mom do all this stuff."
She went on to describe Freddie's questioning attitude. "He's asking questions like, 'Mom, is that racist?' Or, 'Mom, is that OK for women? He's got this whole thing about not calling objects – like boats – she. He'll correct me: 'Women are not objects.'" A smart boy indeed.
Christina's openness is obviously paying off!
Anna Rahmanan is a New York-based writer and editor who covers culture, entertainment, food, fashion and travel news. Anna's words have appeared on Time Out New York, the Huffington Post, Fortune, Forbes, Us Weekly, Bon Appetit and Brooklyn Magazine, among other outlets.