Christina Ricci is actually happy about the current state of women in Hollywood
Discussing her new series Yellowjackets, Christina Ricci thinks women in Hollywood are "getting to play more and more interesting characters".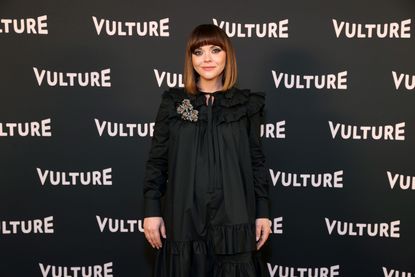 (Image credit: Rich Fury / Staff)
Christina Ricci, who has been Hollywood royalty for the majority of her life, believes that, although things can still change for the better, women are at least "getting to play more and more interesting characters because of the time where we are."
Christina, who appeared on the big screen when she was only 11 years old playing Wednesday Addams in the 1991 classic The Addams Family, opened up about the topic in a new interview with the Los Angeles Times, where she also discussed her new series Yellowjackets, now on Showtime.
---
"[The cast has] discussed the way that things have changed just in terms of being an actress—what you're allowed to request for yourself," she said to the outlet. "A lot of the younger girls on this show are very much able to stand up for themselves and say, 'No, I won't do that. I don't want to do that. I don't like how I'm being treated.' And to witness that, having been their age on film sets, was sort of like, 'Oh, my God, this is amazing. So are we all allowed to do this?' It's so fun not to be hampered by all the traditional requirements that there used to be for female characters... in terms of what you are allowed to express as a working actress that would not throw you into the realm of "difficult.'"
She went on, analyzing her own career choices and how industry insiders reacted to them. "There was definitely a period of time when I didn't fit into anything that was being made," she said. "I was constantly being asked or having to go and audition for rom-coms and the things that were available for actresses in my age range, and I didn't fit into any of them because I'm just a different kind of actress. It was a very tough period of time. Unfortunately, I didn't have the presence of mind that young women have right now. I tried very hard to change myself and make myself so that I would fit into those kinds of parts and movies, and it just never worked."
The roles she did end up taking throughout the years have certainly paid off, though. Starting with 1990's Mermaids, about a "neurotic" teenage girl (Winona Ryder) who moves with her mom (Cher) and sister (Christina) to a small town in Massachusetts, and continuing with parts in the 1990s classic Now and Then, black comedy Fear and Loathing in Las Vegas, Prozac Nation, Mothers and Daughters and the latest Matrix film, Christina's career has certainly been successfully varied but it has also been distinctly her own.
Her latest show Yellowjackets is critically acclaimed and has already been renewed for a second season. It follows the lives of four teenage girls who were involved in a plane crash in 1996 and forced to live in the wilderness. Christina joins Melanie Lynskey, Tawny Cypress, and Juliette Lewis in playing the girls' adult counterparts. If you haven't streamed the drama yet, it's certainly time to binge-watch it.
Anna Rahmanan is a New York-based writer and editor who covers culture, entertainment, food, fashion and travel news. Anna's words have appeared on Time Out New York, the Huffington Post, Fortune, Forbes, Us Weekly, Bon Appetit and Brooklyn Magazine, among other outlets.