Christina Ricci does parenting right by teaching her son to be a feminist: 'Women are not objects'
Wednesday star Christina Ricci makes one thing clear: her son is being raised a feminist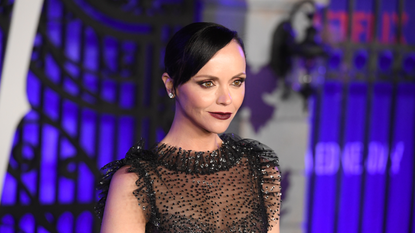 (Image credit: Michael Tullberg / Stringer)
In a new interview, 42-year-old actor Christina Ricci opened up about parenthood, specifically addressing how she's raising her now eight-year-old son Freddie to be a feminist.
Christina, who, back in January, said she's actually happy about the current state of women in Hollywood, gave birth to Freddie back in 2014. Although she currently shares him with her ex-husband James Heerdegen, the two broke up back in 2020 (remember when Christina sold her handbags to pay for her divorce?)
In 2021, the Wednesday star got married to Mark Hampton and the two welcomed their first child in December of that year: daughter Cleopatra Ricci Hampton.
In her latest interview with The Guardian, Christina went on the record about parenting a boy.
"My husband, Mark, is, I hate to say it because it sounds really obnoxious, a feminist," she said to the outlet. "And Freddie is going to see that, and see his working mother. I think he'll see women in a much more layered, complicated way, just by having grown up watching his mom do all this stuff."
She went on to describe Freddie's questioning attitude. "He's asking questions like, 'Mom, is that racist?' Or, 'Mom, is that OK for women? He's got this whole thing about not calling objects – like boats – she. He'll correct me: 'Women are not objects.'" That's one smart eight-year-old boy!
Although conceding that the situation of women in the industry is currently better than it was years ago, Christina did also take the time to criticize certain aspects of the culture, calling out the "internalized misogyny" she notices all around.
"When people say to me, 'Oh what's up, B?' I will say, 'Unless you're going to rape me or beat me, please don't call me a bitch,'" she said, also suggesting the term to be useless, given its common use among women and men alike.
At the beginning of the year, Christina went into more detail about the current state of affairs while discussing her then-new series Yellowjackets.
"[The cast has] discussed the way that things have changed just in terms of being an actress—what you're allowed to request for yourself," she said then to The Los Angeles Times. "A lot of the younger girls on this show are very much able to stand up for themselves and say, 'No, I won't do that. I don't want to do that. I don't like how I'm being treated.' And to witness that, having been their age on film sets, was sort of like, 'Oh, my God, this is amazing. So are we all allowed to do this?' It's so fun not to be hampered by all the traditional requirements that there used to be for female characters... in terms of what you are allowed to express as a working actress that would not throw you into the realm of "difficult.'"
As hard as it is to hear certain truths, it's always refreshing to have someone in the spotlight like Christina shed light on some very important issues that are affecting women all over the world - especially when it's clear that she holds the topics close to her heart while raising her own children.
Sign up to our free daily email for the latest royal and entertainment news, interesting opinion, expert advice on styling and beauty trends, and no-nonsense guides to the health and wellness questions you want answered.
Anna Rahmanan is a New York-based writer and editor who covers culture, entertainment, food, fashion and travel news. Anna's words have appeared on Time Out New York, the Huffington Post, Fortune, Forbes, Us Weekly, Bon Appetit and Brooklyn Magazine, among other outlets.