Chinese New Year 2022—Year of the Water Tiger and the lunar celebration explained
Chinese New Year 2022 welcomes in the Year of the Water Tiger—here's everything to know about the celebration and its lunar connections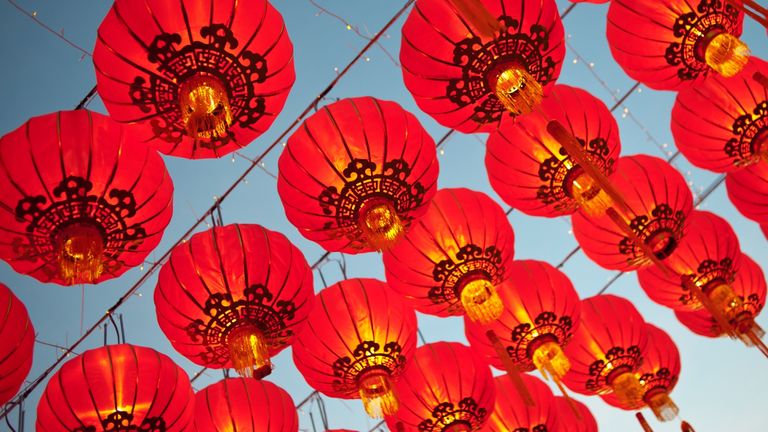 (Image credit: oneclearvision/Getty Images)
Chinese New Year 2022 will bring us into the Year of the Water Tiger. The huge annual event will be celebrated across the globe, so here's everything to know about its origins and what the Year of the Water Tiger represents.
Chinese New Year is an annual celebration that is connected to the Moon Calendar.
You may have heard plenty about festivities surrounding the sacred event (also known as Lunar New Year and Spring Festival) as just shy of two billion people across the globe celebrate it annually.
But did you know about its origins?
---
What is Chinese New Year?
Chinese New Year is an annual 15-day festival celebrated in China and by Chinese communities all around the world. The festival's importance is rooted deep in China's rich cultural history, and it's believed that it has been celebrated for over 3,500 years.
As History.com reports, "it began as a time for feasting and to honor household and heavenly deities, as well as ancestors."
Although China adopted the Western calendar back in 1912, Lunar New Year is still celebrated with the traditional greeting, "Kung hei fat choi."
To this day it's still regarded as the most important occasion for multiple generations of families to gather in celebration. It's also believed to be significant to ensure good fortune in the year ahead.
It's a time to spend time together, feasting, enjoying each other's company, playing traditional games. People enjoy fireworks, wear special clothes, exchange gifts, and hang red lanterns to mark the occasion.
When is Chinese New Year?
This year, it falls on the February new moon 2022. This will welcome in the Year of the Water Tiger, which begins on February 1, 2022, and ends on January 21, 2023.
Paying attention to the lunar cycle is a commonality between the Chinese zodiac and Western astrology. Apart from this trait in common the two art forms have many fascinating differences.
Itching to learn more, woman&home reached out to astrologer, tarot reader, and psychic Inbaal Honigman to gain a deeper understanding of the differences between the Chinese zodiac and Western astrology.
What's the difference between Chinese astrology and western astrology?
Inbaal tells us, "Chinese Astrology, unlike Western Astrology, covers the whole year, starting each time with the Chinese New Year, towards the end of January or beginning of February."
The astrology expert continues, "In Western Astrology, the sign changes every month, so each 12-month cycle is a year. In Chinese astrology, there are still 12 signs, but each one lasts a whole year."
Each Chinese year is one of five elements - Water, Wood, Fire, Earth, and Metal. Whereas Western Astrology has 4 elements - Water, Fire, Earth, and Air.
What are the signs of the Chinese zodiac?
Rat
Ox
Tiger
Rabbit
Dragon
Snake
Horse
Goat
Monkey
Rooster
Dog
Pig
---
What will happen in the year of the water tiger?
It's worth checking out your Chinese zodiac 2022 predictions for the Year of the Water Tiger, depending on your animal signs—especially as that Tiger energy is going to make the world roar!
Collectively, however, it looks like this is the time to get stuff done. "The year of the Tiger is a time associated with achievements," says Inbaal. "Overcoming challenges, determination, and looking straight ahead."
Those born in the year of the Tiger are known for being go-getters, explains Inbaal. "People like Bear Grylls, Victoria Beckham, and Mel Brooks, are people who work with what they've got. They take their innermost passions, and turn them into a life; into a career."
Tigers roar, they roam, they are passionate and free. "Tigers aren't frightened of competition," adds Inbaal. "Because they are unique and freethinking, they are their own brand and as such, unparalleled. No one can compete with them."
However, this year is extra special as the rambunctious Tiger is paired up with the water element. In Chinese Astrology, Water is a calm element, quiet and reserved. Associated with families, emotions, and mysticism.
"The Water Tiger year will bring family elements together with achievement and determination," Inbaal tells us.
"We might see family entertainment collaborations come forward (Oasis? Haim?) with new projects, or politicians' children following in their parents' footsteps."
The astrologer adds, "A Water Tiger person, such as Demi Moore for example, will put equal importance on career achievements, and on family unity and joy."
Aoife is Junior News Editor at woman&home.
She's an Irish journalist and writer with a background in creative writing, comedy, and TV production.
Formerly Aoife was a contributing writer at Bustle and her words can be found in the Metro, Huffpost, Delicious, Imperica, EVOKE and her poetry features in the Queer Life, Queer Love anthology.
Outside of work you might bump into her at a garden center, charity shop, hot yoga studio, lifting heavy weights, or (most likely) supping/eating some sort of delicious drink/meal.