Carol McGiffin discusses reconstructive surgery following cancer battle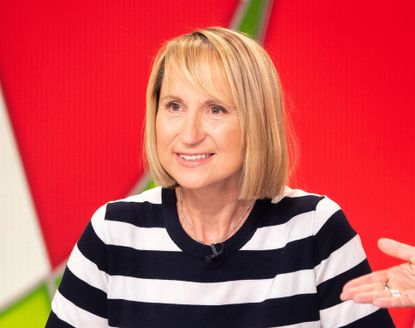 (Image credit: Shutterstock/Rex)
Carol McGiffin has opened up about her plans for reconstructive surgery following her cancer battle in 2014 - which saw her undergo chemotherapy and a mastectomy, leaving her unhappy with her appearance.
The Loose Women star explained that her decision to go under the knife is more to do with boosting her confidence and making her feel "more in line with the person I feel inside".
Speaking on the ITV panel show on Thursday, Carol revealed that she plans to have a tummy tuck at the same time as her breast reconstruction surgery, but admitted the tummy tuck is not something she would have "done ordinarily".
She said, "My body is fine actually.
"I've only got one boob and I'm going to get that done as well."
Pointing to her stomach and chest she said: "And I get a tummy tuck for it as well as they have to take the skin from there and put it up here."
But when panellist Sherrie Hewson suggested she could get an actual tummy tuck, where a plastic surgeon sucks fat out of the stomach, Carol immediately rejected the idea.
She said, "No I wouldn't do that ordinarily. "
Carol added, "No I don't want to do that. I need all the fat I can get."
It was only last week that Carol revealed she had undergone a facelift, revealing the results of her surgery during her return to the Loose Women panel.
She revealed on the show she decided to go for the surgery after feeling aged by her battle with cancer, later telling Best magazine that she avoided looking in mirrors before her surgery.
She told the magazine, "It's not about looking younger, it's about looking my best and more in line with the person I feel inside.
"I feel I've had my face put back to where it was. There is an element of looking in the mirror and if it doesn't reflect how you're feeling, it's horrible! I'd started to avoid it."
Carol continued, "My face just didn't match with what's going on in my head. I felt like my cancer and the treatments had aged me a lot.
"I started to feel there was no point in trying to look 'nice'. I'd avoid make-up, I thought it would just highlight nooks and crannies. Now I feel good."