Best Memorial Day movies to watch this long weekend
From Saving Private Ryan to Apocalypse Now and Pearl Harbor, here are the best Memorial Day movies to watch this weekend (and beyond!)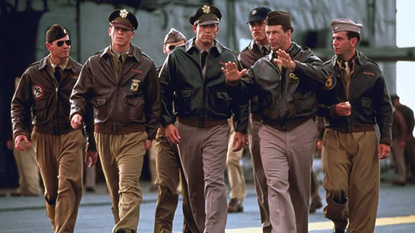 (Image credit: Touchstone Pictures)
Memorial Day marks two happenings: the official arrival of summer and the celebration of the United States military personnel that has died while serving in the country's armed forces.
Although plenty of people spend the weekend in their best Memorial Day outfits while hanging out at the beach and indulging in delicious BBQ, others like to take some time to honor the soldiers who have protected us through the years by watching iconic films about the subject.
To that intent, here are some of the best Memorial Day movies to watch this long weekend.
---
Best Memorial Day movies
Saving Private Ryan
One of many iconic films by Steven Spielberg, 1998's Saving Private Ryan tells the story of U.S. Army Rangers Captain John H. Miller (Tom Hanks) and his crew's search for Private first class James Francis Ryan (Matt Damon), who is the lone survivor of a brutal attack.
Dunkirk
This Academy award-winning Christopher Nolan film made a splash when it was first released in 2017, and for good reason. It sounds and looks amazing and the plot, based the true evacuation of the French area during World War II, is absolutely gripping.
Apocalypse Now
Francis Ford Coppola's iconic 1979 movie starring Marlo Brando, Robert Duvall and Martin Sheen tells the tale of U.S. Army Captain Benjamin Willard as he tries to assassinate U.S. Colonel Walter Kurtz.
Heartbreak Ridge
If it's an older classic that you're after, 1986's Heartbreak Ridge by Clint Eastwood is a good option. Clint not only directed the film but also produced it and starred in it as Gunnery Sergeant Thomas Highway, a retiring sergeant that takes a platoon of young recruits under his belt.
Black Hawk Down
This 2001 war drama by Ridley Scott boasts a stellar cast that includes Josh Hartnett, Eric Bana, Ewan McGregor, Tom Hardy, Orlando Bloom, Ty Burrell, Jeremy Piven and Hugh Dancy among plenty of others. The plot is based on a real battle concerning around 160 elite U.S. soldiers that were dropped into Magadishu, Somalia, in October of 1993 to capture two warlords.
Top Gun
Just in time for the release of Top Gun: Maverick, refresh your memory and re-watch the 1986 classic, also starring Tom Cruise as fighter pilot Maverick. In the original film, Maverick rubs a lot of people the wrong way while at the Top Gun Naval Fighter Weapons School.
American Sniper
Clint Eastwood directs this movie starring Bradley Cooper as real-life U.S. Navy SEAL Chris Kyle, considered by many to have been the most lethal sniper in military history. Unfortunately, Chris was murdered by a veteran he was mentoring before the movie was released in 2014.
Fury
Brad Pitt has starred in many war movies but none quite like 2014's Fury, where he takes on the role of Don "Wardaddy" Collier during an incredibly dangerous World War II mission dealing with Nazi Germany.
The Hurt Locker
When it was first released in 2008, The Hurt Locker surprised critics and audience members alike and eventually won six Academy awards, including ones for best picture, best director (Kathryn Bigelow, who became the first woman in history to win in the category) and best original screenplay. The high-intensity drama follows an army bomb squad during the Iraq War.
Glory
In Glory, from 1989, Matthew Broderick stars as Colonel Robert Gould Shaw, the commander of the United States' first all-African-American regiment. Denzel Washington and Morgan Freeman also offer remarkable performances in the film.
Pearl Harbor
A love story as much as it is a war drama, this Michael Bay movie from 2001 stars Ben Affleck and Josh Hartnett opposite Kate Beckinsale. Based on real historical events, the film follows childhood friends Rafe McCawley and Danny Walker as they enter World War II as pilots together.
Anna Rahmanan is a New York-based writer and editor who covers culture, entertainment, food, fashion and travel news. Anna's words have appeared on Time Out New York, the Huffington Post, Fortune, Forbes, Us Weekly, Bon Appetit and Brooklyn Magazine, among other outlets.