Are You Being Served? Set For TV Comeback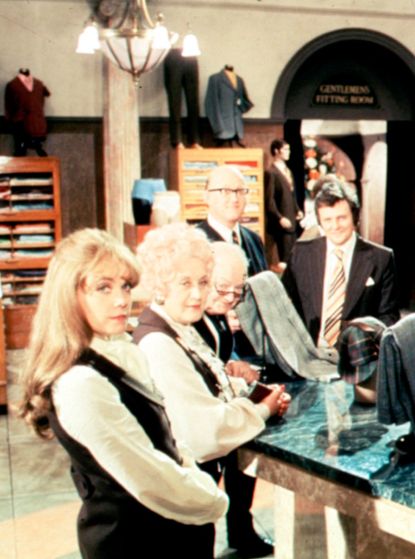 (Image credit: Rex Features (Shutterstock))
One of Britain's best-loved sitcoms is getting rebooted with an all-star cast.
Are You Being Served?, which follows the mishaps of the staff in the clothing departments of fictional London store Grace Brothers, was written by Jeremy Lloyd and David Croft, was broadcasted between 1972 and 1985 over 69 episodes.
The renewal of Are You Being Served? will be shown on BBC One later this year, and will be filmed in front of a studio audience on March 5th.
The one-off episode is one of several renewals including Porridge, The Good Life, Up Pompeii! and Keeping Up Appearnaces marking 60 years since Tony Hancock's 'Hancock's Half Hour' made the transition from radio to television.
The original cast featured Mollie Sugden, John Inman, Frank Thornton and Wendy Richards. There's no word on who will star in the special, but the BBC stated: "Picking up where Jeremy Lloyd and David Croft's much loved comedy left off, the show will bring Grace Brothers and some of the nation's all-time favourite sitcom characters including Mrs Slocombe, Captain Peacock, Miss Brahms, and Mr Humphries back to life with an all-star cast."
Isa Jaward is a journalist from London who has written for the likes of Time Out, The Guardian and Music Week.