Fans compare Anton du Beke's wife to this royal – and the likeness is uncanny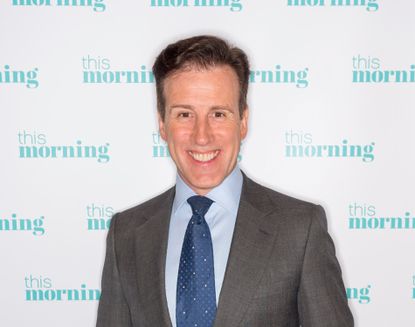 With her regal hairstyle and delicate facial features, Anton du Beke's wife Hannah Summers is the doppelganger of one royal. Can you guess who it is?
Strictly Come Dancing professional Anton appeared on Michael McIntyre's Big Show on Saturday 15 December with his wife Hannah in tow, and fans couldn't help but notice her likeness to one royal.
Wearing an elegant black dress, studs and her blonde hair swept back off her face, Hannah, 42, looked the spitting image of Prince Edward's wife, 53-year-old Sophie, Countess of Wessex.
Eagle-eyed viewers were quick to notice the resemblance and took to social media to voice their observations.
'WTH #michaelmcintyrebigshow Anton 's wife is deffo a clone of Sophie the Countess of Wessex,' wrote one fan, while a second commented, 'Anton du Beke's wife looks like royalty!! #michaelmcintyrebigshow.'
A third added, 'I'm sure Anton du Beke's wife is married to Prince Edward #michaelmcintyrebigshow.'
'Was tryna think who Anton's wife looks like, then it come to me…Prince Edward's missus the Duchess of Wessex #DeadRinger,' another Twitter user agreed.
Anton was a guest on the BBC show to take part in the 'Send to All' segment, where Michael takes over a celebrity's phone.
Michael texted a 'send to all' message on Anton's phone that read, 'Hi my love. Let's face it, these new Strictly dancers make me look like a granddad. Got a quote for botox, bum lift, eyebag removal and general lipo. There's an introduce a friend offer at the clinic, and I immediately thought of you. It's a GREAT deal, what do you reckon? X.'
Former Strictly judge Len Goodman jokingly replied to the message, 'You're too late. I'm over in LA and just had a full makeover! Every hole and cranny has been tinkered with! Sitting watching the golf. Hope you are the family are well, LGx.'
Anton, 52, married businesswoman Hannah in May 2017 after six years of dating.
They share twins George and Henriette, born in March of the same year.