Annie Lennox just got her first tattoo at age 67 and it looks great
Eurythmics frontwoman Annie Lennox shows off her new ink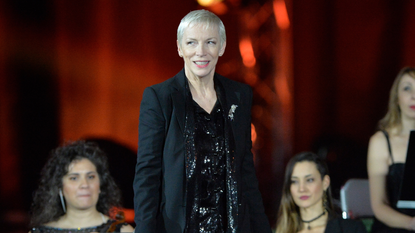 (Image credit: Vatican Pool / Contributor)
Let's be honest, anything that Annie Lennox does is cool - including this latest stint.
After making headlines for filming her COVID-19 vaccination experience at Dodger Stadium last year, the 67-year-old Eurythmics frontwoman caught everyone's attention again - this time while showing off her very first tattoo.
The iconic musician posted a photo of the new ink she got behind her hip, which features two birds and a red heart, on Instagram.
"Got my first tattoo….," Annie wrote in the caption to her photo before thanking the artist behind the body art, Asa Lee Crow IV at the Shamrock Social Club in Hollywood.
Annie's followers wasted no time praising her new tattoo on Instagram.
"Love it!," one follower wrote. "Got my first tattoo at 50 and not finished yet!"
"Now all you need is a motorcycle… 😉," someone else joked.
"❤️Wow, that is a big deal!," yet another commenter noted. "I like it! am 50, and I have always wanted to get a tattoo. Maybe one day, yes! 😆"
As her fans may have immediately noted, the tattoo is reminiscent of one of Annie's most iconic songs, Little Bird, which first appeared in her 1992 solo album Diva.
"Mamma, we reap what we sow / They always said that you knew best / But this little bird's fallen out of that nest now / I've got a feeling that it might have been blessed / So I've just got to put these wings to test," read the lyrics of the track.
Although many argue that Little Bird was one of Annie's best songs, her Eurythmics hit Sweet Dreams is undoubtedly one of the most recognized tunes in the history of music - a fact that the musician herself has addressed plenty of times.
"That's a long time ago now, but it's been a thread that's just continued through the decades in various ways, because people have done remixes and different versions," Annie said to the Washington Post (opens in new tab) in 2020. "But it's still fresh because I think it was a visionary statement of its time. The thing about Eurythmics music is that there was a kind of surreal, existential twist in the lyrical content and also in some of the ways that we presented ourselves. We were shape-shifters. We didn't belong. We were outsiders. We didn't belong to a group that's, you know, 'Okay, I'm in a rock band. I'm heavy metal.'"
In that same interview, given in the thick of COVID-19, Annie also shared her thoughts about the world order.
"When the doors are open wide, it'll be business as usual just with a twist, and the next pandemic comes," the musician said to the outlet. "I'm sorry to say this, but I know for sure there'll be another pandemic. It'll be worse. And that's a horrible thing to say. I hate to say it, but it's kind of true. I could cry and laugh at the same time."
For once, we hope Annie to be wrong.
Anna Rahmanan is a New York-based writer and editor who covers culture, entertainment, food, fashion and travel news. Anna's words have appeared on Time Out New York, the Huffington Post, Fortune, Forbes, Us Weekly, Bon Appetit and Brooklyn Magazine, among other outlets.