Alex Polizzi goes back to her roots in new TV series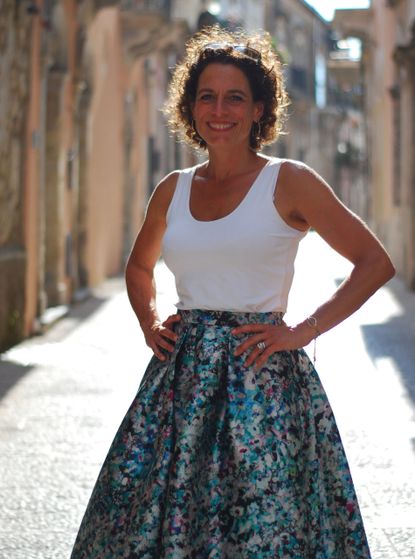 We've seen her explore her roots once before in Secret Italy, but this time, Alex Polizzi (also known as the Hotel Inspector), is going one step further, delving into the culture, cuisine and history of some of Italy's most beautiful islands. From the stunning island of Sardinia to glamorous Capri, Ischia and the Aeolian Islands, she has quite the adventure in store for us. We caught up with the presenter to find out more...
We're really excited about the new series - why did you want to return to Italy?
I feel very Italian, but when I did Secret Italy, it connected me much more than I thought it would. I found the whole process very emotional because I'm so conscious of the fact that two of my grandparents left Italy and came to England - how brave that must have been for their families. I lived for years in Italy and there were so many places I hadn't visited since I was a child. My grandmother's Sardinian and when I was growing up, there was such a problem with kidnappers that I'd never even been able to visit, so I was also keen to explore that part of my heritage more too. What's in store for us?
More beauty, more culture, more food - and more things to love about Italy! I was travelling for about a month and what amazes me about Italy is that even though I've been visiting for so many years - backwards and forwards at least three or four times a year - there's still so much to discover. It feels like peeling back the layers of an onion. Palermo is a revelation, for example - there's an awful lot on websites about it being dangerous and it has a bad reputation because of the mafia. Certainly when I was younger there were warnings to be careful which streets you go down and make sure you have your bag slung diagonally across you - but it's one of the cities that's been the longest continually inhabited in Italy and that shows. The architecture is beautiful - I was blown away by it.
What was your favourite part of the journey?
It was amazing to see dolphins in the waters off Filiculdi - we'd given up and gone back to dock and we were sitting having lunch when our guide started shouting, "Come on, come on!" We leapt back on the boat and had 12 or 14 dolphins playing around us for about an hour. I'm not one of these people who wants to swim with the dolphins in Florida, it was just lovely to see them in their natural environment. I loved going to the European Institute of Restoration on the island of Ischia too - it seems to be staffed in a rather James Bond-esque way by these rather young beautiful women in white lab coats - it was astonishing!
Which spot would you love to return to?
I'd love to return to San Vito lo Capo - we were there at the beginning of the summer holidays and it brought back so many memories of my Polizzi grandparents. For significant periods of the holidays, they'd take my sister and I to one of those typical Italian beaches where there's a square centimetre of sand around every towel and everyone's packed in like sardines, with umbrellas everywhere and children playing. San Vito is like that!
Would you ever consider a life in Italy?
I don't think so. I wasn't very happy when I lived in Rome [Alex lived there for three years in her 20s]. It's quite hard as you get older, especially somewhere as chaotic as that. You get to 44 and you know your way around a place - that would be hard to give up. If I'm ever rich enough to afford it, I'd love to have a little house in Italy though, so I could back there year after year with the children. I'd love them to get that same Italian hit I got every year as a child. What's your top tip for traveling there?
Find a place to stay that's away from tourists - you'll get a completely different experience if you're herded around on some package tour than if you find the road less travelled. I hope the new show will inspire people to look around a bit more.
Alex Polizzi's Italian Islands starts on Thursday 26th November at 8pm on Channel 5.
Sign up to our free daily email for the latest royal and entertainment news, interesting opinion, expert advice on styling and beauty trends, and no-nonsense guides to the health and wellness questions you want answered.