Adrian Lester stole our hearts in Trigger Point—here's why he could be at the centre of the biggest twist so far
Adrian Lester's Trigger Point journey has taken a dramatic turn but what lies in store for his popular character?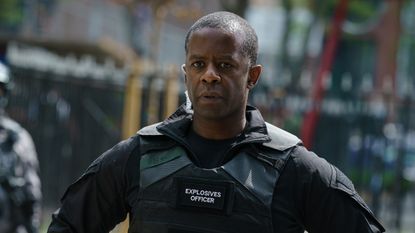 (Image credit: ITV)
Actor Adrian Lester's time on Trigger Point has been full of shocking twists and turns, but things could take an even more dramatic turn for his character as the show continues.
Anyone who'd been looking forward to Trigger Point ITV wasn't left disappointed after the latest drama from Line of Duty's Jed Mercurio landed. Produced by Jed's HTM Television and starring LOD star Vicky McClure alongside Adrian Lester (Life, Hustle), it focuses on the dangerous and critical work of the Metropolitan Police bomb disposal squad. Fans of Jed's other work still hoping for Line of Duty series 7 likely would've been expecting a few surprises in the Trigger Point premiere.
However Adrian's character Joel Nutkins faced perhaps the most emotional moment of episode 1's cliff-hanger, leaving many excited and scared in equal measure about what is yet to come. But what did happen to Adrian Lester's character in Trigger Point episode 1 and why might he be at the centre of the first major twist as the show continues?
*Warning: spoilers ahead!*
What happened to Adrian Lester's character in Trigger Point?
Let's face it, there's nothing like the announcement that Adrian Lester and Vicky McClure were part of the Trigger Point cast to get crime drama fans even more excited about the upcoming show. Sadly, however, after just one episode it seems like Adrian's time as Joel Nutkins might already be up. In the closing stages of Trigger Point episode 1, Joel and fellow expo Lana Washington (played by Vicky) race to prevent disaster after receiving disturbing reports of a bomb factory on an East London estate.
Experienced as they are, the duo manage to disarm two bombs: one rigged up inside one of the flats and another attached to the owner of one of the flats who had been trapped inside his own car. Believing their work to be done, the expos soon start to allow frightened residents to return to their homes. But, as with fellow dramas BBC's Showtrial and Stay Close, there's no shortage of heart-stopping twists in Trigger Point.
Spotting a suspicious-looking van in the carpark, Joel decides to follow his instincts and see if anything is amiss. It's then that the ex-military officer calls out for Lana to bring the clippers they use to cut wires in explosive devices and tells everyone to keep back. Before Lana can bring him the equipment he needs, however, the device detonates with Joel standing right beside the van.
The next moment finds Lana covered in dust and her friend and colleague nowhere to be seen. Then she makes a gruesome and heartbreaking discovery in the rubble nearby—Joel's detached arm.
But despite this being an undoubtedly emotional finale for the Trigger Point first episode, it might not spell the end of Adrian Lester's time on the ITV drama after all…
Why might that not be the end for Adrian Lester in Trigger Point?
Whilst the appearance of Joel's arm might perhaps be taken as conclusive proof that beloved Trigger Point cast-member Adrian Lester won't be returning to the new drama for subsequent episodes, as all die-hard thriller fans know, this isn't necessarily the case. Lana didn't actually find Joel's body and without this on-screen confirmation, Adrian Lester's Trigger Point future remains uncertain rather than conclusively over.
If he does appear in future episodes, Adrian Lester could find himself at the centre of the first major twist in Trigger Point, given that so many might presume Joel to be dead. It could be that Adrian's character was instead severely injured, meaning that his contribution to the team's efforts to counteract terrorist threats could evolve across the series as he recovers from this massive trauma.
If this is indeed the case then Joel and Lana's on-screen relationship could also develop and become all the more important as with Joel likely on some sort of sick leave, she will have to balance her job with supporting her friend and perhaps seeking his advice whilst he's not on the frontline.
Alternatively, Joel could actually have died, but with Trigger Point's imdb entry suggesting Adrian Lester is set to appear in four episodes, it seems his on-screen death might not mean it's the last fans see of him in the series. Adrian could appear as Joel in flashbacks, either from his time working with Lana in London, or from their time serving together in the military.
As such an important figure in Lana's life, Joel could also potentially appear to her in some sort of guilt-inspired visions after his death. Prior to Trigger Point landing, Adrian opened up to Digital Spy and other press about his excitement at being part of the show and hinted that "something bad" could happen to any of the characters at any point.
"I think one of the fun things is that people don't know what's going to happen next. Daniel's [Daniel Brierley, writer] script keeps the audience on their toes. Drip feeds the information as all good thrillers should and stays one step ahead of them," he explained.
"You have to truly believe you don't know what's going to happen next. And truly believe the threat your main character is facing otherwise it's boring and you definitely get that with Jed's shows. And Daniel's script definitely provides that. You definitely have that feel that something bad is going to happen to somebody at some point."
Meanwhile, Daniel himself has addressed the importance of Joel as a character, not just in his own right, but also in his unique dynamic with Lana.
As revealed by Radio Times, he said, "For me you can't really have Lana without having Joel, they are part of a double act. He's the only one who sees all the sides of her—she never has to pretend around him and he gets her. They have this symbiotic relationship and they both complete the other. So I couldn't have Lana, who is raw, vulnerable and wears her heart on her sleeve, without having a character like Joel who is the opposite."
With the writer proclaiming he "couldn't have" Lana without someone like Joel, it could perhaps hint that there is much more to come from Adrian Lester as Trigger Point continues.
How many episodes of Trigger Point and how to watch?
Anyone hoping to see the return of Adrian Lester to Trigger Point in one way or another will have to wait until the next instalment of this six-episode series. Airing on ITV at 9pm on Sundays going forwards, there are still five episodes left until what promises to be an equally high-stakes and emotional finale.
But if you're abroad when Trigger Point ITV airs then sadly you won't be able to watch the show as you normally would at home, thanks to regional restrictions. Luckily there's an easy solution and you can use a VPN to continue watching this hit drama. This is a handy bit of software that changes your IP address so that you can access on-demand content or live TV just as if you were at home.
Our sister site, TechRadar, has tested all of the major VPN services and they rate ExpressVPN as the absolute best. They say, "It's compatible with all of your devices, supports most streaming services, and ranks among the fastest. You can even install it on devices like an Amazon Fire TV Stick, Apple TV, Xbox, and PlayStation. So for a one-stop-shop, you can't go wrong with Express."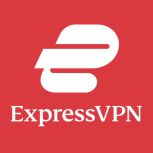 ExpressVPN service | Get 49% off and 3 months FREE
Ranked among one of the fastest VPN providers, this risk-free service is also compatible with all of your devices. Enjoy access to almost any streaming service, and if you don't like it there's a 30-day money-back guarantee.
If you've never installed a VPN before, don't worry, it's quick and easy. Just follow these three steps:
Download and install the VPN following ExpressVPN's easy-to-follow instructions.
Once you've installed your VPN, open the app and select your server location as anywhere in the UK.
With your VPN installed and server location set to UK, you can now watch Trigger Point online.
If you've already raced through The Bay season 3 and Landscapers this winter, then there's never been a better time to carry on enjoying all the intensity, emotion and brilliant cast performances in Trigger Point. And with many fans wanting Adrian Lester to return to Trigger Point, it seems we'll have to be patient to find out Joel's true fate…
Emma is a Senior Lifestyle Writer with six years of experience working in digital publishing. Her specialist areas including literature, the British Royal Family and knowing all there is to know about the latest TV shows on the BBC, ITV, Channel 4 and every streaming service out there. When she's not writing about the next unmissable show to add to your to-watch list or delving into royal protocol, you can find Emma cooking and watching yet more crime dramas.