Why Adele is 'holding back' when talking about her new boyfriend Rich Paul
According to a body language expert, Adele's behavior is to do with her recent divorce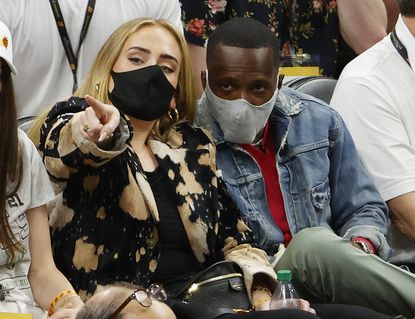 (Image credit: Christian Petersen / Staff)
After taking an in-depth look at Adele's much-anticipated Oprah interview, body language expert Darren Stanton notes that the superstar is still "holding back" when it comes to talking about her relatively new boyfriend Rich Paul.
In the Adele One Night Only TV special the superstar opened up about a variety of subjects, addressing how her mom helped her become who she is today and the inspiration behind her new album 30, the singer seemed to be at ease discussing different aspects of her life.
And, yet, according to Darren, who spoke to Coffee Friend (opens in new tab) about the all-encompassing interview, Adele's body language slightly changed when the topic of her most recent romance came up.
---
"She glows when talking about her new partner Rich Paul, calling their bond the most incredible and open-hearted relationship she had ever been in. When speaking, you could see the genuine smiles and feelings of elation in her face as she had now found someone that truly loves her for who she is—which is what she has always wanted," he said.
"However, something noted is that she is quick to change subjects and talk more generally about love, showing she still isn't overly comfortable sharing this information and was possibly holding back because of the divorce and her past being in the periphery."
We can't blame the superstar, whose personal life has been dissected since the release of her first album, 19.
Darren's analysis of Adele's comportment when talking about Rich is starkly opposed to the expert's examination of her body language when the conversation turns to her ex-husband Simon Konecki.
"When discussing her divorce with Simon Konecki, we see the pop star access deep feelings due to her head being tilted down and her eyes looking away from Oprah—as if not to be seen. This period of life seems to have brought great anguish for her," he explains.
"Yet, her ability to jump out of the past and into the present is seen in the interview, where she then moves on to speak with her head held high and prominent. She is seemingly content where she is now in life, somewhere where she has reached a new level of personal power and undoubtedly channeled her earlier struggles in her music as so many creative people do, turning tragedy into triumph."
Known for being candid, Adele's choice to hold back when asked about her current romantic situation basically functions as a defense mechanism, says the expert.
Who is Adele dating right now?
The award-winning 33-year-old singer has been dating American sports agent Rich Paul, who is six years her senior, since this past summer. Their first public appearance together was during Game 5 of the NBA finals but, according to Us Weekly, the pair had been dating "for months" before that.
The couple went Instagram official on September 19, when Adele shared a a photo of the two attending basketball player Anthony Davis' wedding to Marlen P.
Anna Rahmanan is a New York-based writer and editor who covers culture, entertainment, food, fashion and travel news. Anna's words have appeared on Time Out New York, the Huffington Post, Fortune, Forbes, Us Weekly, Bon Appetit and Brooklyn Magazine, among other outlets.