A video of Catherine Zeta-Jones dancing to David Bowie is sending the internet wild
Catherine Zeta-Jones shows off her perfect abs while dancing to David Bowie's Let's Dance on a photoshoot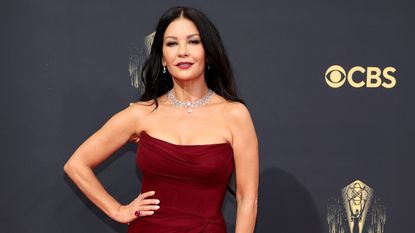 (Image credit: Photo by Rich Fury/Getty Images)
Talk about goals—actress Catherine Zeta-Jones just posted a behind-the-scenes video on Instagram from one of her photoshoots, flashing her perfect abs while dancing to David Bowie's iconic song Let's Dance and folks are absolutely stunned by her look.
The 52-year-old actress—who recently revealed her beauty tips for midlifers—is no stranger to dancing, of course. She showed off her talents on the set of Chicago in 2002, a role that earned her the Academy award for Best Supporting Actress.
"Of course I would have 'Let's Dance' by David Bowie on my photoshoot playlist!," Catherine wrote as a caption to the clip she posted this week. "What's your go-to song to dance to?"
Unsurprisingly, the video unleashed a barrage of comments from fans of Catherine and Bowie. "It's the perfect soundtrack!!!," a user wrote. "You are rocking it," someone else commented in-between a whole lot of remarks along the lines of "you look beautiful!"
We dare say that her stellar moves and outstanding abs have undoubtedly contributed to the success of Catherine's marriage to fellow actor Michael Douglas. The couple celebrated 21 years together just last year (the secret to a successful marriage? Catherine spills how she's stayed happily married right here) and Michael took to Instagram to wish his wife a very happy anniversary.
Funnily enough, as amazing of a dancer as Catherine is, it seems like her talented husband (a two-time Oscar-winning actor!) just doesn't have the moves. In April, Catherine appeared on Late Night with Seth Meyers and joked that Michael "can click in time to the beat." She went on: "Every now and again, he gets off course, but he's such a great actor. Michael always says, 'When I'm dancing, always look at me from the waist up.'" Funny indeed.
Catherine also recently made headlines after sharing an emotional message following the devastating loss of musical theater icon Stephen Sondheim. The Welsh-born actress posted a selection of pictures and captioned them: "R.I.P. dearest Stephen Sondheim. I will cherish each and every moment I shared with you."
The connection between the two artists ran deep and was most clearly seen in her rendition of Stephen's ballad Send in the Clowns at the 2010 Tony Awards, the same year she received the Tony award for Best Performance by a Leading Actress in a Musical for her role as Desirée Armfeldt in the first ever revival of Stephen's musical, A Little Night Music.
Anna Rahmanan is a New York-based writer and editor who covers culture, entertainment, food, fashion and travel news. Anna's words have appeared on Time Out New York, the Huffington Post, Fortune, Forbes, Us Weekly, Bon Appetit and Brooklyn Magazine, among other outlets.