A defiant Ana de Armas channels Marilyn Monroe's rebellious nature in nude look following Razzie humiliations
You have to see Ana de Armas' bold, nude look, giving Marilyn Monroe's classic dress a fresh twist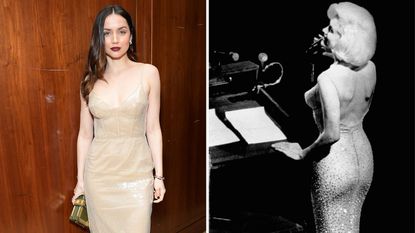 (Image credit: Getty)
Ana de Armas is nominated at the Oscars 2023 for her portrayal of Marilyn Monroe in Netflix's Blonde, but her latest head-turning fashion moment proves she's not given up channelling the icon just yet.
Evoking the spirit of the blond bombshell in a slinky, figure-hugging dress, Ana's sleek look offered a modern twist on the now legendary look Marilyn wore to serenade JFK.
Ana's dress, also nude and studded, was the work of designer David Koma, and features sequin detailing.
Her accessories included a breathtaking Logan Hollowell French Pavé Graduated Diamond Bracelet, worth over $9K. Ana completed her look with sultry dark lips and loose waves, looking every inch the Old Hollywood bombshell.
Ana choosing to embody a modern Marilyn could be her subtle but powerful message of defiance after Blonde had the dubious honor of winning Razzie awards.
The Razzies – or the Golden Raspberry Awards – are handed out just before the Oscars and are given to the 'worst' films of the year.
Blonde, Netflix's big-budget and fictional portrayal of Marilyn Monroe's life, split critics and audiences alike when it was released.
Though Ana has been praised for her acting, the exploitative elements of the movie were seen as a step too far by some.
So Blonde found itself awarding the Worst Picture, despite its leading lady up for Best Actress at the Oscars.
It's no coincidence, then, that Ana chose the day after the Razzies to step out in one of Marilyn's most defiant and empowering looks.
The flesh-coloured, rhinestone-studded gown that Marilyn wore to sing happy birthday to President John F Kennedy in 1962 is one of the most famous looks in history.
So much so that Kim Kardashian broke the internet (for the umpteenth time) when she wore the exact dress at the Met Gala.
But it's the story behind the dress that signifies Marilyn's self-confidence and wilful nature.
Marilyn, who was widely reported to be having an affair with the President, was forbode from flying from Los Angeles to New York to take part in JFK's 45th birthday celebrations held at Madison Square Garden.
The birthday was something of a fundraiser too, aimed at raising money to plug the debts accrued during the 1960 election.
Despite being told she couldn't go – having already delayed the filming of Something's Got To Give due to illnesses and lateness, Marilyn appeared on stage.
At the end of the evening, the Some Like It Hot star floated out in an open-backed dress made of flesh-colored soufflé gauze encrusted with rhinestones. The gown was so tight that she reportedly had to be sewn into it.
"Mr. President, the late Marilyn Monroe," the host announced, referring yet again to the star's famous tardiness. As the audience cheered, Marilyn closed her eyes and made history, singing Happy Birthday in that signature, breathy way.
One columnist at the time wrote that the actress seemed to be "making love to the president in direct view of 40 million Americans."
It was an act so scandalous it saw her fired from Something's Got To Give, but it turned out to be one of her final public appearances.
Marilyn refused to bow to criticism and pressure, instead opting to celebrate her sexuality and freedom – and Ana de Armas might have been inspired to send a message of her own.
Jack Slater is not the Last Action Hero, but that's what comes up first when you Google him. Preferring a much more sedentary life, Jack gets his thrills by covering news, entertainment, celebrity, film and culture for woman&home, and other digital publications.
Having written for various print and online publications—ranging from national syndicates to niche magazines—Jack has written about nearly everything there is to write about, covering LGBTQ+ news, celebrity features, TV and film scoops, reviewing the latest theatre shows lighting up London's West End and the most pressing of SEO based stories.