5 DIY ideas to help you make the most of pumpkins this autumn
Pumpkins aren't just for Halloween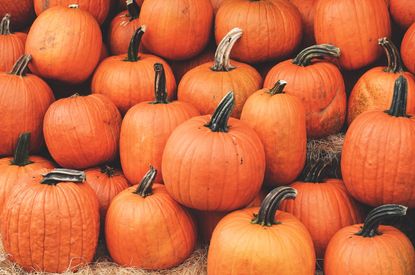 (Image credit: unsplash.com)
Halloween may be a night of spooky fun, but with some reports suggesting that 20,000 tonnes of plastic and food waste are generated by the holiday, it's time to make things that little bit more sustainable.
And when it comes to where to start, why not turn to the humble pumpkin? Not only the symbol of all things Halloween (opens in new tab), this tasty vegetable is popular throughout the autumn months. It's versatility means that you won't be stretching yourself for pumpkin ideas once the carving is done.
Waste management company BusinessWaste.co.uk (opens in new tab) are championing alternative uses this year. They've been calling for a more sustainable Halloween, whilst keeping a sense of seasonal fun.
MORE: Costa Coffee launches its 2020 festive drinks menu – with three new favourites (opens in new tab)
So the next time you go pumpkin picking (opens in new tab), remember that the possibilities are endless. If you're looking for your delicious pumpkin recipes to try or even for a new craft (opens in new tab) project, you'll love these five ideas for how to make the most of this autumnal vegetable.
1. Pumpkin bird feeder
Wildlife lovers will be thrilled by this original idea for using up a spare pumpkin this autumn. By turning your unwanted vegetable into a bird feeder, you can help reduce waste and support birds as the winter months approach.
You will need
A pumpkin
Strong twine or rope
Twigs for perches
Bird seed
Method
To make, simply cut your pumpkin in half to create a bowl shape.
Then carefully make holes in the side of the pumpkin using a knife.
Insert twigs into these holes to make perches for your feathered visitors.
Then measure out some twine to hang the pumpkin up on a tree or branch in your garden.
Once secure you can add bird seed and see what wildlife you can spot.
2. Pumpkin Spice Latte
If you're a fan of this popular autumn drink, then why not try and make it at home? Once the pumpkin carving is done, don't forget to keep the leftovers.Vita Coco's recipe fora delicious vegan Pumpkin Spice Latte is perfect for cosy nights in. Or if you'd prefer to go all out with the cream and the milk, mix it up and have your delicious drink your way.
Ingredients for 2 large glasses
4 cups coconut milk (or whichever milk you prefer)
½ cup pumpkin puree
¼ cup maple syrup
½ tsp pumpkin spice mix
2 shots of coffee (optional)
Ingredients to top
Dairy-free whipped cream (or dairy cream if you prefer)
A sprinkle of pumpkin spice
2 cinnamon sticks
Method
Put all of the ingredients into a blender and blend until smooth.
Pour into a medium-sized pan and heat over medium-high temperature until heated through.
Divide between two large glasses and top with whipped cream and a sprinkle of pumpkin spice.
Top with a couple of cinnamon sticks and enjoy!
MORE:Why a great playlist or podcast will help you run faster (opens in new tab)
3. Pumpkin Planter
If you've already carved your Halloween pumpkin this year, then fear not - you can still make use of it. Turn it into a seasonal planter! Fill your pumpkin with soil before planting your chosen plants and water. This is sure to make for a sustainable autumnal decoration and is one of the most creative pumpkin ideas.
4. Pumpkin Bread
If you're peckish for more foodie pumpkin ideas, then pumpkin bread might just be what you've been looking for. This recipe fromSimple Veganista makes fora delicious way to turn your pumpkin into a tasty treat. And don't be afraid to mix it up if you fancy - adding whatever ingredients you'd like from your store cupboard.
Ingredients (makes 8-10 slices)
280g flour (spelt, all-purpose, whole wheat, GF flour blend)
150g sugar
1 teaspoon baking powder
1 teaspoon baking soda
2 heaping teaspoons pumpkin pie spice
Pinch of mineral salt
1-2 teaspoons vanilla extract
75ml water or unsweetened almond milk
75ml oil
338g pumpkin puree
Small handful of pumpkin seeds for topping (optional)
Method
Preheat oven to 180 degrees and lightly grease loaf pan
In a medium size bowl, combine all the dry ingredients: flour, baking powder, baking soda, spices and salt.
In a small bowl, combine all the wet ingredients: oil, sugar, water/milk and vanilla.
Add the wet mixture to the dry mixture along with the pumpkin puree and mix well.
Be careful not to over mix, but be sure there are no clumps of flour.
Pour batter into prepared loaf tin, place in oven, on middle shelf, and bake for 55 – 60 minutes.
Once done, remove from the oven and leave to cool before serving.
Store by keeping the bread covered on the counter for 2 – 3 days.
5. Pumpkin Face Mask
There's nothing better than a relaxing face mask. And this pumpkin one from Beautylish is so simple, it's definitely worth a try. This all-natural recipe uses ingredients that can be found in your kitchen - as well as the versatile vegetable.
Ingredients for one face mask
2 tbsp organic canned pumpkin puree or 1 small pumpkin
1/2 tsp organic honey
1/2 tsp milk (skimmed, soy or almond)
Method
Remove all makeup and wash your face with your regular cleanser to ensure you start with clean skin.
Combine pumpkin puree, honey, and milk in a small bowl and mix well.
If using a fresh pumpkin or pumpkin carving leftovers, scrape the insides and remove the seeds.
Beat the gooey insides to a creamy pulp and mix with honey and milk.
Apply the mask using your fingers or a medium-sized makeup brush; avoid getting the mixture too close to the eyes.
Allow the mask to set for about 20 minutes.
Gently wash off the mask with a warm, damp washcloth and follow with a moisturiser.
Emma is a Senior Lifestyle Writer with six years of experience working in digital publishing. Her specialist areas including literature, the British Royal Family and knowing all there is to know about the latest TV shows on the BBC, ITV, Channel 4 and every streaming service out there. When she's not writing about the next unmissable show to add to your to-watch list or delving into royal protocol, you can find Emma cooking and watching yet more crime dramas.