This 100-Year Old Couple Have Plenty Of Unexpected Marriage 'Advice'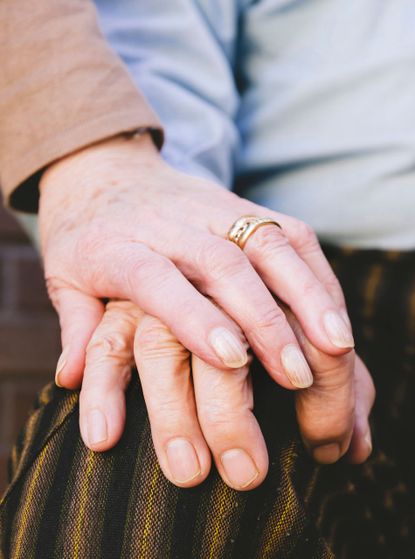 (Image credit: Rex Features)
Surely one of the most frequently asked/ Googled questions in the age of starter-marriages has to be: what is the secret to a long-lasting, happy marriage? Is it always being bought flowers by your partner - as standard, not as an apology? Could it be all about starting as you mean to go on, with grand gestures and endless declarations of love (even if they're left on post-it notes on fridge door)? Is it essential for your other half to tick all the boxes on your non-negotiable list of your 'ideal' partner's qualities?
Well, who better to ask than a couple who've been married for over 7 decades - they ought to have a tip or two, right? Oh, you don't know any? Well, luckily, The Guardian (opens in new tab) recently tracked down a 100-year-old couple - Morrie and Betty Markoff - who have been married for 78 years and... well, if you listen to their tale, it seems you might want to adjust your expectations!
Don't eat too much
If you meet an eligible singleton at a social event where you've got some stiff competition from one of those women who 'has it all', you should make a point of not having it all. Well, don't eat it all anyway!
This couple met at a wedding, where the bachelor in the tale was seated between a beautiful, sophisticated girl from a wealthy family and a girl who turned out to be his future wife. When she later asked why he picked her, he said 'because you ate less.' And all this time we thought that guys' pet peeve was girls who ordered a salad on a date...
Don't expect a full-blown romantic proposal...
You have visions of an elaborate and completely unique proposal, complete with a private Pinterest board that you not-so-subtly leave open for your intended to see. You've thought about it carefully, and have decided that his getting down on one knee in the living room really won't cut it. What will you tell your friends when they ask for 'the proposal story'? Well, how about you forgo the proposal altogether, like this couple.
"He never proposed. He just asked: would you like to live in California?" When she said yes, her new fiance sent her the fare for the four-day bus journey, and picked her up in LA when she arrived. Fuss 0 - Adventure 1!
Diamonds - not necessary
You think Diamonds are a girl's best friend? They may well be, but they're not a necessary hallmark of a happy marriage. According to this fabulous pair, a ring is a ring is a ring; their wedding bands were cheap, fake gold from Woolworths - a fact that caused them much amusment during their wedding ceremony, especially when the Rabbi declared: "May the marriage be as pure as the gold in the ring!"
Never use the 'L' word.
According to this couple, it's all about the 'C' word... No not THAT one! We're talking about 'CARE'. Apparently, this feeling is less 'possessive and demanding' than love and, additionally caring deeply for your other half is a more realistic and sustainable emotional goal. It makes sense really; imagine how nuts we would drive ourselves if we had to maintain those honeymoon period madly, head-over-heels, crazy in love emotions for 70+ years? Oh, wait. That's what we have been trying to do. Well, now we can all relax. Besides, these days we all use the word 'love' too much anyway. How many times have you used it today not in relation to your relationship or partner? Be honest now...
Your friends aren't always the best judges of character
If you look to your friends for approval, or have a rule that if a guy doesn't pass the meet-the-friends-test he's out, think again. Being that you're the one he's dating and spending time with, it is actually possible that you know better than them this once. If Betty had listened to her friends' opinion of the charming suitor from the wrong side of town, we wouldn't even be discussing tips from a 78-year-long marriage, would we?
GSOH? Will that fix a car that's broken down?
Ask someone what they look for in a potential partner, and odds are good sense of humour will be right up there in the Top 3 criteria. And yes, having a giggle is important, but our new love guru Betty was more impressed with her husband's handsome appearance, fuss-free demeanor and ability to fix a broken down car. Unflappable men last the distance.
Forget the 5* Hotels. Go camping.
They say couples who can travel together, stay together, but what about a couple who camps together? If you want a down-to-earth, grounded relationship, where the focus is on simple pleasures, put down those all-inclusive holiday brochures and get down to your local camping shop. Keep it real and your relationship will benefit. Just hope to god it doesn't rain!
But in reality... there are no hard-and-fast rules for marrigae success, they say, "Just don't let every complaint turn to anger. Tolerance and respect" are required.
Writer and editor Alanna Freeman is an inquisitive storyteller, whose interests—like her beloved global travels—know few boundaries. As well as Woman & Home, she has worked for the likes of Soho House, Telegraph Luxury, Conde Nast Traveller, delicious., Elle, and Vogue, and GQ Australia.
Alanna has been known to turn her hand to copy projects involving souped-up streetcars and cutting-edge technology—she swears they are genuinely both fascinating, even to the uninitiated! A writer who likes to add a bit of color and texture to her work, she has an MA in Communication Design: Illustration from Kingston University.