10 Things You Didn't Know About Judge Rinder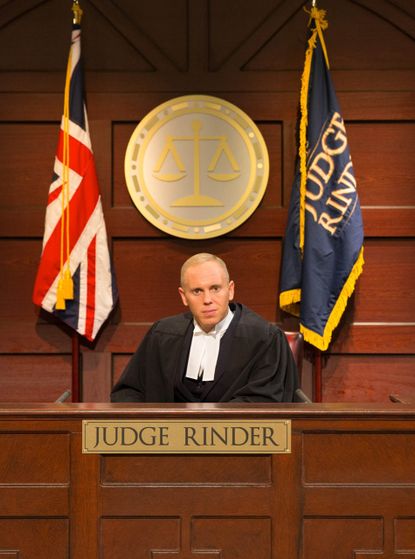 He's best known for being a blunt-talking barrister on his ITV show "Judge Rinder", but more recently Robert Rinder has captured the nation's hearts with his killer moves on Strictly Come Dancing.
Robert's Cha Cha in week one blew viewers away unexpectedly, as he debuted his rhythmic moves with a courtroom inspired routine and he has been entertaining us ever since.
Unfortunately he has been eliminated from the show just before the Strictly semi-final, but we are sure we will be seeing a lot more of him following his new found success.
Here are 10 unexpected facts about the dark horse of Strictly Come Dancing 2016...
1) Robert joined the National Youth Theatre at the age of 14, alongside David Walliams and Matt Lucas, but says he gave up acting after facing Benedict Cumberbatch in an audition and realising he was "too good".
2) He studied Politics and Modern History at the University of Manchester and was awarded a double first class honours. He then went on to specialise in money laundering, international fraud and other forms of financial crime.
3) Robert married fellow barrister Seth Cummings in 2013...in Ibiza!
4) He's best friends with Benedict Cumberbatch and Benedict was even ordained to conduct Judge Rinder's civil partnership ceremony!
5) In return, Robert was one of three best men at Cumberbatch's wedding.
6) He agreed to take part in Strictly Come Dancing this year in tribute to his grandparents who love the show.
7) He loves fitness and has run marathons in New York and London.
8) He speaks Russian and enjoys Russian culture.
9) He wrote TV scripts whilst training to be a barrister. He approached ITV with one of his scripts but they rejected it in favour of a British Judge Judy format - which they then asked him to star in!
10) He's a huge fan of Darcey Bussell and has seen her in a number of ballets.
Finally, let's not forget that sassy Cha Cha that stole the first Strictly show...
http://www.youtube.com/watch?v=LYJC1_-zc8k