Melania Trump's Chief of Staff quits two weeks ahead of White House exit
Chief of Staff Stephanie Grisham has quit her role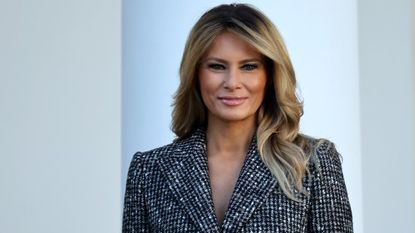 (Image credit: Getty/ Chip Somodevilla )
Melania Trump's Chief of Staff Stephanie Grisham has quit her role after the Capitol's violent riots yesterday. Protesters supporting the current President stormed the Capitol building resulting in Grisham submitting her immediate resignation notice as the demonstrations quickly escalated, evoking fear In the White House.
Grisham had worked closely with the first lady posing as an ally during the President's four-year term. As Chief of Staff, she was working within the White House's east wing, having previously held the role of communications director.
As speculation grew regarding her stance towards the republican controlled state, she did applaud the Trump administration saying she was proud and appreciated its work.
In a statement, Grisham said, "It has been an honor to serve the country in the White House, I am very proud to have been a part of Mrs. Trump's mission to help children everywhere and proud of the many accomplishments of this administration."
Joining the Republican campaign back in 2015, inside commentators say she obtained a position as the White House "press secretary" but never held a press briefing. Comments following her sudden resignation suggest she became discontent with her role and hoped for more.
The shocking violence has left staff in the White House extremely uneasy as scenes in Washington turn for the worst.
Grisham had replaced Sarah Sanders as the press secretary but was only in that role for one year.
Details surrounding the story imply Grisham clashed with Trump's newly appointed Chief of Staff, Mark Meadows, who held conflicting opinions on several matters such as communications strategy dealings. Although White House officials familiar with Stephanie Grisham imply her decision to resign two weeks ahead of Trump's exit from the white house was anticipated.
It has been an honor to serve the country in the @WhiteHouse . I am very proud to have been a part of @FLOTUS @MELANIATRUMP mission to help children everywhere, & proud of the many accomplishments of this Administration. Signing off now - you can find me at @OMGrisham ❤️🇺🇸January 7, 2021
See more
Kudzai previously wrote for woman&home as a trainee news writer.
She covered fashion, entertainment, and beauty.

She is a fully qualified Journalism and Media graduate from De Mont Fort University, having graduated in the summer of 2020. Previously Kudzai worked as a freelance fashion wardrobe stylist.