This is why we can't ignore Belly Mujinga's story - and how you can help fight for justice
Over a million people have already signed the petition to call for action after this horrendous incident.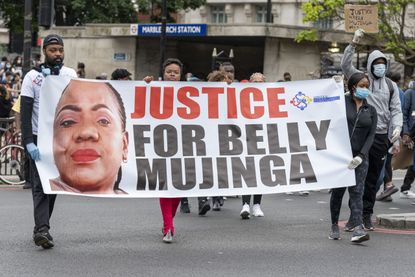 (Image credit: SOPA Images/LightRocket via Gett)
During the Covid-19 outbreak, key workers – such as NHS staff, supermarket employees and those who work for transport networks – have been on the frontline, helping to keep the country running and people safe during the pandemic.
However, in April alone more than 300 people (opens in new tab) were charged with "coronavirus assaults" on workers. This means that key workers were attacked – largely being spat at – by those claiming to have Covid-19 (opens in new tab). Belly Mujinga was one such key worker who experienced the same type of attack and now, following her death, over one million people are calling for justice and more protection for key workers across the country.
It goes without saying that vile attacks are hugely disrespectful, but during a pandemic where the deadly virus is passed on through droplets, they're also potentially life threatening. For the wave of assaults on key workers that have happened across the UK, many victims have been able to secure a prosecution for their attackers (opens in new tab). In Belly's case, her attacker walked free.
You may have seen the 'Justice for Belly Muljinga' signs and banners held by protesters at protests across the country over the last two weeks, illustrating that everyday racism is not just a problem in the US (opens in new tab). Many of the protestors paid tribute to Belly and joined her family on the march to Victoria Station, where Belly was working when the incident occurred.
This also comes after a new Public Health England reported, titled 'COVID-19: review of disparities in risks and outcomes (opens in new tab)', made for grim reading regarding racial inequality (opens in new tab). The report, whichwas released 2 June and showed that people from Black, Asian and ethnic groups are up to twice as likely to die with Covid-19 than those from white British backgrounds.
Who was Belly Mujinga?
Belly Mujinga was working as a ticket controller at Victoria Station for Transport for London when she was coughed on and spat at by a man, who at the time, claimed to have Covid-19. Belly's husband Lusamba told The Sun that the attacker asked his wife, "Why are you here?"
To which she responded, "Can't you see my uniform? I'm working here," and he said, "I have coronavirus and I'm giving it to you."
Within just a few days of the attack, Belly tested positive for the virus. Two weeks later on April 5 she died, leaving behind her husband and 11-year old daughter.
Following her death, the nation got behind Belly and her family and demanded justice.
Why did the British Transport Police close the case?
The British Transport Police (BTP) initially refused to take action as they said they couldn't find CCTV evidence of the incident. They later interviewed the man who spat at Belly and her colleague, who was also seriously ill with the virus. But they decided that the spitting and coughing attack did not lead to her death and therefore, they decided not to pass it onto the Crown Prosecution Service (CPS).
Since the death of George Floyd in Minneapolis, protests have happened around the world – calling for justice for those victimised by the police and other institutions simply because of their race. Figures such as Meghan Markle and Michelle Obama (opens in new tab) have shared statements, and brands such as L'Oréal have been criticised (opens in new tab) for some of their past actions. At the protests in London over the last week, many people were demanding justice for Belly Mujinga.
MORE:Why is Covid-19 hitting people from BAME backgrounds harder? What you need to know about the new PHE report, according to a GP (opens in new tab)
On June 5, the British Transport Police clarified the approach they had taken to the case in a statement. They said, "Following a review of all the information available, including the CCTV footage, witness statements and explanations given in interviews, senior detectives concluded that there was insufficient evidence to substantiate that any criminal offences had taken place and that the death of Mrs Mujinga did not occur as a consequence of that incident."
This comes as criticism mounts over the handling of Belly's case by the British Transport Police. Other key workers who have been victimised by these spitting attacks have seen justice, such as a Glasgow police officer who pursued prosecution and was able to secure a jail sentence of 12 months for his assault, despite his attacker not having the virus. Meanwhile, Belly's attacker walks free on the basis of a lack of evidence.
Why did Belly not have suitable PPE?
Belly lived with underlying respiratory problems, something she made her employer at Govia Thameslink Railway (GTR) aware of according to reporting from the Guardian. Instead of being allowed to reduce her contact time with the public and work behind a plastic shield, to practice safe social distancing or shielding as advised by the government at this time, Belly was made to work on the concourse.
A statement by Govia Thameslink revealed the reason for a lack of PPE being provided to Belly and her colleagues. "Previously, the official government advice was that PPE for our staff was not required."We have regularly briefed our people to keep washing their hands and to socially distance as far as possible while working, and continue to do so."
But as Belly's cousin Agnes told the Guardian, "She shouldn't have been sent out without any PPE. We want justice for Belly. They need to find the person who did it,"
"And the company should compensate the family; her daughter doesn't have a mother any more. They should protect those who are left."
The report published by Public Health England revealed that people from BAME (Black, Asian, Minority Ethnic) backgrounds were twice as likely to die from Covid-19. That, combined with the fact that Black and minority ethnic workers make up just under half (opens in new tab) of the London transport worker sector alone, means that they have a particularly high vulnerability to the virus.
"We want justice for Belly. Belly didn't lie about being assaulted."
On Friday, Belly Mujinga's husband, Lusamba Katalay said in a statement, "Black lives do matter. Belly's life mattered. It mattered to me, to our daughter, our friends and family, to Belly's colleagues, and now it matters to many thousands of you out there.
"We want justice for Belly. Belly didn't lie about being assaulted. Belly and her colleague were confronted and intimidated as frontline workers and their concerns and their fears were ignored. We continue to have questions after the police investigation."
How can I demand justice for Belly Mujinga?
Demanding justice for Belly Mujinga is also about demanding justice and protection for all key workers. As the petition reads, "If we are able to protect doctors and nurses we must seek to put measures in place to adequately protect those individuals that make their journeys to work where necessary, possible.
"All frontline workers within Transport for London and their umbrella companies should be recognised equally and PPE should be a necessity, not a luxury."
Belly suffered from an underlying respiratory condition and had told her family that she was "scared for her life". However, her employer didn't believe this was a reasonable cause to allow Belly to spend less time working face to face with the public.
As the petition says, "PPE could have protected her [Belly]. She should have been provided with it. This lack of protection is negligent and is a dangerous precedent that cannot be continued, the risk is simply too high."
You can help demand justice for Belly Mujinga today by signing the petition (opens in new tab).
You can also demand justice for Belly Mujinga through these methods:
Will Belly's attacker be prosecuted?
Following 1 million signatures on the petition, the CPS has now been called to review the evidence. The case hasn't been reopened however, as the British Transport Police still claim there is no evidence of a spitting attack against Belly or her colleague. There is also reportedly no evidence that the attack led to Belly contracting Covid-19, as her attacker didn't present with antibodies for the virus when tested.
So instead of calling for criminal prosecutions against Belly's attacker, the petition calls for more protections to be given to front line railway workers.
A digital health journalist with over five years experience writing and editing for UK publications, Grace has covered the world of health and wellbeing extensively for Cosmopolitan, The i Paper and more.
She started her career writing about the complexities of sex and relationships, before combining personal hobbies with professional and writing about fitness. Everything from the best protein powder to sleep technology, the latest health trend to nutrition essentials, Grace has a huge spectrum of interests in the wellness sphere. Having reported on the coronavirus pandemic since the very first swab, she now also counts public health among them.