Michelle Obama shares poignant statement following George Floyd's death
'It starts with self-examination and listening to those whose lives are different from our own'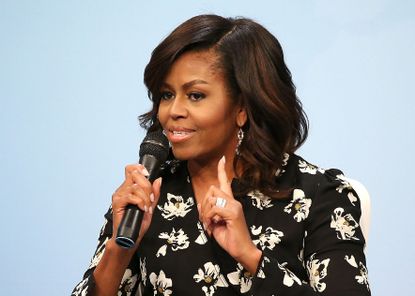 (Image credit: Getty)
Michelle Obama has shared a poignant message on social media, following George Floyd's death.
Michelle Obama shared a poignant message in light of the death of Black American man George Floyd.
The former First Lady of the United States took to social media to pen a powerful tribute following the death of Mr Floyd, a situation that has provoked a huge debate surrounding racism around the world.
George passed away after a white police officer held him on the ground by kneeling down on his neck for almost nine minutes.
The official post-mortem examination reports confirm that the 46-year-old from Minneapolis died from asphyxia (lack of oxygen) due to the compression on his neck and back. His death has also been ruled a homicide.
Speaking out on the harrowing circumstances, Michelle took to her Instagram account to address her 39.2 million followers.
READ MORE: What is Blackout Tuesday and what can you do to help?
Michelle also referenced the recent US deaths of Breonna Taylor, a Black woman who was shot by police in her Louisville home, and Ahmaud Arbery, a Black man who was shot while out jogging in Georgia.
'Race and racism is a reality that so many of us grow up learning to just deal with. But if we ever hope to move past it, it can't just be on people of color to deal with it,' Michelle wrote.
'It's up to all of us—Black, white, everyone—no matter how well-meaning we think we might be, to do the honest, uncomfortable work of rooting it out. It starts with self-examination and listening to those whose lives are different from our own,' she added, urging people to join in with the global anti-racism movements brought about by the recent killings.
'It ends with justice, compassion, and empathy that manifests in our lives and on our streets. I pray we all have the strength for that journey, just as I pray for the souls and the families of those who were taken from us,' she added finally.
Michelle's husband and former US President, Barack Obama, also took to his online platform to share his thoughts, calling for the current moment to be a 'real turning point to bring about real change'.