Five-Star In The Forest: Luxury Treehouse Hotels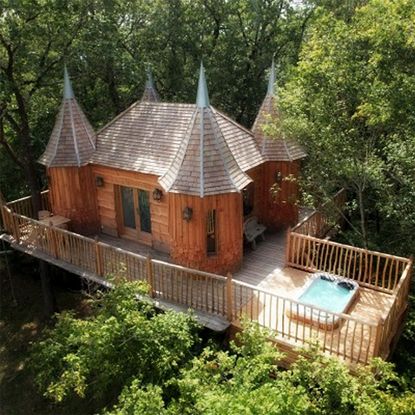 Discover the gorgeous treehouse hotels where luxury meets the great outdoors
If it's la crème de la crème of treehouses you're after, look no further than Châteaux dans les Arbres, in the rolling countryside of the Dordogne in southwest France. There are three woodland castles to choose from, each with their own turrets, hot tubs and even an on-call chef if your fancy a gourmet dinner à deux. From £198 a night (sleeps 2-6) through Canopy & Stars (opens in new tab).
Hapuku Lodge & Tree Houses, Canterbury, New Zealand
Designed by a family of architects and designers as a contemporary country lodge, Hapuku Lodge offers six guest rooms, a stand alone spacious apartment, five luxury Tree Houses, a function venue, and a dedication to creating exciting food from local, seasonal ingredients. From £339.53 through Mr & Mrs Smith (opens in new tab).
Treehotel, Harads, Sweden
Treehotel offers a unique hotel experience: treerooms with contemporary design in the middle of unspoiled nature. Treehotel is located in Harads, near the Lule river, about 100 kilometers from Luleå airport. The village has a population of about 600 and features a restaurant, shop and guest house. When you arrive at Treehotel, you check in at Britta's Pensionat. Then it's just a short stroll through the beautiful nature to your treeroom. The most striking part of Harads is its magnificent surroundings. From Treehotel's rooms you get a fantastic view of the Lule River valley, miles of forest and the powerful river. For prices and details, see www.treehotel.se (opens in new tab). Image: Peter Lundstrom, WDO / www.treehotel.se (opens in new tab)
Ariau Amazon Towers Hotel, Manaus, Brazil
A 15-minute helicopter ride up the Rio Negro river from Brazil's Amazon-gateway town of Manaus, this fantastical 210-suite hotel perches on stilts, at treetop level. Favored by such bigwigs as Jacques Cousteau, Bill Gates and Helmut Kohl. The Ariau Amazon Towers Hotel is located 35 miles from Manaus, Brazil at the confluence of the Rio Negro and Ariau Creek. Built entirely at the level of Rainforest Canopy, Ariau's towers are linked together by 4 miles of sturdy wooden catwalks. Exotic excursions as piranha fishing, Caiman spotting by moonlight, Jungle Treks and pink dolphin sightings. Sitting still in your hardwood tree house, you'll start to spot the wildlife: an alligator-like caiman, an Amazonian hawk, an ocelot, a freshwater manatee. For prices and more details, see www.ariauamazontowers.com. (opens in new tab)
Golden Oak Treehouse, Thorpe Forest, Norfolk
For the ultimate in Forest luxury, with a dash of adventure, how about staying in a Golden Oak Treehouse. Cross the simple wooden bridge from the main Golden Oak cabin (sleeping 8) into an exclusive, individually designed en-suite room for two. The Golden Oak Treehouse enjoys all the luxuries of our main Golden Oak cabins and sleeps up to 10 people. £935 for a four-night midweek break through Forest Holidays (opens in new tab).
Natalie Whittle is a British journalist specialising in celebrity content in the women's lifestyle sector. She previously held the role of Celebrity Director at Woman & Home and has also worked at Prima, Red & Good Housekeeping.