Davina McCall "I'm desperate to have a family party this Christmas"
Davina McCall reveals why she is desperate to have a family get-together this Christmas.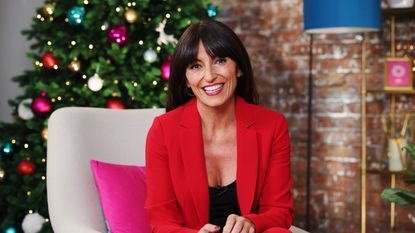 (Image credit: Boots PR)
woman&home newsletter
Sign up to our free daily email for the latest royal and entertainment news, interesting opinion, expert advice on styling and beauty trends, and no-nonsense guides to the health and wellness questions you want answered.
Thank you for signing up to . You will receive a verification email shortly.
There was a problem. Please refresh the page and try again.
Davina McCall has paid tribute to her father on his birthday after she opened up to woman&home about wanting to see her parents at Christmas.
The Masked Singer judge posted a snap of her beloved dad Andrew, with whom she has been unable to visit due to lockdown restrictions imposed as a result of the ongoing Coronavirus pandemic.
Davina captioned the photo, "Happy birthday Daddy!!!! Sorry I can't be with you but thank you for giving the Best Hugs! And always picking up the pieces when my world fell apart . You have taught me so much Alzheimers is a very cruel illness, but your soul is still shining through ... love you so much . And thank you mumma for taking such beautiful care of him and auntie Becca too, love you both x"
Davina previously revealed out how lockdown is affecting her this time round.
The TV presenter turned fitness guru, 53, who currently renting a house until her new home is ready, has been forced to go low-key for the first time ever when it comes to Christmas decorations.
But the mum-of-three to daughters Holly, 19, and Tilly, 17 and son Chester, 14, who she has with ex-husband Matthew Robertson, plans to still make it Christmas like no other. "I'm normally like The Griswolds at Christmas - if you were to say to me on a normal year are you going to go all out, I'd say that's impossible," said Davina. "I cannot go bigger than I go and this year I'm in a rental and there's no storage at all so all Christmas lights and tree paraphernalia all in storage - so we have nothing which is really weird. I just bought fake fully lit fibre optic tree and I've decided I'm going to have it up until I move into our house because I've got nowhere to store it. I'm going to keep Christmas going until next year!"
And while lockdown restrictions are currently in place across the UK, Davina admits she's only doing stocking gifts this year.
"Covid has slightly put a weird...Christmas feels very different this year," she said. "We're not going to be able to fully feel back to normal for a while so this will be different for everybody. This year, especially with the kids, I've said let's do stockings - I definitely don't want any presents. We alternate Christmases Matthew (Davina's ex husband) and I, and this year they are with their dad, so we do a Christmas before Christmas - about 5 days before."
Aside from skipping presents, when asked what one thing she would love this Christmas, Davina revealed she wants one gift that money cannot buy...
Davina, who supports Boots' Christmas Unwrapped, explained, "If there was a voucher for a huge family gathering I'd take that. I am desperate to have a family party with all my family and oh god I'm going to get emotional."
After a brief pause, a tearful Davina continued, "I'm desperate to get my family together to give them a massive hug. I've really missed that...sorry...it's feeling connected physically to your family that's important. Also I think, as an incredibly tactile person, no physical contact is something I really am struggling with, especially someone like my dad (Andrew) who has got Alzheimer's - I want to hug him so bad."
Davina revealed she is considering using a quick Covid test to enable her to see her parents dad Andrew and step-mum Gaby, safely at Christmas, should the Government rules allow. She added, "I might get one of those and then hug them very hard. I think the hardest thing of all is having people that you love who can't see them or be near them. I've got friends who have had family members die and they weren't with them. It's not anyone's fault but it is a really frightening time for hospitals, doctors and nurses working under extreme pressure but it's also hard on people's families."
Davina McCall answers more of our questions:
Q: Will you be cooking Xmas dinner?
Yes - I am a musing at a roast and so Christmas is just a pimped up roast. The fiddly twiddly cooking I'm not very good at but give me a huge meal to do and I'm fine. I prefer cooking for large numbers of people.
Q: Have you had any dinner disasters?
I had a brilliant dinner disaster because I often try to cook something I've never done before and sometimes it's amazing or it doesn't quite work. But I once did something for dinner that really didn't work - I had eight people for dinner and we all ended up with scrambled eggs on toast because I was doing a fish dish and I got the timings wrong. I had an AGA cooker and you can't set the heat on it, so sometimes you need to make things a couple of times. I got chatting too long and overcooked it - it was so dry. Fish dry is revolting. I said I'm going to make scrambled eggs on toast and they were happy - it was very funny. I reattempted it and it was amazing.
Q: What are you like at buying presents? Online? Amazon / use Black Friday deals?
I like to touch and feel things, so I will get out but I start looking around September time, so I'm relieved I did that. This year is a time when you don't want to have waste, think about plastic and sustainability. Things that people will really use and not just use at Christmas but for life. There's a lot of gimmicky stuff in stockings that you use once and chuck it. When I talked to Boots about their Christmas I was blown away by their packaging and commitment to getting rid of secondary plastic and making sure everything can be reused or recycled - especially with all the gifts that get given and all the wrapping. It doesn't sit right with what we've been through this year - we need to look after ourselves and the planet a bit harder.
Q: Anything you've changed about your lockdown pt2 routine? And why?
Psychologically there will be a lot of interesting data to be collected from lockdown and people's behaviours. The first thing I did when I heard about lockdown part 2 was starting eating like I was never going to get another meal again - I did the same in lockdown one. I was reaching for and craving things like Warburtons' fruity teacakes - it's like a hot cross bun but lighter. Every time when we go to lockdown that's all I want to eat with tonnes of butter on it. Stodge, carbs - all the stuff I try and go light on - that's a fight or flight response - it must be right? We might not get another meal, quick stock up, we will, but it's a biological thing.
Last time I really did pile on the pounds and I haven't lost that. I am fitter but I'm still slightly battling with the three months we had. This time I've tried not to turn to food - I don't want to let it slide again like I did last time but the exercise is still good. Exercising for the mind is what I do a lot of so nothing changed there.
Q: What luxury item / service have you missed the most in lockdown?
I've missed having my nails done (opens in new tab). I had them taken off at the salon and the place I go is the best fun hour you can spend all day - the girls are hilarious. It's like a therapy session in there. I went in before lockdown and said goodbye. They're amazing.
Q: Has it been more challenging to keep positive & working?
At the beginning it was an annoyance with the extra everything but now I can see for a lot of people it's a reassurance. So me being careful with contributors I want to reassure them that it's safe and we will make it as comfortable as possible, if it makes someone feel safe do it. I've got used to the PPE stuff. I'm learning all the time but I don't want this to be a new normal. There is light at the end of the tunnel and this isn't what it's going to be like forever, we just have to knuckle down and get through this. I do see next year as being...I'm quite nervous about saying this...I've written 2020 off now and hopeful about 2021.
Q: What is your Christmas Day beauty get up?
I usually try to do something, quite often I'm dressed as Mrs Santa, I try do something with the kids to make them laugh. I have a lit up Christmas jumper or something daft. I try do my make up but it ends up being after lunch because it's so hectic, I'm very quick now - I can do it in 10mins.
Q: What is your must have products right now / lockdown?
There is Day Wear Sheer Tinted Moisturiser by Estee Lauder (opens in new tab) - it's very fine and clear. I also love Garnier Ultralift (opens in new tab)Anti Wrinkle Firming Day Cream moisturiser, if you don't want to wear any makeup at all just put some of that on and it gives you such a glow. Eyelash curlers (opens in new tab) are a must have - I can never be without them - I know they look like instruments of torture but once you get your head around them they are a game changer. And tubing mascara, you will never have panda eyes again. Clinique also do Chubby Stick Cheek Colour Balm (opens in new tab) and they're easy and quick to use.
Q: You've let your hair grow longer - why?
My partner Michael cuts my hair if we're on a job or if we work together and I don't ever ask for anything - he just does whatever he likes. I just sit there and he'll go "do you fancy a haircut" and I think "Ooh he must think I need a haircut, "yes please". It's got longer because he's not cut it but it's not a conscious decision. I do quite like it a bit longer. You can do more with it. We just filmed Series 2 of The Masked Singer for ITV in September and he did some amazing things, and Cheryl Phelps Gardiner did my make up. They don't normally get to do crazy things with my hair and make up but we really went to town with it, and if it's a bit longer you can do crazy stuff with it.
Q: What advice would you give your younger self?
It's all going to be ok, don't sweat the small stuff.
Q: What tips do you have for anyone suffering with anxiety and what are your coping mechanisms?
I feel quite blessed because I'm in recovery so I always have that to turn to when I feel like I need a bit of support. If you are someone who is struggling I would always seek some sort of help - the problem is when you feel really low you don't reach out to people and that's dangerous. At a time like this, we as friends, need to look out for our friends that aren't getting in touch with us. They might be living alone, isolating, if as a friend you don't know how to deal with a friend in a crisis you can call all the people, Calm, the Samaritans, Mind, and they can give you tips and advice on how to look out for a mate, because it's the ones that aren't reaching out that need connecting with. At these times those are the things we can do for other people, check in on people you've not heard from. Don't assume they're not just busy.
There've been a lot of situations this year where people could be affected by things - people that have lost family members. Just because they lost that person three months ago, doesn't mean they're over it now, they might not be talking about it, check in - how do they feel about that. Say 'Hey how are u doing?' Just a text to show them they're not alone.
Q: What are your goals for 2021?
I'm just trying to get through this year - I do feel like I want to get through this year, make sure my kids are all safe and sound, emotionally and physically and I'll think about next year when we get to it. I want to try and say something I can do, and I'm not sure what we can do, I've planned nothing. I love planning and it's hideous - I am such a planner, it's been a real exercise in letting go, taking my hands off the steering wheel and saying I have absolutely no control in anything.
Davina supports Boots' Christmas Unwrapped, with a wide range of Christmas gifts available now in store and online here (opens in new tab) , but who will you spoil this festive season?
Selina is a Senior Entertainment Writer with more than 15 years of experience in newspapers and magazines. She has covered all things Entertainment for GoodtoKnow, Woman&Home and My Imperfect Life. Before joining Future Publishing, Selina graduated from the University of Sheffield in 2006 with a degree in Journalism. She is fully NCTJ and NCE qualified and has 100wpm shorthand.