Why you need to read the six books on the inspiring Women's Prize for Fiction 2020 shortlist
Here's a roundup of the six brilliant novels that made the shortlist for this year's Women's Prize for Fiction - and why they need to be on your bookshelf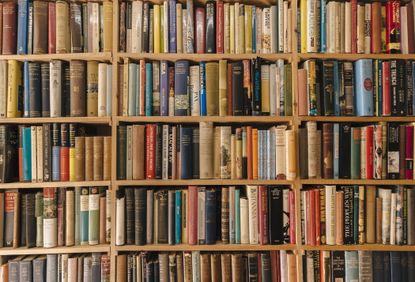 (Image credit: Getty Images)
The Women's Prize for Fiction is a highlight of the literary calendar. The shortlist is a stunning selection of books written by some of the world's finest writers.
The Women's Prize for Fiction 2020 winner will be announced on September 9th, so to get you in the mood we're previewing the six shortlisted novels. They're all intriguing, thought-provoking reads.
MORE: This year the Women's Prize for Fiction is going digital – here's how to book your front-row seat toits first ever digital festival
Dominicana by Angie Cruz
Loosely based on her own mother's story, Angie Cruz looks at the challenges faced by very young women who made the journey from the Dominican Republic to the US back in the 1960s. The price of this one way ticket was marriage, and the hope for the families involved was that the rest of them might be able to follow at some point. Ana - a girl with green eyes that make her stand out in her local community - is 15 when she is married off to the persistent Juan. He takes her to New York, but the promised land turns out to be a grim flat and a life pitifully limited by lack of language, a controlling and aggressive husband – and not being allowed her own door key.
In Dominicana, Angie Cruz gives a compelling voice to a young woman who learns fast how vital strength and self-reliance can be in a community where women do better to play dead than fight back. It's also a story of loyalty and the power of family ties - a compelling read.
A Thousand Ships by Natalie Haynes
It's the Trojan War, but not as we know it. Natalie Haynes, who combines the unlikely dual careers of classicist and stand-up comedian, has created an entirely female-centric version of the story made famous by Homer in the 8th century BC, with women, girls and goddesses at its heart. But there is no softening of tone in A Thousand Ships - the women suffer all the pain, sorrow and loss that follows war in any age, but this time their voices are heard and the story is told from their angle, rather than them being adjuncts to the action.
There is beauty and humour here, not least as three goddesses vie to be chosen by bedazzled Paris as the most beautiful, and win the golden apple. But its most daunting scenes include the ghastly end to a young woman's wedding plans, and the bitter taste of slavery that is the best outcome the defeated Trojan women can expect from their Greek captors.
An episodic story that ebbs and flows, A Thousand Ships is a stunning achievement exploring love, death and everything in between.
The Mirror and the Light by Hilary Mantel
The blacksmith's son who looks like a murderer has risen to become Lord Cromwell, Henry VIII's most trusted and successful minister. But in this third book in the series about Thomas Cromwell, doubt begins to trickle in like water into a cellar. The fallout from Anne Boleyn's execution continues to affect the nation's political and religious life, and Cromwell's enemies seize every opportunity to drip poison in the king's ear.
The Mirror and the Light is monumental in every sense - at nearly 900 pages long it's a very heavy hardback. This is partly because of the need for reminders and flashbacks of the context in which Cromwell's downfall is set. But it's brilliantly written with a magical lucidity that reflects the mirror and the light of its title, and Hilary Mantel takes you straight into the mind of the man who was surely the most clever, intriguing and far-sighted politician of the Tudor age.
The previous two books in her series, Wolf Hall and Bring up the Bodies, have been hugely successful, and adapted for stage and television productions. This continuation of Cromwell's story is another triumph for Mantel, who is already working on the script for a staged production of the book.
Girl, Woman, Other by Bernardine Evaristo
Deciding it was high time the stories of Black British women were heard, Bernardine Evaristo decided to write them herself. Her original plan of 1,000 women was whittled down to 100, and eventually to a more manageable 12 women's stories, which are all interwoven in one book.
Girl, Woman, Other has already won the 2019 Booker Prize (jointly with Margaret Atwood's The Testaments).It's a giddy journey that takes us from London's theatre scene glitterati with Amma's story, through to single mum of three LaTisha who keeps making the same mistakes but manages to emerge on top.
One of the most gripping chapters follows a couple who move to an apparently idyllic life in an all-women community in the US. The steady decline of Dominique's independence is superbly written as her love affair with paranoid Nzinga deteriorates into an abusive and controlling nightmare. But there is redemption and rediscovery pulsing through all the women's lives, and Evaristo's closing chapter will lift your heart. Storytelling at its finest.
Hamnet, by Maggie O' Farrell
Shakespeare's only son, Hamnet, died at the age of 11. His twin sister, Judith, survived. Four years later, Shakespeare wrote one of his greatest plays, Hamlet. Yet little is known about young Hamnet, and in this gripping, almost overwhelming book, Maggie O'Farrell gives a voice and a presence to a boy who she believes has been forgotten by history, despite his huge importance to his father and family. Just because child mortality was so high, there is no reason at all for us to believe a young death was not deeply mourned. 'It's not nothing to name your play after your dead son,' says O'Farrell.
The family is visited by plague - and the irony of promoting her book during a 21st century pandemic is not lost on the author. But the novel also reclaims the life and importance of the playwright's wife, Agnes, as the action moves back and forth in time. The couple's courting days and early married life are tenderly reimagined, and Agnes emerges as a woman with an otherworldly nature that inspires both respect and suspicion from those around her. Her preternatural insight into the shadows between life and death echo the themes of Hamlet itself. A brilliant book.
Weather, by Jenny Offill
Jenny Offill's writing style is quite remarkable, with succinct paragraphs and one-liners offering poignant, wry observations.
Weather takes us into the mind of Lizzie, a university campus librarian, mother and wife, whose thoughts reflect both the hum-drum of everyday life, twinned with 'what's it all about?' cerebral musings.
The effect is we feel incredibly close to Lizzie and her characters – the views are snapshots but so well-delineated that you just 'know' them, their relationships, their situations.
"A last sprint across the playground and we make it just in time. I'm out of breath, sweaty, sad. I kiss Eli's head, trying to undo the rush. Why didn't I have more kids so I could have more chances?'
Although this is set in the US, it has a remarkably universal feel – and it explores the personal and the political seamlessly.
As she takes on a new job answering emails for her former college professor, a podcaster and futurologist, fears about climate change and the future fuse with her personal dilemmas. Lizzie is an everywoman for our time. She has a relationship that's lost its sparkle, a son who sees her imperfections, a recovering addict brother and a super-religious mother.
The macro-micro observations leave the reader with a sense that we are all fiddling while Rome is burning. But there is gentle humour and warm compassion running throughout this superb novella.
And the Women's Prize for Fiction 2020 winner is...
This year's Women's Prize for Fiction judges are Viv Groskop, Martha Lane Fox, Melanie Eusabie, Paula Hawkins and Scarlett Curtis. The winner will be announced on 9 September, 2020.
• Inspired to discover more new reads? The Women's Prize for Fiction longlist is packed with more amazing reads.
Sign up to our free daily email for the latest royal and entertainment news, interesting opinion, expert advice on styling and beauty trends, and no-nonsense guides to the health and wellness questions you want answered.
Jane Kemp is the Features Director for Woman & Home, Woman's Weekly, Woman and Woman's Own. She's worked in journalism for many years, mostly in Women's consumer magazines, and enjoyed a long stint at Practical Parenting while her own four children were little. These days, her interests are more focussed on gardens and books, and she has taken great pleasure in seeing the expansion of books coverage in all the titles, as well as big-name authors writing exclusive fiction for Woman & Home and Woman's Weekly.