Lisa Jewell's latest read is a rollercoaster of tension and suspense
Bestselling thriller author Lisa Jewell is no stranger to building dark mystery in each of her 18 novels and her latest, Invisible Girl, looks set to reach the same dizzying heights, as she shares her inspiration with Woman & Home…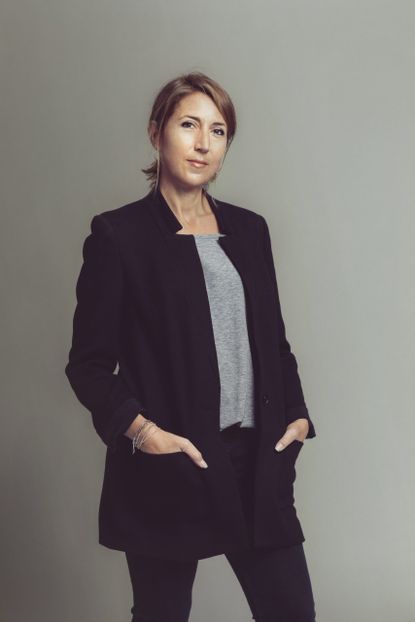 (Image credit: copyright Andrew Whitton)
woman&home newsletter
Sign up to our free daily email for the latest royal and entertainment news, interesting opinion, expert advice on styling and beauty trends, and no-nonsense guides to the health and wellness questions you want answered.
Thank you for signing up to Woman & Home. You will receive a verification email shortly.
There was a problem. Please refresh the page and try again.
Twenty years after her first novel, Ralph's Party, achieved instant success, Lisa Jewell is now writing the psychological thrillers she's always been drawn to, with Then She Was Gone and The Family Upstairs showcasing her writing skills (want to know about the best eReaders to read the latest novels on? We've got a bumper guide in our books section...)
In her new book, Invisible Girl, Lisa Jewell shows what it's like to be an outsider and how sometimes we go looking in the wrong places for the bad people…
How do you feel about the success of your first book?
I have a strange relationship with my first book, Ralph's Party. I wrote it for fun, for myself – and for my friend in Australia who read the chapters as I wrote them. I never wrote it knowing it would be published.
When I wrote a sequel to it 10 years ago called After The Party I re-read Ralph's Party and it felt odd – a little bit like getting out an old VHS recording of yourself at a university party after a couple of drinks with a weird haircut, acting in a way you wouldn't now.
But, I'm so, so glad I wrote it and I am really touched when people tell me what it meant to them.
What was the inspiration for Ralph's Party?
I would have thought my first novel would be a lot darker. I had just come out of a relationship with a horrible man and thought I might write something about that relationship, but it was like touching a hot plate.
It was too close, and I knew I couldn't go there at that moment. So I created this trio of people, including Ralph and Smith, who put an ad in a newspaper for someone to take over their spare bedroom.
SHOP NOW Ralph's Party by Lisa Jewell, Amazon
It was the perfect basis for a psychological thriller, but of course that's not how it turned out. My Australian cheerleader had a lot to do with that – she wanted the love story. I still see my Australian friend all the time - she's one of my best friends. I used to think she was my fairy godmother.
How did you begin to move towards writing thrillers?
It was more about leap frogging, than a straight genre hop. Each book I wrote got a bit darker. I dialled up some things, and pared back on others. I felt confident though that my readers might follow as there were already darker bits in my earlier books. With each book I pushed it to see what how far I could go.
It was in The Third Wife that I made the decision to kill someone. It was about a man who had married three times. Halfway through I realised I was bored. I didn't care about this guy and his family, so I made the decision to kill his third wife. I didn't know who was going to kill her, or why, but I knew that was going to happen. That was the final jump to the other side of the river.
How do you go about creating your protagonists and villains?
Deciding if a character is good or bad is never a conscious decision. I put a character in a position where they could be bad, and then I make up my mind as I'm writing, once I'm under their skin.
So many times I've set up the character to be the one who did it and then got half way through and changed my mind.' Even David in The Family Upstairs - who was so clearly a baddie – had leeway in the writing process for him not to be. It's not important to me that the bad people get their comeuppance in my books, it's more important that the good people get a happy ending.
Do you do a lot of advance planning before you begin writing your novels?
I don't plot anything in advance. I come to the page and sometimes I don't even have all the characters. In The Family Upstairs I knew there would be a child who knew what had happened in the house, but I didn't know who they were – their gender, age, what they were like. I just dive in at the deep end.
With my new book, Invisible Girl, all I knew was I wanted it to be unsettling and uncomfortable. Plotting on the page makes it more exciting for me. I explore how we might look in the wrong places for the bad people. Not everyone is quite who they seem. We don't always know why people are the way they are. Some people may avoid eye contact and seem brusque or rude, but maybe they are shy. It's easy to make assumptions.
SHOP NOW Invisible Girls by Lisa Jewell, Amazon
I think we all make judgements about people. For me, I know I'm doing it, and as long as it doesn't come out directly to people, it almost feels like a fun thing to do. It's natural to have those instincts, it's innate, as long as you know when to pull back and work out what's really going on
Houses appear often in your novels - how important are they as a setting for you?
Houses are my obsession. They're massively important to me – they are effectively boxes with stories in them. In this new novel, the house actually exists.
I go past this house all the time and peer through the gates at the untamed oasis inside. I do love a country walk, but living in a city – near Hampstead Heath – when I take my dog on a walk it's always near beautiful houses. There's every kind of architecture: Victorian, Edwardian, Mansions and little cottages – so much inspiration.
Have you ever considered writing a sequel for any of your novels?
Even though I do leave twists at the end of my books, I don't write sequels. However… it is something I've considered for The Family Upstairs. When we realise Henry wants to go and find Finn in South Africa and continue his love story, I think that opens up so many options of where that could go. I do feel that I could actually write a sequel to this book, and I think I might well do it, as long as it can be made into a standalone.
What was your great ambition as a writer?
My ambition was always to increase my readership. For many years I sold around 100,000 books, and publishers said that was a lovely number. But no matter what I did, I couldn't push that any further, until I started writing thrillers. I now have around 250,000 sales here and it would be wonderful to just keep writing books that people enjoy reading.
How do you relax after a day of writing?
I'm very good at relaxing – it's getting going that's my problem. Everything I do is relaxing - reading, watching TV, browsing online. Saying that, I do like walking, and my dog gets me out. I'm completely obsessed with her – walking her, looking at her and stroking her.
What advice would you give to your younger self?
If I walked into a room and saw my younger self I wouldn't give her any advice, I'd just tell myself to walk back out again and let her get on with it. I wouldn't want to say something that would change anything. I am very content with my life.
When I was unemployed I walked into WHSmith and bought The Lady magazine where I saw a job advertised for a receptionist at Thomas Pink Shirts in Battersea. That's where I met my husband. If I hadn't have met him, I wouldn't have met the Australian who was his friend. I'm so pleased I walked into WHSmith that day…
Lisa Jewell's Top Three Thrillers
Sleep With Me by Joanna Briscoe
This is one of my favourites of the thriller genre, as it's about someone just arriving in someone else's life. They come in side-stage and no one really notices them until their life starts unravelling, and their dark intentions become clear. That's what this is – a tense, taut book.
SHOP NOW Sleep with Me by Joanna Briscoe, Amazon
The Stopped Heart by Julie Myerson
Something unbearable has happened to the couple in this book so they move to the countryside. Here they encounter weird neighbours and a strange atmosphere. While it's not necessarily ghosts, you most definitely feel the energy of the people who have lived in the house before - including that of a family from 100 years ago. A man then arrives and changes everything. It's so shocking!
SHOP NOW The Stopped Heart by Julie Myerson, Amazon
The Hidden Girl by Louise Millar
Wanting to adopt a child, the couple in this book move to the countryside (again), believing a bigger house will give them a better chance. Whilst there, they experience so much snow that her husband gets trapped in London. Meanwhile, the wife is stuck in Suffolk – in a house with strange noises upstairs and odd neighbours. She thinks she might be going mad. There's a spooky sense of foreboding with echoes of the past.
SHOP NOW The Hidden Girl by Louise Millar, Amazon
And if Lisa Jewell's picks have got you keen for more, why not discover our pick of the best thrillers around and our favourite books to read in 2020?
Happy reading!
Sign up to our free daily email for the latest royal and entertainment news, interesting opinion, expert advice on styling and beauty trends, and no-nonsense guides to the health and wellness questions you want answered.
Emma is a Royal Editor with seven years of experience working in digital publishing. Her specialist areas including literature, the British Royal Family and knowing all there is to know about the latest TV shows on the BBC, ITV, Channel 4 and every streaming service out there. When she's not writing about the next unmissable show to add to your to-watch list or delving into royal protocol, you can find Emma cooking and watching yet more crime dramas.