Our Books Editor reveals the top Christmas books to snuggle up with this winter
If you love nothing more than escaping the chaos of Christmas and settling down with a feel-good festive read, you're in luck – these picks are the perfect antidote to a busy season.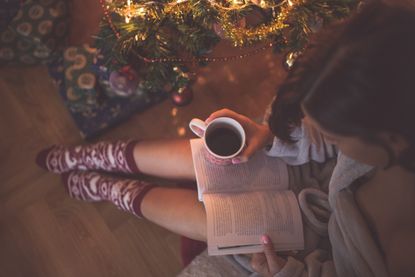 (Image credit: Getty Images)
Once the presents are bought, decorations hung and Christmas meticulously planned down to the last mince pie, it's time for a treat.
And, as the darker nights draw in, there's nothing nicer than settling down with a cosy festive book in your favourite armchair. Whether you fancy jetting off to the Norway Fjordes, New Zealand, a remote Scottish island or a pretty English village, we have you covered with these cosy Christmas reads that offer the perfect escape...
Here are our recommendations for the best Christmas books this year..
The Christmas Party by Karen Swan
You can always rely on fashion journalist-turned-novelist, Karen Swan, to deliver a stylish and compelling read. On the back of her other festive successes Christmas at Claridge's and Christmas at Tiffany's it comes as no surprise that this is another page turner. As three daughters are dealing with losing their father - the last remaining knight in Ireland, thoughts turn to his estate and why Willow his youngest daughter has inherited it. The twists and turns come thick and fast as Christmas draws near, and with a party on the horizon, will all their secrets finally catch up with them?
The Christmas Party by Karen Swan, Pan Macmillan, PB, £7.99. Released 23rd November.
A Gift in December by Jenny Gladwell
For the ultimate escapist read, head to the magical fjords of Norway in this delightfully festive story. And, let's be honest, who wouldn't want to? Not Jane Green who has been dumped by her boyfriend and would rather stay at home wallowing than go on a luxury press trip to cover the story of the Trafalgar Square Christmas tree. Chosen by her boss - could this trip be the one that actually restores her faith in love? Scenic and romantic, this story will most certainly warm your heart on a cold winter's evening.
A Gift In December by Jenny Gladwell, Hodder & Stoughton, PB, £8.99. Out now.
The Christmas List by Heidi Swain
Definitely one for your own personal Christmas list, it's another joyful novel from the queen of feel-good fiction. When Hattie is 'let go' from her swanky hotel job, she makes the decision to join her boyfriend in Abu Dhabi. Before joining him though, her friend Dolly persuades her to spend one last holiday in Wynbridge. It's then that Hattie questions whether she is really prepared to leave pretty, snowy England – or if there is another reason to stay…
The Christmas Wish List by Heidi Swain, Simon & Schuster, PB, £7.99. Out now
Coming Home to Winter Island by Jo Thomas
It's never too soon to get in the festive spirit – and surely a visit to a remote Scottish Island is just the ticket. When city girl Ruby fears her singing career is over she signs up for a retreat in Tenerife, but first has to make a flying visit to Scotland to meet her grandfather for the first time. Cue family tensions and secrets amidst the breathtaking scenery, but with the power of music and a little gin - can Christmas cheer prevail after all?
Coming Home to Winter Island, Headline, PB, £7.99. Released 12th December.
The Christmas Invitation by Trisha Ashley
Invited to spend the run-up to Christmas in the snowy countryside rather than dreary London, Meg accepts, despite never really celebrating Christmas. But could there be magic in the air this year as she begins to wonder what a proper family Christmas might be like? She starts to think so, until she spots a familiar face from her past – and suddenly all she wants to do is run away. Romance, friendship, love, humour and a generous dose of Christmas spirit - it contains recipes too!
The Christmas Invitation by Trisha Ashley, Transworld, HB, £12.99. Out now.
One Christmas Night by Hayley Webster
It seems the festive spirit hasn't quite made its way to Newbury Street in Norwich, as residents realise that presents are going missing, and no one is sure who they can trust. But, it is Christmas – a time of miracles – and in this touching novel the neighbours start to realise that if they open themselves up to hope, they may yet discover the biggest miracle of all. Pitch-perfect for a heart-warming Christmas read with real characters we can all relate to.
One Christmas Night by Hayley Webster, Trapeze, PB, £8.99. Released 14th November.
Let It Snow by Sue Moorcraft
Released: 14th November
If the glittery cover isn't enough to get you in the mood for Christmas, this heartwarming story set in a picture-postcard village will. After discovering her father isn't the stranger she once believed, but in fact her mother's former lover, a married man, Lily is determined to track him down and discover her true roots. Venturing as far as the snow-capped mountains of Switzerland, via a Christmas market or two, can Lily make the reunion work and still have the perfect Christmas?
Let It Snow by Sue Moorcraft, Harper Collins, PB, £7.99. Out 14th November.
One Winter Morning by Isabelle Broom
It's been a year since Evangeline's adopted mother died in a tragic accident and this Christmas she isn't feeling so festive. But, when she discovers her birth mother's identity she realises it's time to confront the woman who gave her up – even if that's in New Zealand. But is she ready for what she'll find? Featuring a cast of characters and a dreamy backdrop that's sure to give you serious wanderlust, this is a treat from beginning to end.
One Winter Morning by Isabelle Broom, Penguin, PB, £7.99. Out now.
It's safe to say, woman&home's Books Editor, Zoe West has read a LOT of books.
As an avid young bookworm obsessed with the adventures of The Magic Faraway Tree and the misadventures of red-haired orphan, Anne Shirley, Zoe never lost her love of reading - and the fact she now gets to do it as her job is a constant source of wonderment for her.
When Zoe isn't reading she is interviewing authors, hosting live events where she gets all the gossip, and seeking out exciting new writers she can't wait to tell her readers about.