This new IKEA balcony table helps small-space inhabitants create the ultimate outdoor oasis
Your home – and wallet – will thank you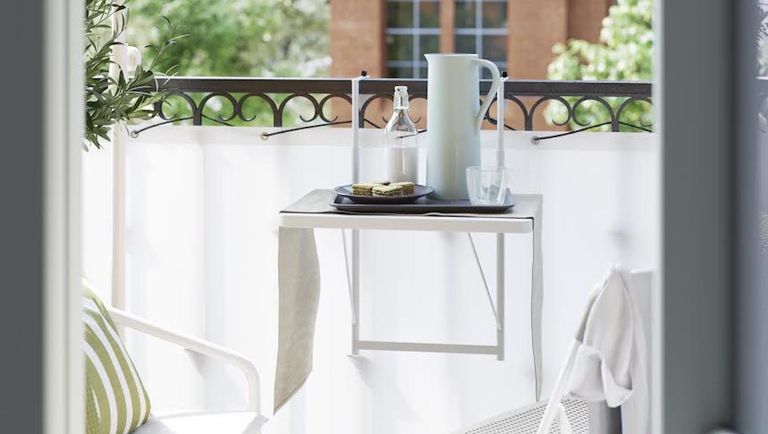 (Image credit: Courtesy: IKEA)
Let's all take a moment to thank IKEA for helping small-space dwellers feel like they're basking in the glory of ample square footage. The brand has proven that an alfresco sanctuary is possible, even if you don't have a ton of room to work with (trust us!)
Meet TORPARÖ ($19): Ikea's new super-simple and super-chic white drop-leaf balcony table that's easy enough to fit in the tightest of terraces while still allowing you ample room to enjoy a delicious meal. (Might we direct your attention towards our favorite easy summer recipes for outdoor entertaining while we're at it?) From a grilled shrimp dish to a glass of lemonade, this tiny table is suitable for all of your soak-up-the-sunshine needs.
More from woman&home:
• The best air purifiers for all budgets
• The best scented candles for a fresh-smelling home
• The best induction pans you need in the kitchen
The reliable, affordable, and functional item, which you can simply fasten to a railing, is a must if you're anxious to get out of the house (aren't we all?) and take advantage of the spring flowers that are coming into bloom. Speaking of which, have a gander at our easy gardening tips (emphasis on easy) to really make your home feel like an HGTV-approved space.
While snagging the goods at IKEA, we'd be remiss if we didn't tell you about the company's brand-new FÖRNUFTIG air purifier for $55. The recently-released item has garnered attention for improving indoor air quality for those who are truly unable to get outside and set up shop with the TORPARÖ table.
Sounds like we have an impending shopping spree on our hands! It's important to note that the TORPARÖ table is only available for purchase at IKEA in the US until October 1. There's plenty of time to snag one for yourself, but don't wait until the fall to enjoy a new outdoor feature.
Danielle is a news writer for woman&home and My Imperfect Life. When she's not working, you can find her experimenting with new recipes or sitting on the couch with a good book and a cup of coffee.