This cordless vacuum that shoppers say works "just like a Dyson" is now 43% off on Amazon
Aptly named, the Orfeld 4-in-1 Cordless Vacuum does it all, cleaning floors and inaccessible spaces with ease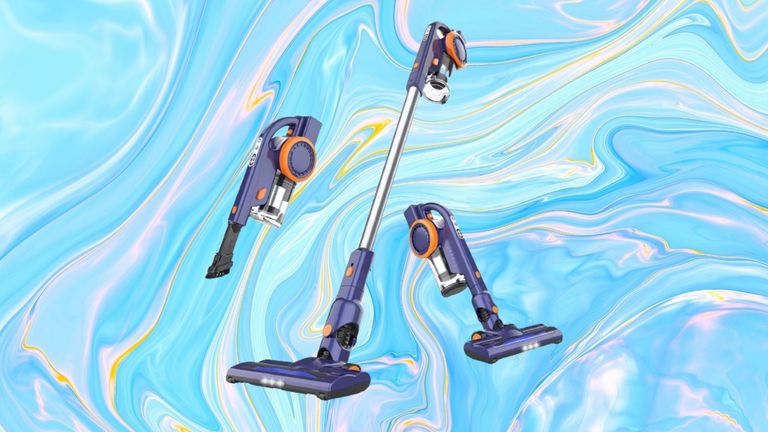 (Image credit: Future, Amazon, and Getty Images)
Backed by swathes of happy shoppers, the Orfeld Cordless Vacuum leverages innovative features for more seamless operation and cleaning. And just in time for the season of dusting down, you can scoop it up for 43% off the original price through Amazon.
Among the chirping birds and daffodils abloom, spring cleaning is in full swing, emboldening us to tidy up our homes to perfection. On the topic of cordless vacuums, the best iterations are often hefty and expensive (we're looking at you, Dyson), while cheap clunkers add to the disarray and clutter. This brings us to our favorite gadget to wax poetic about: the Orfeld 4-in-1 Cordless Vacuum, which is currently 43% off its original price on Amazon.
Like other cleaning products for cleaning your kitchen and beyond, the Orfeld Cordless Vacuum rises to the challenge with finesse — sucking up debris and dirt with no trail left behind. Shoppers say it's similar to costlier Dyson options. Let's compare: The Dyson V8 — the brand's least expensive cordless offering — is priced at $399.99, a sizeable price tag for a basic, beginner option. In contrast, the Orfeld Cordless Vacuum is just under $180 regularly, now $101.98 with this special deal.
ORFELD Cordless Vacuum: (opens in new tab) $179.99 now $101.98 | You Save: $78.01 (43%)
Voltage: 198 Volts | Wattage: 200 | Warranty: 1 year| Surface Recommendation: Hard Floor, carpet, rug | HEPA is washable and recyclable.
Unquestionably, the Orfeld Cordless Vacuum lives up to its reputation and acclaim. Thanks to its lightweight design, the vacuum is easy to hold, assemble, and disassemble, with four detachable rods designed to be attached with the suction or the brush. The Ordell's main body only weighs 2.7 pounds, nearly the same as a two-slice toaster.
Examining its build further, the Orfeld Cordless Vacuum features a fluffy cleaner head and soft bristles that prevent scratches to floors; and a flexible LED electric brush. Its swiveling head steers and maneuvers within hard-to-reach nooks and crannies at every angle — the areas where dirt communities accumulate and thrive.
The Orfeld Cordless Vacuum also harnesses an upgraded brushless motor with two power modes, which easily pick up debris from hard floors and carpets. The normal mode is set at 8,000Pa and cleans a 1900+ sq. ft. home in around 40-50 minutes. Then, there's turbo mode. At 18,000PA, this setting will do the same job in about 15-18 minutes. By definition, a product's PA is categorized based on its power rating, which is measured in watts.
Given its power and strength, you can conquer multiple rooms before it needs to be charged. Another perk: this function will decrease how often should you be cleaning your home.
Furthermore, the Orfeld Cordless Vacuum has a formidable and downright ingenious filter system, much like the best air purifiers. Made of stainless steel, the T10 filter system integrates tiny filter holes that trap nanosomic dust, dirt, and allergens harboring in rooms (and wreaking havoc on your precious body in the form of sneezes and sniffles).
Once your task is complete, simply press the release button. This will unearth and discard trapped dirt from the dustbin.
By versatile design and function, the Orfeld Cordless Vacuum proves that you're just $101.98 away from your best cleaning experience yet. Scoop yours now at a discounted price before the opportunity disappears. That being said, we know the ins and outs of how to declutter your home if you're still overwhelmed. You'll thank us later.

ORFELD Cordless Vacuum: (opens in new tab) $179.99, now $101.98 | You Save: $78.01 (43%)
Voltage: 198 Volts | Wattage: 200 | Warranty: 1 year| Surface Recommendation: Hard Floor, carpet, rug | HEPA is washable and recyclable.
Dominique worked as a shopping writer at Woman & Home and while with the brand she covered products, sales and deals, and market news across categories. Before joining the team, she penned stories as an editorial fellow at Insider Reviews, the affiliate commerce team at Insider Inc./Business Insider. The bespectacled NJ transplant specializes in commerce journalism, women's lifestyle content, and hoarding makeup—much to her mother's dismay.