ProCook Professional Granite Cookware Set review
Is the ProCook Professional Granite Cookware Set the right one for you?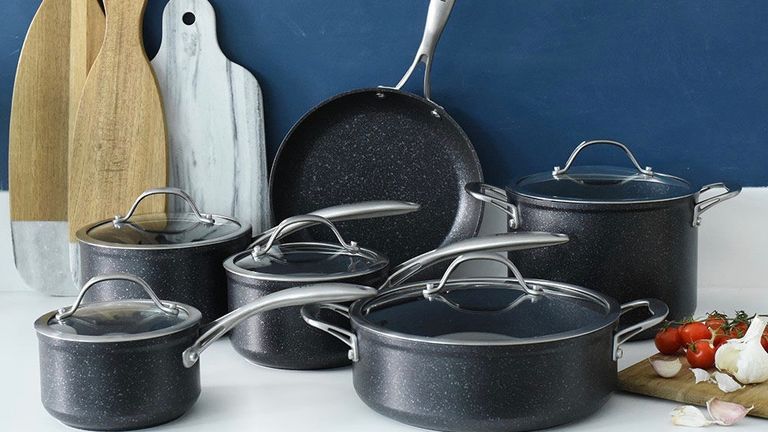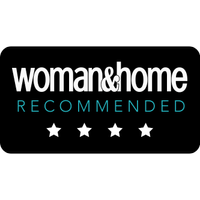 (Image credit: ProCook)
Woman & Home Verdict
For the reasonable price, these pans have no real competitors, thanks to their solid performance and attractive design.
Reasons to buy
+

Various sets available for any size of kitchen

+

Attractive granite-style finish

+

Handy stacking sizes

+

Reasonable price point

+

Tough non-stick coating for healthier cooking

+

CoolTouch handles

+

Good, medium weight

+

British design
Reasons to avoid
-

No straining feature on lids

-

No pouring lip on saucepans

-

Glass lids can become cloudy with regular dishwasher use

-

Regular seasoning of the pan needed to keep them in good condition
Thinking about buying the ProCook Professional Granite Cookware Set? You've come to the right place. Our kitchenware buying guides are the result of hours of testing various brands to come up with our favourite items in each category – and buying a new set of pans is no small investment. 
With brushed stainless steel elements and a matte black speckled finish, the ProCook pans make both an attractive and practical addition to any kitchen. The pan sets come in various sizes, so you can pick and choose between four to 12 pieces to suit your needs, and the reasonable price point makes them a popular choice for anyone looking to invest in the best induction pans. 
Pricing
ProCook claims to cut out the middle man, which is great from a price point of view, but that does mean you're limited to buying the pans from the company itself or Amazon. The four-piece set starts at around £179, while the 12-piece set is £599. These prices do often fluctuate, however, with frequent offers available through the ProCook website, so keep an eye out for discounts. 
Functionality
When you receive your pans, you'll notice that you're advised to "condition" them. While this isn't a complicated process, it does add a layer of admin and this process should be done on a regular basis, so it's something to be aware of before you buy. Having said that, the process is quick, simple and well explained on the included notes. 
We love that these pans are compatible with best portable induction hobs, which means we were able to boil water for pasta super quickly and make meals in minutes. While using the saucepan, we were really impressed with its non-stick quality – even scrambled eggs didn't stick at all. With the other pans, we found that heat spots were rare, ensuring even cooking for things like perfect browning on pancakes and great searing on steaks. 
The weight of the pans in general was a positive, too – while they have a substantial feel, they're also not as heavy as something like cast iron, making them easy to manoeuvre. A very slight niggle was that the handles are quite long, which means you'll need a good spot to store them in. Additionally, the dark interiors can make a few things tricky to cook – if you're looking for a specific colour when frying in oil, for instance. 
Durability
The non-stick coating on the ProCook Professional Granite Cookware pans is enhanced with the use of ceramic and during our testing we were really impressed with the durability. As long as you regularly condition the interiors of your pans, the non-stick coating should withstand years of cooking. We liked that the dark sides didn't mark over time and found the entire range to be super easy to clean, thanks to it being dishwasher-safe. 
Style 
The black granite colouring might not appeal to every single cook, but we liked that it had a lustrous quality to it and will maintain its finish over time without marking. The brushed stainless steel handles and lid surrounds also have a high-end look and would look great displayed on open shelving. 
Materials
ProCook Professional Granite Cookware pans have forged aluminium bodies, which have been triple coated in a ceramic reinforced non-stick material with the signature granite look. The lids are made of brushed stainless steel and glass with riveted handles, while the main handles themselves are also made of the same material with CoolTouch technology.  
Guarantee 
ProCook is so confident in its pans that it offers a 25-year guarantee, which seems plenty for the average cook, although there are competitors who do offer lifetime cover. 
Oven safe?
The metal handles on all the ProCook Professional Granite pans mean they can safely be transferred from hob to oven. They're guaranteed up to 260ºC (which is much hotter than your average cooking needs). 
Dishwasher safe?
Yes, ProCook Professional Granite pans can be washed in the dishwasher and we found no deterioration in doing so. We'd just advise minimising use of overly abrasive dishwasher cleaners and keeping your rinse aid topped up to ensure the pan lids maintain their clean, clear look. 
Verdict
For their shape, size and spec, we think the ProCook Professional Granite pans represent really good value for money. While they're not the cheapest pans on the market, for the quality we think they're a sound investment. The dark mark-resistant sides mean they maintain a high-end feel even with consistent use, and the non-stick coating makes cooking easier and more efficient. There's little need for oil or fats, so these are also great if you're keen on healthy cooking. The smaller worries of long handles and dark interiors are soon forgotten once you've experienced the excellent practicality of these pans.