Le Creuset 3-Ply Stainless Steel 24cm Non-stick Frying Pan review
Is the Le Creuset 3-Ply Stainless Steel 24cm Non-stick Frying Pan the right one for you to invest in?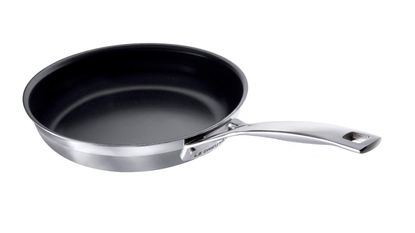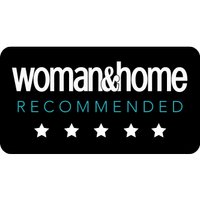 (Image credit: Le Creuset )
Incredibly tough, this non-stick pan can be put through its paces
Reasons to buy
+

Sleek design

+

Extra-tough non-stick coating

+

Dishwasher safe

+

Even heat distribution

+

Great for multiple cooking techniques

+

No warping over time
Reasons to avoid
-

An investment-level price

-

Handle can get hot, so caution needed

-

No lid option
Why you can trust Woman & Home Our expert reviewers spend hours testing and comparing products and services so you can choose the best for you. Find out more about how we test.
woman&home newsletter
Sign up to our free daily email for the latest royal and entertainment news, interesting opinion, expert advice on styling and beauty trends, and no-nonsense guides to the health and wellness questions you want answered.
Thank you for signing up to . You will receive a verification email shortly.
There was a problem. Please refresh the page and try again.
Looking to buy the Le Creuset 3-Ply Stainless Steel 24cm Non-stick Frying Pan? The pan, to be used on either induction or gas hobs, is a popular buy, so we put it to the test to review either from its durability, value-for-money, and how well it performed in the kitchen.
Founded in 1925 by two Belgian industrialists, Le Creuset has nearly a century of innovation under its belt—and the global brand recognition and following to go with it. The iconic 'Volcanic' orange cast-iron pans are, of course, the instantly recognizable calling card of this company, but the cookware brand has never stopped evolving—in fact, some of the best induction pans now hail from Le Creuset. The brand aren't cheap, but sometimes you need to pay a little more for a quality product that will last—plus, if you're savvy, there are plenty of Le Creuset deals and discounts to explore.
As well as their classic styles, Le Creuset has created a contemporary collection, which includes the 3-Ply Stainless Steel range that we're putting to the test. Specifically, we've been trying out the 24cm 3-Ply Non-stick Frying Pan, which is a popular buy with induction hob owners looking for cookware that will last (it's one more reason we're veering towards induction in the induction hob vs gas hob debate). During our testing, we found that this sleek frying pan is an item that you'll reach for time and again, making it a kitchen essential in our books.
Pricing
As you might expect, the Le Creuset 3-Ply Stainless Steel 24cm Non-stick Frying Pan is a considerable kitchenware investment (much like the best blenders and best food processors), with an RRP of £130/$200. It's not cheap, but the quality speaks for itself; despite the high price-point, there is good value for money here. Throughout most of the year, it's rare that you'll find Le Creuset products among sale items, but it does happen. Keep an eye out around Amazon Prime Day, Black Friday or Boxing Day—you can occasionally find brilliant money-off deals during these prime sale shopping events. This pan is stocked by various online retailers (as well as brick-and-mortar stores)—you can usually find a good selection at John Lewis and Amazon, and at Le Creuset's own site.
Functionality
This is the real test of a pan—there's no point owning the prettiest pans in the world if they don't perform well under pressure (or heat). In order to put the Le Creuset 3-Ply frying pan through its paces, we trialed a few different dishes. Could it create a lovely seared crust on a steak? How did it handle simple everyday tasks such as frying an onion or making an omelet?
Because the stainless steel coats both the bottom and the sides, the pan transfers heat really well, coming up to temperature fast and holding its heat well. The non-stick coating meant we needed very little oil to get a good sear on our steak, and our omelet released at the slightest flick of the wrist. Both big ticks in our books. The only thing we'd love to see would be a lid that fit this design, which would make it more flexible—as a saute pan perhaps. That said, this isn't typical of other competitors, so it's more a personal wishlist. Additionally, we did find that the metal handle got very hot if exposed to heat from a gas hob, meaning extra caution was needed there.
Durability/guarantee
If you're investing a decent amount of money into your kitchen cookware, you're going to want the pieces to last. Le Creuset's products all come with a lifetime guarantee, so you can be pretty confident your pans will have a long and happy life. Where some cheaper brands' non-stick coatings have a tendency to flake and crack off, the coating on the Le Creuset non-stick pans is made up of a metal-resistant PFOA-free material that means you can really work it hard without any damage occurring. We washed ours multiple times in the dishwasher, as well as mixing food in the pan with metal spoons while cooking, and no coating seemed to budge.
Style
As with all things Le Creuset, this pan has a sleek aesthetic. The exterior is a high-shine stainless steel, while the inside is coated with Le Cruset's extra-tough non-stick coating which has a black matte finish. The result is a pan that wouldn't look out of place in the country's top professional kitchens. Little details, such as the smooth, aerodynamic handle, also add an extra premium feel.
Materials
To exploit the potential of both metals, Le Creuset's signature 3-Ply pieces are made using a mix of aluminum and stainless steel bonded together. The aluminum core is sandwiched between the stainless steel coating for really excellent heat transfer, and the whole thing is formed in one continuous design—meaning there is no chance of the base parting from the body of the frying pan after lots of use.
Oven safe?
This pan is made to be tough, whatever temperature you need it to perform at. As such, you can use the 3-Ply Non-stick Le Creuset Frying Pan in the oven or grill safely, up to a temperature of 260C.
Dishwasher safe?
The Le Creuset 3-Ply Frying Pan is dishwasher safe; we put it through multiple cycles and it continued to look good and perform well.
Summing up—final thoughts on the Le Creuset 3-Ply Stainless Steel 24cm Non-stick Frying Pan
The only slight niggle we had was with the storage of the 3-ply Le Creuset pan. The handle is long, which made it hard to stash away in some smaller kitchen cupboards. However, this pan is attractive enough to be hooked up and displayed above your cooker should you wish to show it off. Overall we loved the weightiness of the piece, which gave it a strong, stable feel and ensured there was no warping over time, resulting in even, controlled cooking. We also liked that the stainless steel handle offered the option to transfer it from stovetop to oven should you wish.
Thanks to the lifetime guarantee and metal-proof coating it very much felt like this was built to last.
This review was last updated in July 2021, and at the time of writing prices, links and the specification were correct. If you've spotted anything that could do with a refresh then please do let us know.
Rosie Conroy is a food and drinks journalist with over a decade of experience working for big-name titles in both print and online. Formerly the Digital Food Editor of woman&home, Rosie went on to head up the team at SquareMeal, reviewing the best London restaurants and hunting out emerging culinary trends. With previous experience in food styling and recipe development, Rosie knows what to look for in a good piece of kitchenware and has extensive experience testing consumer goods—from kitchen electricalz and cooking accouterments through to new foodie treats.